At some level we always knew Nick Hewer and Margaret Mountford were a wasted resource. So much time frittered chasing besuited berks around Brick Lane on The Apprentice, monitoring the manner in which they sell plums.
Or perched either side of Alan Sugar in full disgruntled Nookie Bear mode as he ripped into some Lidl Gordon Gekko. We always suspected the real brains of the show were Nick and Margaret.
Nick's wholly measured inward seething at the fecklessness of mankind, paired with Margaret's steely can-do panache make a comforting vision of Britain being Great. They remind me of a recent interview with Michael Gove's former adviser Dominic Cummings where he spoke of the fallacy we all share that somewhere, at a higher level, brilliantly minded figures are actually running the country.
"Everyone thinks," he said, "there's some moment, like in a James Bond movie, where you open the door and that's where the really good people are. But there is no door." The idea that there's "no door" is too upsetting for the average psyche, including mine, to cope with. I'm happy to carry on being soothed by the concept of people like Nick and Margaret rolling up their sleeves and having erudite thoughts on immigration, global pandemics and the potential threat of Isis. Or at the very least, they could ask some tough questions and discuss their findings moodily in the back of a moving taxi.
This was the main thrust of Tuesday's show, in which the duo tackled negative ideas about immigration by pairing Brits with French, Filipino and Polish partners, then sending them away to investigate how much of a "drain" on society the influx actually was. It sounded gimmicky and hollow, but transpired to be rather wonderful, illuminating television.
One thing the Brits all shared was utter conviction about their specific anti-immigration bugbear. Jamie, a young builder, was certain that he was still sharing a cramped flat with his father – when he wished to live with his girlfriend – because immigrants undercut his work rate. Jamie was sent to meet Mariusz from Poland who'd moved to Britain 10 years ago, then worked relentlessly for minimum wage, before setting up his own bespoke furniture company and renting a one-bedroom flat with his wife and their baby.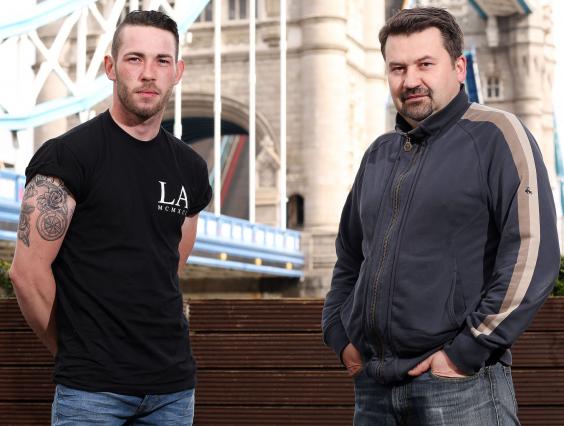 The subject is tricky. Jamie seemed wholly browbeaten by his lack of freedom. Yet it was unclear why he and his pretty, articulate girlfriend didn't flee the flat and rent a small shared room anywhere away from his dad. This would be exactly the option the immigrants were taking, who Jamie had decided "live cramped-in, in ghettos, in bad areas".
Mariusz, in fact, rented in the elegant postcode of Fulham, SW6. It was a small flat with a pull-out sofa-bed but one got the feeling that this was the result of 10 years of hard work. Jamie was  surprised, congratulatory even, that Mariusz's wife paid tax on her wages from cleaning part-time, but furious that Mariusz employed three Polish people to make furniture, which was taking British jobs.
Mariusz argued he had a perfect right to choose people he knew were capable of doing the difficult job. One was left feeling that, yes, Mariusz could try harder to find British craftsmen and, yes, Jamie could stop arguing that it wasn't worth him "being spoken to like a piece of crap" on building sites for less money than he wanted, but it was difficult to feel hostile towards Mariusz for making a success of London.
Maryline, a cheerful young waitress from Paris with a stoic needs-must attitude to life, shared a house with 18 other catering staff. It was eerily tidy for a commune of this proportion, but as she explained, "everyone is always at work".
Maryline was matched with Michael from Romford, a young man who seemed to have tons of personal space – a flat paid for by housing benefit – and all the time in the world to enjoy it as he had no job. He was adamant no jobs were available.
Maryline said she found a job in a tea-room the moment she arrived. It was a curious spectacle, with Maryline explaining that sometimes it is  better to walk into places and ask about work opportunities than send emails, or that in France she worked in a luxury shoe shop but here she decided to do anything, and that she shared one room with a friend and they only had one wardrobe between them. Michael was bemused.
Elsewhere, Romme, a Filipino care-worker who had been recruited to work in the country, was informed by his British "partner" John that foreigners lacked the caring touch.
"You don't want to do these jobs," he replied, remarkably politely, keeping in mind the man spent his days nursing sufferers with severe epilepsy, "you don't like blood and you don't like wiping bums". The wiping-bum remark hung in the air awkwardly.
It had been a wholly serene chat until that point, but here was the nitty-gritty. The one thing we learned for sure from this hour was that Nick and Margaret had no real idea what to think about any of it. If they really are the clever people "behind the door" with all the solutions about Britain, they may need to stay in the think-tank a little longer.
Reuse content