'Believability is the main thing," says Donal Woods, the five-times Emmy-nominated production designer of Downton Abbey, leaning back behind his vast draughtsman's desk. "Good production design shouldn't be noticed."
Woods is in his late fifties, and looks a bit like Anthony Hopkins. We're deep in his lair at Ealing Studios, formerly home to the socially subversive Ealing Comedies of the late 1940s, but now taken over by a show that seems to celebrate the sort of feudal domestic order that Ealing auteurs such as Alexander Mackendrick and Robert Hamer would have gleefully lampooned.
The sets for Downton Abbey's servants' quarters have been constructed here, along with all the miladies' boudoirs (all the rest is filmed at Highclere Castle in Berkshire). "All the bedrooms are the same bedroom," reveals Woods, when he later leads me on a tour. "We just change them round for Cora or Rose or Lady Mary."
Such versatility is part of the job of production designer – the professional with the overall responsibility for the look of a film or TV show. And because the main character in Downton Abbey is the house itself, it was up to Woods to choose the right building – in this case, of course, Highclere, the country seat of the Earl of Carnarvon that was remodelled in the 1870s by Charles Barry, the architect of the Houses of Parliament.
"We visited probably a hundred houses in England, Scotland, Wales and Ireland, and – guess what? – the first house we looked at had been Highclere," says Woods, who was keen to avoid the Georgian period replicated in endless Jane Austen adaptations. But he also soon realised he'd have to build a separate set for the servants' quarters because 'below stairs' in most country houses have long since been turned into tea-rooms, offices and stores. A production designer is much more than a location manager, however, although location-scouting is part of the job. And the role goes deeper than merely nailing together a warren of sets for Downton's domestic servants. There is a deeper aesthetic involved.
"We decided to make the downstairs like a black-and-white film," he says. "We limited the colours downstairs and everyone wears black and grey, or cream and grey. And then once you go through those green baize doors [to the main house] you're into super Technicolor.
"That's really what a production designer does," he says. "You design the sets, and you organise the set decorating department to get the props. But it's up to you to keep the main visual philosophy going, to make sure you're on the right track all the time."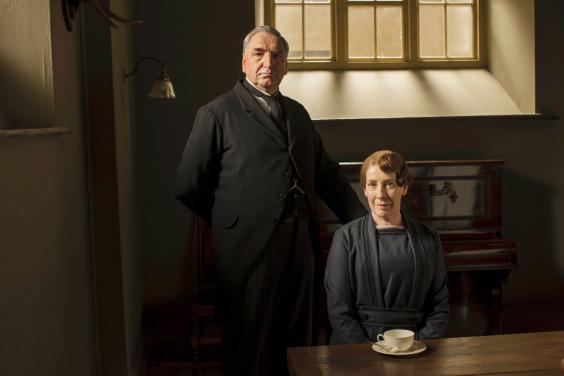 Woods's domain at Ealing reflects the diversity and hierarchy of his profession. Beneath him are four art directors, two buyers, a set decorator and construction manager and various prop-makers – on the day that I visit, railway station signs are being painted in readiness for being transported down to the Bluebell Line in East Sussex, the location for Downton's fictional train station.
Having studied design at Leicester Polytechnic (later De Monfort University) in the early 1980s, Woods joined the now-defunct BBC in-house design department and worked there for 17 years, his first jobs being as a junior designer on Roland Rat: The Series and that classic 'cosy' sitcom Terry and June. "A lot of people in this profession learnt a lot by being at the BBC," he says. "I still see a lot of Martin Childs, who won an Oscar for Shakespeare in Love; it's a really good grounding. But the whole department was made redundant and went freelance."
How would he advise someone wanting to join the profession today? "I think it's really difficult," he says. "Young kids come to me and I tell them, 'You can't think you can just leave college and someone's going to give you a budget'. So be part of a team, enjoy the journey, don't rush it – be by the camera, talk to directors, show your ideas to people."
Woods thrived as a freelancer, designing the 2003 BBC conspiracy thriller State of Play ("People seemed amazed that we managed to find a real newspaper office... we designed it ourselves!"), the hit 2007 costume drama Cranford, and the award-winning BBC Shakespeare trilogy The Hollow Crown. Having designed the two episodes of the US thriller Homeland set in Tehran (but filmed in Morocco), he was hired for the pilot episode of Tyrant, the new show by Homeland's production company. "I'm lucky right now because I get offered great things."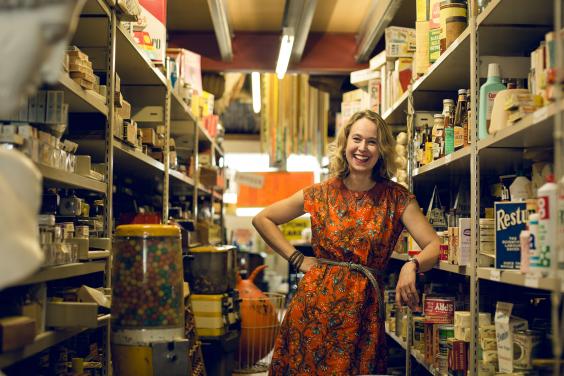 Anna Pritchard, a production designer who has come to specialise in contemporary urban dramas such as My Murder, Channel 4's London-gang series Top Boy, and Dominic Savage's recent BBC1 drama The Secrets, began her career by making models for Action Man adverts. "I actually trained as a goldsmith jeweller," she says. "A lot of these intricate things ended up going into films and I ended up working in Los Angeles in Paramount Studios, designing everything from edible pens to shoes that fall apart. It was then this whole world opened up to me."
At this point, Pritchard took herself back to college, studying production design at Kingston University in south-west London. "You have placements at college and I was lucky enough that a production designer called Melanie Allen (Whitechapel, Silk) took me on board," she says. "I started at the beginning, making teas and running about, and climbed up the ladder slowly, starting with making technical drawings and graphics.
"A course is essential; you do need to know how to draw, you need to have technical ability. You need to know where to get hold of props – cheaply – and a good visual sense of film, photography and locations. But it's a fascinating job – one I would like to do for the rest of my life.
"When the script arrives in the post I just read it [to] get a general idea of vibe and atmosphere," says Pritchard. "The director will give me words like he wants it 'quirky', 'mysterious', 'dystopian', 'Tim Burton-esque', 'David Lynchian' or whatever. We'll talk about films we enjoy – I'm quite influenced by a lot of Mexican and South American films like Amores Perros and Sin Nombre, for example – colours we like, architecture, style, composition and so on. It's than that I get my highlighter pens out; I break things down into what needs to be built, what can be done with special effects, and the props we need. What I love is getting into the nitty-gritty of life, finding out about all those things you don't really know about."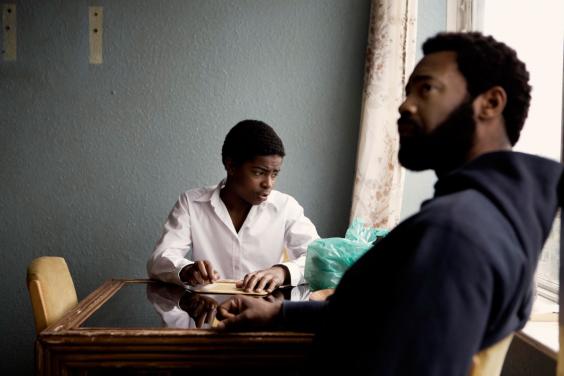 Lately, with My Murder and Top Boy, that research has involved inner-city gang culture. Pritchard used a lot of documentary images of the estates – especially the work of Magnum photographer Simon Wheatley – and met up with former gang members. "We'll ask them, 'Is this what the drugs look like? Is this what the guns look like?' And they'll tell us that the drugs are wrapped in a certain way, or that our guns are too American. They say: 'We only use old First World War guns (because of a [now-closed] loophole in the Firearms Act that eased the trade of antique weapons). We can't get references from watching The Wire... this is not America."
With fantasy and sci-fi, documentary realism is obviously less important. The genres do require, however, a resourceful imagination. The Welsh production designer, Edward Thomas, for example, not only had to recreate renaissance Florence and Rome in "a leaky old car factory" in Swansea for Da Vinci's Demons, but he was also the man commissioned by Russell T Davies to re-design Doctor Who for the modern viewer, overseeing the first six seasons of the rebooted time-travel saga.
"Russell was very generous from a design point of view," says Thomas. "In the script all he wrote was 'the Tardis is a cathedral-like space on the inside and small on the outside', which meant we could do what we wanted really.
"In my mind, there was no question that we had to bring the blue box back, but then I decided you don't build a Tardis, you grow a Tardis; and it takes 500 years to grow a Tardis, so you start with coral and glass and wood... but none of that was in the script. And then five or six episodes down the line, Russell T Davies was writing 'You don't build a Tardis, you grow it'. That's one way production design can influence the script."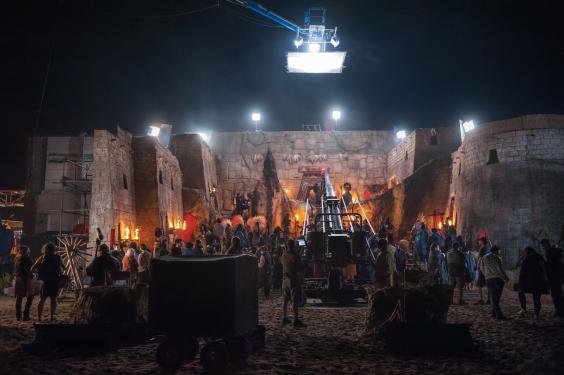 After studying theatre design at the Wimbledon College of Arts – and designing a production of Puccini's opera Turandot at Wembley Arena – Thomas "drifted into commercials, and then from commercials into feature films. And then I ended up down in South Africa and did 18 feature films in total, various westerns, Vikings, a lot of fantasy stuff. And one day I came home to visit my parents in South Wales and I saw that BBC Wales were making Doctor Who and I thought that would be a really interesting design job. Thereon in I got branded as 'Mr Sci-fi UK'."
He even got to tinker with those most iconic of sci-fi villains, the Daleks, originally designed in 1963 by Raymond Cusick, and supposedly inspired by a pepper pot in the BBC canteen. "The original design was so successful that it would have been wrong for us to divert it too far," says Thomas. "We made them bigger because I knew that Billie Piper, who was playing the Doctor's assistant at the time, was going to have a stand-off with a Dalek, so I wanted to make sure that the eye-stalk of the Dalek was absolutely at her eye-height."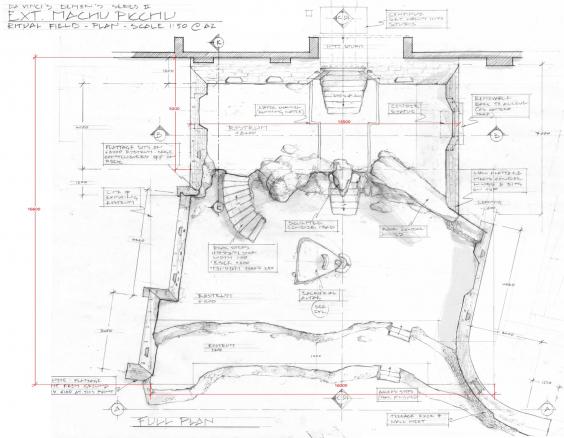 Thomas also designed the pilot of BBC1's Sherlock, 28 episodes of Torchwood and 18 episodes (to date) of Da Vinci's Demons, for which he recently had to recreate the mountain-top Peruvian Inca site of Machu Picchu without leaving the UK. He likens himself to the conductor of an orchestra. "I have an associate production designer who keeps what I like to call the 'drawing club' going. The drawing club consists of the concept artists, the set designers and the graphics... all the creative people... and that takes a lot of scheduling and managing."
The only thing Thomas dislikes about his job is the foreign travel that keeps him from his young family. "And my wife will tell you I'm a disaster when we're out in the car because I'm always looking for a façade of a temple or something. Walking along a beach, I'll pick up a shell and I'll think, 'Wow that'll make a great spaceship...'. I do drive her absolutely batty because I'm not listening to her. As a designer your mind is always buzzing".
'Downton Abbey' returns to ITV next Sunday
RECREATING MACHU PICCHU IN SOUTH WALES
In order to recreate the 15th-century, mountain-top Inca site of Machu Picchu, along with Peruvian beaches and jungle, for an episode of 'Da Vinci's Demons', production designer Edward Thomas began in the graphics department: "I sit down with the computer graphics guys and say, 'Can you provide me with backdrop?' For the beach, we went to a military beach in South Wales, which is closed to the public, and we took South American plants there.
"We then went to Heligan Gardens in Cornwall, which has this array of amazing South American plants, and from there we go to a quarry in mid-Wales for our rocky mountain paths to Machu Picchu, before finally building our set of Machu Picchu back in Swansea."
Reuse content