Chuck out that chunky set-top box. Sever the satellite link. Untether your TV. And get ready to open up the taps on streaming. On-demand video streaming delivered over the internet to your TV, your laptop, your tablet and maybe even your phone, that is.
In theory, video streaming is cheaper, more flexible and better tailored to your personal viewing preferences than services from the traditional broadcast, satellite and cable operators. You know, the ones pumping homogenised, mass-market content into your HDTV. Whether live TV and sport or on-demand movies and the best drama series from around the world, there are now alternative streaming services to suit.
The hype is huge at the moment, from techie magazines, but how much money can streaming truly save you? Is internet streaming a real living-room alternative? Is there some content that can't be had in streaming format?
The argument in favour of swapping over to streaming goes like this: you already have a home broadband internet service and a TV licence. So, cancel your expensive monthly Sky-TV-or-similar package. Sign up to a streaming service like Netflix. Then supplement that with free-to-access services like BBC iPlayer or 4oD and the odd one-off new release from a premium video-download platform such as iTunes or Amazon Instant Video.
If you do it right, you can even have some Premiership football thrown in for free. You won't even need a Freeview box. The video streaming alternative isn't just about saving money, either. It's changing the way we consume video content, too. With streaming, the very notion of waiting for the traditional weekly drip feed of new episodes of your favourite series is under threat.
It's well known that Netflix now commissions its own series and one-off programmes, including the smash-hit US adaptation of the 1990s BBC classic House of Cards. The difference is Netflix doesn't release new episodes week-by-week. Entire new series are unleashed in an instant, enabling indulgent binge viewing for hardcore fans. How about that for having more control?
Netflix currently costs just £5.99 per month for total access to its UK catalogue of films, television series and documentaries. That compares with £21.50 for the cheapest Sky package and over £90 for the full Sports-and-Movies-plus-broadband kit and caboodle. Unsurprisingly, streaming is proving a very attractive proposition. In the US, Netflix is already so popular it represents as much as 30 per cent of internet traffic at peak times. Worldwide, Netflix claims over 44 million subscribers.
If that sounds great, the streaming proposition loses some of its appeal as you drill down into the details. According to Paul Jackson, analyst for broadband and TV specialist Informa, the real problem with streaming services is content. There just isn't enough.
"From a technical point of view, we're there. Streaming devices such as the Roku 3 and Chromecast are cheap. Most people have access to affordable broadband that's fast enough for streaming video. But the availability of content and particularly films is woeful."
Jackson doesn't expect that to change any time soon thanks to the likes of Sky aggressively buying up exclusive rights to hits such as swords-and-sorcery series Game of Thrones. Dan Rayburn of US-based Streamingmedia.com agrees and says the underlying issue is the cost of content production.
"Netflix has announced plans to spend $3bn on content this year," Rayburn explains. "But when a single season of an original series like House of Cards costs $100m, even Netflix can't afford to produce many."
Paying for rights is also prohibitively expensive, he says, and that includes perhaps the trickiest barrier of all for anyone hoping to switch to streaming – sports. Currently, live coverage of Premiership football is divided up between Sky and BT.
As a nation we watch about four hours each of television a day on average, with about 90 per cent of that being viewed live via traditional means. That doesn't mean you should dismiss becoming part of the 10 per cent, though.
And if you're already a BT Broadband or BT Infinity customer the good news is that you can stream BT's minority slice of the Premiership and everything else on the two BT Sport channels for free. But if you use a different internet service provider, you're out of luck. You don't even have the option to pay for access.
As for streaming Sky Sports coverage, anyone can buy access. But it's priced at a prohibitive £9.99 per day. For general sports coverage, another option is access to Eurosport Player streaming for £3.99 per month. All of which means both Jackson and Rayburn agree streaming isn't a wholesale replacement for traditional TV services: it's complimentary.
"People said Netflix would kill TV," says Rayburn. "It didn't happen, just like TV didn't kill radio."
There's also the problem of how you actually watch streaming content on your TV. Some of the latest HDTV sets have so-called "smart TV" functionality that natively supports streaming services and apps. You just need an internet connection. But even for older sets, there are options. Most laptops and tablets and some smartphones have video-out functionality via an HDMI connection. You can also go for dedicated video streaming boxes like an Apple TV or the Roku 3, both available for a little under £100. If you have an internet-connected games console from Sony or Microsoft, that will give you streaming options, too.
Arguably the most exciting new gadget for streaming content onto TVs is Google's Chromecast. Its tiny dongle – which costs $35 in the US – plugs into the HDMI port on your TV. It works via your home wireless network to allow smartphones, tablets, PCs and Macs to serve as media hubs and provide access to internet-based video streaming services. Chromecast is due out any day now in the UK for somewhere in the region of £20. It should be one of the most cost effective ways to get streaming content onto almost any HDTV.
You also have to factor in the cost of home broadband and mobile internet access and the risk of incurring extra charges. Nothing eats up bandwidth like streaming video. Happily, truly unlimited home broadband that cater for video streaming are now common. BT's Infinity Totally Unlimited packages start at £23.
Overall, how well streaming will work comes down to exactly what you want to watch and how often. But make the right choices and you can piece together a surprising amount of streaming content for relatively little money.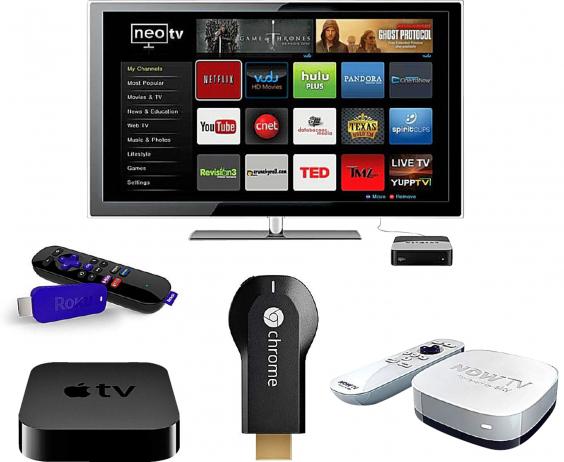 Cut the cord: streaming devices
NeoTV (clockwise from top)
Netgear box connects to your TV to make it into a smart TV. It supports YouTube, Netflix, TED talks and more.
NOW TV
A box from Sky that comes with a £9.99 one-off cost. Stream free services like BBC iPlayer and 4oD straight to your TV. You can subscribe to Sky's streaming service for £8.99 a month for films and £4.99 a month for TV programmes. Because of Sky's movie rights, you'll get more new films than with rival streaming services.
Chromecast
A simple USB-style stick that streams Netflix, YouTube and Google Play. Currently only available in the US.
Apple TV
Apple TV: A one-off fee of £99 gets you this set top box. Its content providers include YouTube, Netflix, Vevo, WSJ live and Red Bull TV.
Roku
Little USB stick and remote punch above their weight with 750 channels of movies, TV episodes, music, news, sports, kids' shows and free programming, including 4OD, YouTube and Condé Nast Entertainment. Available from April for £49.99.
EMILY JUPP