I loved everything about my time at university except what I was supposed to be studying. My A-level English teacher shook his head as I breezily announced I was off to study law, understanding better than me that I was ill-suited to the unforgiving logic of tort, contract and land law – even the sexier subject of criminal law failing to come alive in those long-ago dusty halls. Just to think how different things might have been if I had had Annalise Keating as my lecturer.
Keating is the ruthless, amoral and pugnacious protagonist of a new TV drama called How to Get Away with Murder. Played by Viola Davis (best known for her Oscar-nominated performance in the 2011 film The Help), Keating greets her eager-to-please new students with undisguised disdain, telling them that, "Unlike many of my colleagues I won't be teaching you how to study the law or to theorise about it but rather how to practise it in a courtroom, like a real lawyer."
And she's as good as her word, encouraging her pupils to come up with potential defences in the trial of a spurned mistress dubbed the "aspirin killer" after the accused swapped her married lover's blood-pressure pills for aspirin, knowing he was allergic to them. Keating then reveals that this is a real live case and that the best students will be helping her on the defence. In fact her course is an extended job interview, with the lucky few joining her law firm.
Now all this is hokum obviously, but superior hokum. How to Get Away with Murder gets away with artistic murder because it is as vivacious as its heroine, full of self-confident storytelling and gleefully steering away from the tropes of so many American legal dramas, which all seem to be set in big-city law firms where the men are chiselled Wasps and the women are immaculately costumed in 50 shades of grey and the windows are all floor to ceiling.
Damages and The Good Wife were both brilliant and darkly topical, the high-camp Boston Legal was the spiritual heir to Ally McBeal, and Law and Order provided dependable procedural entertainment for the masses. But between them they seem to have set a certain tone – neatly summarised by the title of a recentish addition to the genre, Suits, and to have driven smartly up a cul-desac of their own making. Where do you go after Glenn Close's chilling performance as Patty Hewes in Damages or the twinkling double-act of William Shatner and James Spader in Boston Legal? Well, you turn to Shonda Rhimes, that's what you do.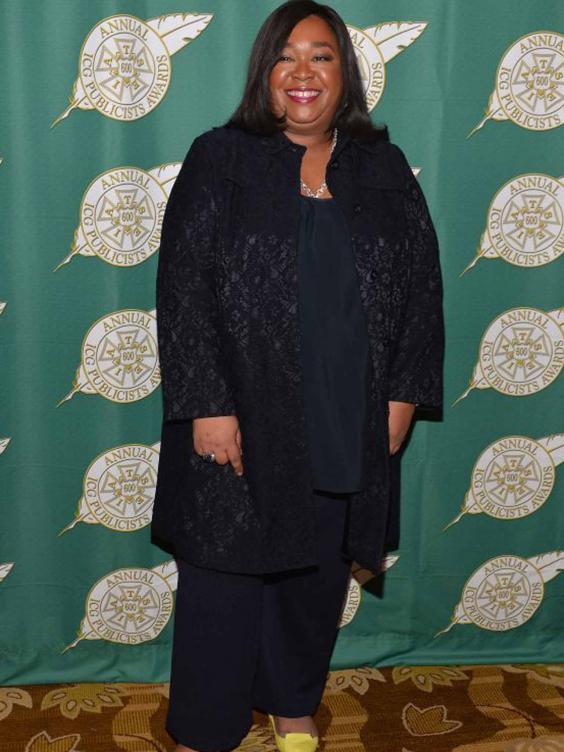 Created by Grey's Anatomy contributor Peter Nowalk, How to Get Away with Murder is made by Shondaland, the production company of the most successful female show-runner currently working in American television, Shonda Rhimes. From inauspicious beginnings (scripting the dire but profitable Britney Spears vehicle Crossroads), Rhimes went on to create, in 2005, one of the most successful TV shows ever, Grey's Anatomy. This was followed by another medical drama Private Practice and then in 2012 by political drama Scandal (starring Kerry Washington) and now ABC has given Rhimes the singular honour of scheduling these two shows along with her new How to Get Away with Murder in a primetime line-up that the network calls "Thank God It's Thursday".
What's remarkable in a TV landscape still wrought with sensitivities about race, is the fact that the leading protagonists in two of these shows – Olivia Pope in Scandal and Annalise Keating in How to Get Away with Murder – are black, as is Rhimes herself, this issue coming to a head last month when the New York Times TV critic, Alessandra Stanley, began a profile with the ill-advised "When Shonda Rhimes writes her autobiography, it should be called 'How to Get Away with Being an Angry Black Woman'." The article drew attention to the way that Rhimes has ripped up the conventions whereby female characters are portrayed on American TV as either salt-of-the-earth working class or the serene and reassuring Clair Huxtable on The Cosby Show.
Of the casting of Viola Davis Stanley wrote: "Ignoring the narrow beauty some African-American women are held to, Ms. Rhimes chose a performer who is older, darker-skinned and less classically beautiful than Ms Washington [in Scandal]. As Annalise, Ms. Davis, 49, is sexual and even sexy, in a slightly menacing way."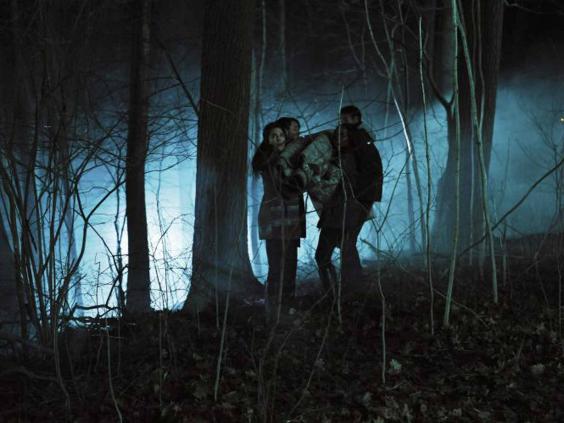 Indeed, early in the opening episode she is discovered by one her students (played by British Harry Potter regular Alfred Enoch) in flagrante delicto with a man who is not her husband, and isn't above blackmailing and lying to this lover. She will do anything to win a case, which puts her well up there on the Patty Hewes level of mendacity.
And then there's an added level of fun – a flash-forward in the opening episode that projects us three months into the future and a subplot reminiscent of Donna Tartt's The Secret History where Keating's brightest pupils are attempting to dispose of a body wrapped in a carpet. It's late at night, as they frantically discuss the best way of getting rid of the murder weapon – one of the statuettes that the law professor hands out to the year's most promising student.
Explaining her brand of unashamedly populist drama, into which she seamlessly folds weighty issues of race and gender, Rhimes recently said: "I write the stories I want to write, with the characters I want to write." Sassy and bold and in her own image, one suspects. Or as one American critic said of her new show: "It's not perfect, but it's never boring".
'How to Get Away with Murder' begins tonight at 10pm on Universal Channel; 'Grey's Anatomy' returns to Sky Living tonight at 9pm, and 'Scandal' continues on Sky Living on Thursdays at 9pm
Reuse content