This Friday night, as is traditional, I'll be enjoying some family time over dinner. In other words, I'll be watching the new series of Friday Night Dinners - alone, hopefully - with a family-size glass of wine. Glorious.
Along with Phone Shop and Toast of London, Robert Popper's sitcom about the regular get-together of the Goodman family is one of those Channel 4 gems that has beneficently bestowed upon us, without the fanfare it deserves. Unlike those other two shows, Friday Night Dinners belongs to the comedy subgenre which viewers have most reason to dismiss out of hand as stale and unfunny - the family sitcom.
Think of those inexplicably popular comedies, which prefer canned laughter over the fresh variety and never knowingly forgo an obvious gag and, most likely, it will be a family sitcom that springs to mind: 2point4 Children (1991 - 1999), My Family (2000 - 2011), Mrs Brown's Boys (2011 - ) or my personal bête noire Everybody Loves Raymond (1996 - 2005), which everybody hated, yet apparently still watched, for years and years, in Channel 4's depressing breakfast-time slot.
'Family values' is a concept most readily associated with Tory party manifestos, so it's no wonder that family sitcoms have a reputation for being conservative. These shows rarely offer cutting edge comedy, but their interest in parents rowing with children can make them a useful barometer of society. Till Death Do Us Part used the Garnett family dynamic to signpost racist attitudes as old-fashioned, Caroline Aherne's The Royle Family was the perfect slice of 'reality' for an age fixated with reality television, and even The Young Ones, about a group of house-sharing undergrads in the early 80s, could be seen as alternative comedy's alternative family sitcom. The anarchic gang were rebelling against Thatcherite family values, but their set up still included a bread-winning father figure (Christopher Ryan as Mike), a moaning, home-making 'mother' (Nigel Planer as Neil) and two constantly warring teens (Rik Mayall and Adrian Edmondson as Rick and Vyv).
That's why Friday Night Dinners shouldn't be dismissed as 'just' another family sitcom and why BBC Four should commission The Walshes, which first aired in March, for a full-length series. This hilarious Dublin-set family sitcom probably suffered from a synopsis which sounds dangerously similar to the hi-jinks of a certain cross-dressing Irish matriarch. In fact, the latest generation of family sitcoms deals with a very contemporary situation, that of the 'sandwich generation' and their 'boomerang generation' offspring, who've found themselves spending far too much time together of late.
Enforced gatherings aren't good for intergenerational harmony, but they are good for a few laughs, as sitcom stalwart and Friday Night Dinners star Tamsin Greig pointed out recently: "It's like time travel. You revert at once to a place of arrested development...We're all just idiot children pretending to be grown-ups."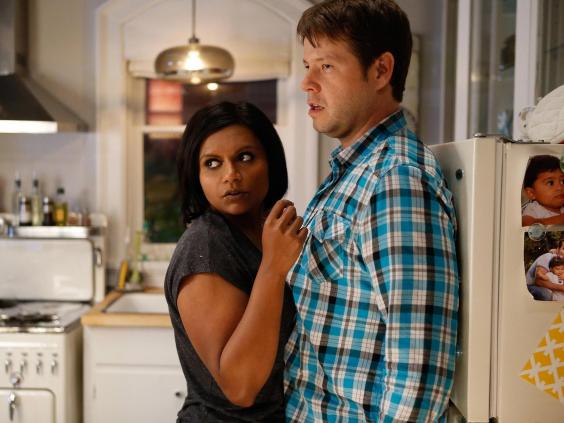 The Mindy Project is romcom's knight in shining armour
When explaining my unwavering romcom devotion to people who just don't get it, I find a footballing metaphor can be useful - especially during the World Cup. You don't give up supporting your team just because they're languishing in the group stage, do you? You still watch all their matches and follow their progress, in the sure and certain hope of better days to come.
Likewise is my loyalty to the romcom movie genre and now this loyalty has finally been rewarded. However, as is so often the case, it was not film which chivalrously came to my rescue, like Richard Gere in a US Navy uniform, but television. Fans of adorkably self-deprecating heroines, aspirational costume design and well-scripted flirtatious repartee must be sure to catch every episode of The Mindy Project (Tuesdays, 9.30pm, E4). It's most definitely 'the one'. 
CATCH UP
Natural World: The Bat Man of Mexico, BBC iPlayer
Some say Christian Bale, for others it's Michael Keaton, but the true Batman will always be Rodrigo Medellin, an eccentric conservationist from Mexico. This fascinating nature documentary follows Medellin as he embarks on a mission to save both his two favourite things; vampire bats and tequila. If you're quick, you can catch it on iPlayer. If not, there's a repeat on BB2 this Wednesday at the awkward time of 9am. TiVo!
http://www.bbc.co.uk/iplayer/episode/b046tnw3/natural-world-20142015-6-the-bat-man-of-mexico
Game of Thrones, Series 4, Google Play
The fourth series of HBO's addictive fantasy saga concluded this Monday evening on Sky Atlantic and already all ten episodes are available to download via a variety of TV sites. Catch up on the gory beheadings you missed first time around, memorise every last Lannister put-down or simply try to pin down Lord Baelish's ever-changing accent - the choice is yours.
Danger Mouse, YouTube
If you're old enough to remember the first run of British animation Danger Mouse (1981 - 1992) then you're far too old to be getting excited about this week's announcement that the cartoon will be returning to television in 2015. A Count Duckula reboot, on the other hand? Now that would be worth writing home about.
http://www.youtube.com/watch?v=e2MT2EJbWEY#t=56
Utopia, Series 1, 4oD
I hearby give you fair warning to catch up with Utopia, Channel 4's oddball conspiracy thriller featuring Neil Maskell (Kill List), Nathan Stewart-Jarrett (Misfits) and Fiona O'Shaughnessy before the new series starts this month and everyone you know is raving about it incessantly.
http://www.channel4.com/programmes/utopia/4od
Reuse content