On meeting Penelope Wilton, it's hard to decide what is most beguiling: the eyes – bright, watchful, suggesting depths of soulfulness – or that caramel-smooth voice with its unmistakable hint of mischief.
We've long been familiar with both, of course, through her many stage roles, 1980s hit sitcom Ever Decreasing Circles, with Richard Briers, and, more recently, international über-triumph Downton Abbey, which returns to our screens tonight. Despite being professedly equivocal at the necessity of submitting herself to the interview process – and having a disarming but highly effective way of smiling warmly to indicate that a line of enquiry should proceed no further – Wilton makes for courteous and appealing company.
The role I've come to talk to her about has her playing determined, stubborn and principled. These are the traits that her Downton character Isobel Crawley has displayed in abundance over the past four series, except this time it is not the acerbic put-downs of Maggie Smith as the Dowager Countess that she finds herself up against. It is instead the growing might of Hitler's Nazi regime in the early 1930s, as Germany turns ferociously on its own citizens.
In the Chichester Festival Theatre's world premiere of Taken at Midnight by Mark Hayhurst, the writer of this year's lauded BBC First World War drama 37 Days, Wilton plays Irmgard Litten. Litten was the mother of crusading lawyer Hans Litten, who in 1931 audaciously subpoenaed Hitler, cross-examining him for three hours at the trial of four SA stormtroopers charged with murder. When the Nazis swept to power, Litten was immediately arrested to be tortured and Irmgard embarked on an indefatigable four-year campaign to free him. Cleverly, Hayhurst imbues this sobering narrative with the hurtling momentum of a thriller.
Wilton's first reaction to the piece, she says, was:  "I hope I'm not going to think I should do this, because it's a very dark place to go to every night." I ask her, as the mother of a 35-year-old daughter, if she can start to imagine what it must be like for a parent to watch a child suffer for so long. "I have to try and imagine", she says simply, before flagging up contemporary parallels with the anguished waiting endured by the parents of Islamic State hostages.
She is delighted, she says, to be involved in new writing again, having done a lot "when I was young", starring in premieres from the likes of Christopher Hampton, David Hare and Harold Pinter. "There seemed to be more roles then. I suppose younger men write about the generation they know", she says. What she'd really like to do next is a comedy, having greatly enjoyed the snippet of Alan Ayckbourn's Bedroom Farce that she appeared in for the National Theatre's 50th anniversary gala last year. "I like making people laugh. So if somebody out there can think of a comedy for me to do, I would love to." A canny producer could do far worse than to mount a revival of Bedroom Farce around her and her perfect foil from that gala, Nicholas Le Prevost.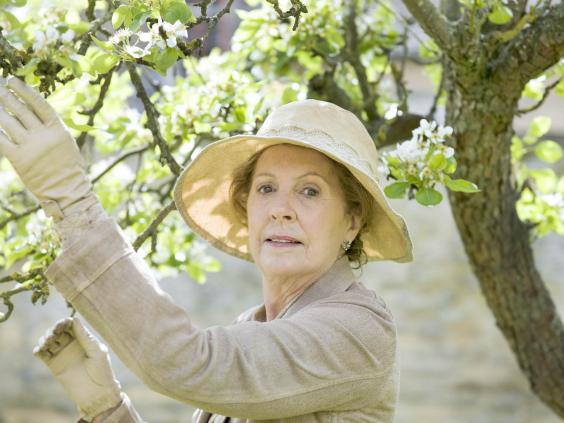 Over the 40-plus years of her career Wilton, 67, has been in constant demand, but there has never been anything even remotely like the worldwide juggernaut success of Julian Fellowes' Downton Abbey. Wilton now gets letters from far-flung fans in South Korea and China, but professes herself "surprised", like the rest of the creative team, at the show's impact. Her reaction on reading the first scripts was clear, she says. "I didn't think it was outstanding. I thought they were very good scripts, rather wittily written, by somebody who certainly understood his subject, which was class."
In the past, Wilton has described Isobel Crawley as a "bit of a leftie", so I wonder if her own views chime with those of her character. "Yes they do, indeed they do", she says, before re-stating, as she has mentioned previously, that if she were alive now, Isobel Crawley would most likely be editing "the women's page of The Guardian . She believed in what I absolutely believe in, which is education." After a thoughtful pause, she continues. "Women should not feel at a disadvantage." Have you ever felt that? "Yes, when I was younger I certainly felt at a disadvantage. I didn't have a very good education and it wasn't expected that I would have, because I was a girl. I've always rather resented that. A better education would have given me a larger landscape. I think you educate yourself after a bit." Her wide-ranging classical music choices on her 2008 Desert Island Discs stand as eloquent testament to that.
Downton's downside is that it has pushed Wilton and her fellow cast members into the world of increased, and sometimes intrusive, press exposure. Even at the height of Ever Decreasing Circles fame, she says, there was nothing akin ("in those days you just got on and did it"). As for today's obsession with celebrity, she says: "Everyone has an obsession with everything now, it seems to me. Everything seems important for about five minutes and then people forget about it." The thing that pleases her most about her elevated profile, she laughs, is "Dead Ringers [the Radio 4 satire] doing my voice. When they need somebody to say horrible things in a nice voice, they get me. That is fame, to me!"
I'm surprised to hear Wilton say that she's not in greater demand because of Downton; there must be a lot of exceedingly slow-witted creatives out there. She will, however, be seen on the big-screen again early next year in a sequel to Brit-hit The Best Exotic Marigold Hotel, as her character, who flounced dramatically out of the original, is "back to cause trouble". Two months' location filming in Rajasthan with the likes of Judi Dench and Bill Nighy was, she says with a twinkle, "great fun".
Wilton grew up in a family with theatrical connections; her mother was "an actress in light comedy, for a short time before the war", and her father was a prisoner-of-war who became a barrister. Wilton is twice married and divorced, from actors Daniel Massey and Ian Holm, and I hesitate before asking if she ever found herself having to make a choice between her personal and professional lives. Rather to my surprise, she starts to talk. "My personal life has not been the greatest, my relationships have not been the most successful and I think some of that is to do with the fact that I have a career. It wasn't always easy to juggle everything and it caused a certain amount of tension." She pauses. "There could be a clash of interest, I think." In what sense? "There might be certain people you like working with which might not suit your husband, or vice versa. But I can't really go into it in any more detail than that." Is it a source of regret now? "I think so, yes, yes, certainly." She is now, she says, "happier than I've been in years [because] I'm not answering to anyone and I'm my own person."
Despite providing 80 minutes of engaging conversation, Wilton remains adamant that she doesn't like talking about herself. "The more you know about the person playing [the part], the less interesting it is. The audience come in and say, 'Oh, that's the person who was married twice', instead of thinking, 'There's Irmgard Litten'. People can know the facts, but I'm not particularly interested in anyone knowing anything else much about me." With that, Penelope Wilton smiles serenely and exits to have her picture taken.
'Downton Abbey' begins tonight, 9pm, on ITV1. 'Taken at Midnight' is at the Minerva, Chichester, from 26 Sep to 1 Nov (01243 781312, cft.org.uk).
Reuse content