With only 14 Mad Men episodes left, there's still much to resolve in the drama's final series.
Set in 1969, season seven sees advertising firm Sterling Cooper & Partners open a new office in LA, while the show's central characters have their professional and personal scores to settle on both coasts.
As we gear up for the first installment, these are the big questions we're asking:
1. Will Don Draper ever be happy?
Last time we saw the creatively brilliant but self-destructive Don (Jon Hamm), he'd been forced to take some time out from Sterling Cooper & Partners after choosing to reveal some serious skeletons - notably that he'd been brought up in a whorehouse - during a pitch meeting for family-friendly brand Hershey's chocolate.
Career on the skids, he'd come clean to his kids about his own upbringing (good) and went back on a promise to his actress wife Megan (Jessica Paré) that they'd would move to California (bad). She packed up and headed to Hollywood and he was left contemplating his future. His secrets might be out, but finding inner peace in 14 episodes is looking optimistic.
2...…and learn the art of monogamy?
Cold, hard evidence suggests this might be a struggle. Over the last six series, we've seen Don bed multiple women that weren't his two wives. Most recently, it was his neighbour (and wife of a so-called friend), Sylvia Rosen, a devout Catholic for whom Don developed a needy and controlling obsession. We predict Sylvia won't be the last of Don's flames.
Mad Men season seven
Mad Men season seven
1/16 Mad Men season seven

With Sterling Cooper & Partners opening a West Coast office, many of the staff will be going bi-coastal this season. Though Don (Jon Hamm) on an enforced leave of absence needs to find his feet again.

Lionsgate

2/16 Mad Men season seven

Don and his actress wife, Megan's future was uncertain at the end of season six. One thing's for sure, Megan (Jessica Paré) will be embracing the late 60s and 70s trends.

Lionsgate

3/16 Mad Men season seven

Joan Holloway (Christina Hendricks) now has to balance life as a partner at SC&P with looking after her son Kevin.

Lionsgate

4/16 Mad Men season seven

The final season will see new directions for many of the main characters. From left, Roger Sterling (Jon Slattery); Joan Holloway; Pete Campbell (Vincent Kartheiser); Peggy Olsen (Elisabeth Moss); Betty Francis (January Jones); Megan Draper and Don.

Lionsgate

5/16 Mad Men season seven

Pete and creative director Ted Chaough are living the Californian dream this series.

Lionsgate

6/16 Mad Men season seven

If these shots are a reflection of the action, Don and Roger will be making regular coast to coast trips this season.

Lionsgate

7/16 Mad Men season seven

A family united? Betty(January Jones) and Henry (Christopher Stanley) with Betty and Don's three children, Sally (Kiernan Shipka), Bobby and Gene

Lionsgate

8/16 Mad Men season seven

Sally Draper's firmly in her teenage years - we predict fireworks.

Lionsgate

9/16 Mad Men season seven

The SC&P team are all back for the seventh and final series. From left, Stan Rizzo (Jay R. Ferguson); Michael Ginsberg (Ben Feldman); Peggy; Harry Crane (Rich Sommer) and Ken Cosgrove (Aaron Stanton).

Lionsgate

10/16 Mad Men season seven

The boys have embraced the late 60s fashion.

Lionsgate

11/16 Mad Men season seven

Megan's putting her efforts into her acting career.

Lionsgate

12/16 Mad Men season seven

It appears Roger Sterling (Jon Slattery) is finding it easier to move with the times than Don.

Lionsgate

13/16 Mad Men season seven

Partners Roger, Bertram Cooper (Robert Morse), Jim Cutler (Harry Hamlin) and head of creative Ted Chaough (Kevin Rahm).

Lionsgate

14/16 Mad Men season seven

Flower power: Peggy

Lionsgate

15/16 Mad Men season seven

BettyFrancis

Lionsgate

16/16 Mad Men season seven

Megan Draper

Lionsgate
3.    Peggy's progress – what next?
Peggy (Elisabeth Moss) has worked her way up from secretary to copy writer to copy chief. She's one of the few people Don respects, and she wears a pussy bow blouse and a Peter Pan collar like they were made for her.
In short: she's the girl other girls want to be. Most recently, she's captured the heart of Don's long-time rival and SC&P latest recruit, Ted Chaough (Kevin Rahm). But it's not all plain sailing, obviously, this is Mad Men. Ted's chosen his wife and family over Peggy and headed off to the LA office, leaving her heartbroken. And there's the small matter of her child by resident douchebag Pete Campbell (Vincent Kartheiser), of which I'm sure we haven't heard the last of.
4.  Will we ever like Betty?
Oh, Betty. Beautiful, icy, sad, selfish Betty (January Jones) is difficult to warm to. She's frustrated by her lack of career, petrified of losing her looks and is scarred by her complicated marriage to Don. And hasn't quite found the contentment she craves with politician Henry Francis (Christopher Stanley).
This season, she's back to her devastating blonde bombshell best, and with daughter Sally (Kiernan Shipka) firmly in the rebellious teenage years, we predict there will be some serious fireworks before the series is out.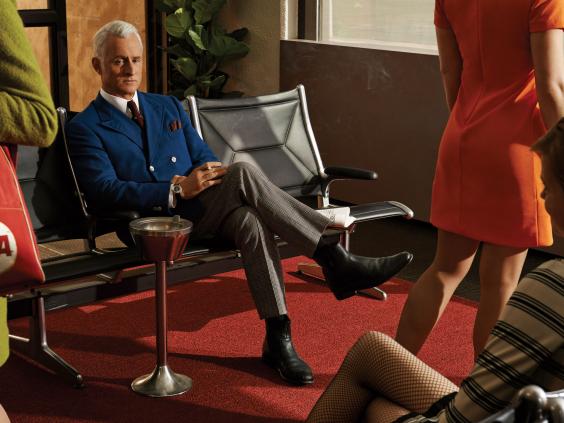 5.    What will Roger do next?
Roger (Jon Slattery) might be straight out of the advertising old school, but unlike prickly, conservative Don, he's not averse to getting down with the kids. He's already experimented with LSD and if there's anyone we're excited about seeing buying into the hippy thing, it's Roger.
There's also Kevin in the mix, his son with Joan Holloway (Christina Hendricks). It might be too much to ask for happy ever after, but we're going to enjoy watching it play out.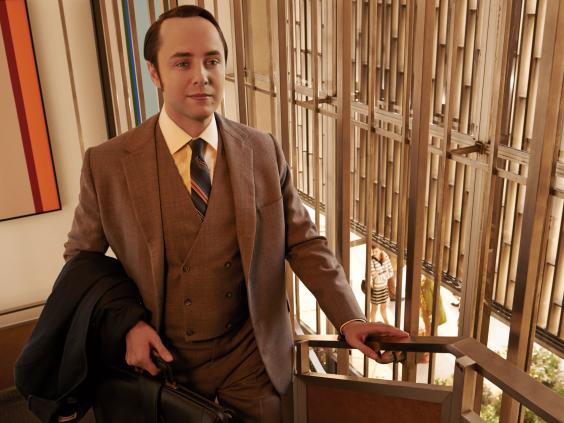 6.    Can Pete Campbell stop being a douchebag?
Pete's proved to be a serial cheat, will trample anyone on his way to get what he wants – including pimping out his female colleagues to win deals. He took advantage of his mother's Alzheimer's and is generally a slippery, slimy bloke we love to hate. Now he's divorced and LA is his playground. We're scared.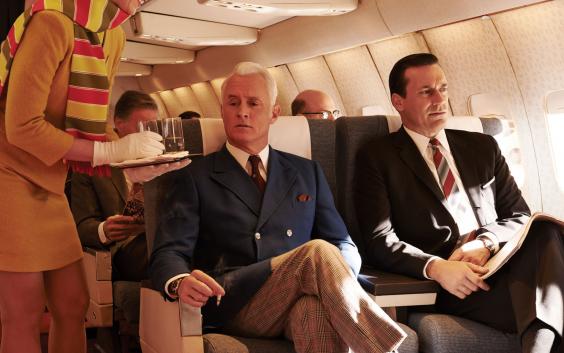 7.    Goodbye Manhattan, hello LA?
Megan's got designs on Hollywood; Pete's footloose and fancy-free after his divorce and eyeing up a move to the new office out west; Ted's there after fleeing New York to save his marriage and take up the Sunkist account instead of Don. And Don, well, he and the West Coast have emotional history. While New York will always be the primary home of SC&P, we like the idea of the Golden State playing a leading role this season.
Mad Men season 7 starts tonight at 10pm on Sky Atlantic