Imagine if X Factor were genuinely interested in finding the most talented new musicians in Britain, instead of just filling airtime between TalkTalk commercials? Or if the Big Brother house brought together a real representative cross section of British society, and not just the fame-hungry desperados from the dole queue. How much more compelling would I'm A Celebrity Get Me Out of Here be if the celebs were at genuine risk of death-by-starvation when they gobbled up kangaroo testicles? Well imagine no longer. When Married at First Sight starts on Channel 4 next week, we may finally have a TV social experiment that's worth taking seriously.
The format of the show, which was originally devised in Denmark, uses a panel of relationship experts to assess the compatibility of singletons and matchmake them into couples. And by 'relationship experts' we don't mean Paddy McGuinness from Take Me Out or that overly chatty French waiter from First Dates. Married at First Sight has a psychologist, a psychoanalyst, an evolutionary anthropologist and a priest, who used methods including DNA testing and a 300-part psychological questionnaire to whittle their 1500 applicants down to just three prospective marriages. The first time these couples meet, it's their wedding day. They then go on honeymoon, then cohabit for five weeks before ultimately deciding in the series finale whether to divorce or stay together.
Does this mean the show will trivialise marriage? Inevitably, some think so. A spokesperson from the Marriage Foundation told the Daily Mail: "the originators of this programme profoundly misunderstand the nature of commitment." But surely all romantic commitments involve a hefty element of risk. In traditional marriages, couples gamble their future happiness equally on their partners and the institution of matrimony. In this situation, the spouse-to-be is a total stranger, so individuals must instead place all their faith in the institution itself, one that many of their contemporaries dismiss as outmoded.
Nor would anyone with any experience of modern dating doubt the sincerity of their intentions. Internet dating promises much, but delivers little ("There's no oxytocin hit with an email" says evolutionary anthropologist Dr Anna Machin). Long working hours also mean those rare evenings off are too precious to squander on blind dates. As one applicant jokes "It can't be worse than Tinder, eh?"
Unlike the average reality TV contestant, everyone involved in this show seems fully aware that having their personal lives play out on television will be embarrassing, but the potential rewards make it worthwhile. Moreover the show's past hit rate is impressive - two out of the three couples on the US series remain happily married three years on. Cilla Black could only dream of such success. While most other dating shows just toy with our emotions, Married at First Sight is serious about making it work.
Pre-watershed dressing: a refresher course
Just how naked do you have to be to be deemed 'inappropriate' for pre-watershed viewing? Pretty naked, according to the standard jointly set by Britain's Got Talent judges Amanda Holden and Alesha Dixon. For the May 31st live show, they wore saucy gowns featuring slits up to the crotch, necklines down to the belly-button, and prompted nearly 300 viewer complaints — yet still they were cleared by an uncharacteristically mellow Ofcom. "In our view, the dresses appropriately covered the judges and they were not portrayed in a sexualised way," said a spokesman.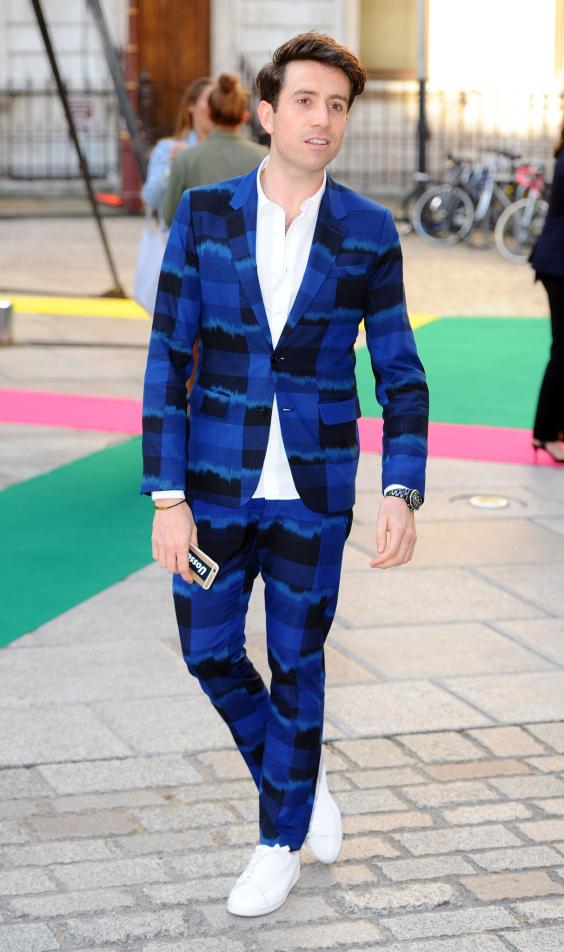 Surely any self-(dis)respecting publicity seeker will interpret this ruling as a challenge? If anyone can provoke the relaxed regular into action, it's X Factor's new signing Rita Ora, although she may have some competition from fellow newbie Nick Grimshaw. He's been known to leave more than just the top two shirt buttons unfastened.
CATCH UP
Not Safe For Work, All4
If you're stuck at work while the sun's out, then Channel 4's new office life dramedy should cheer you up. No one could possibly be as miserable as recently divorced civil servant Katherine (Fresh Meat's brilliant Zawe Ashton). Not only has she been transferred to Northampton at short notice, but her boss is the ketamine-snorting layabout Danny (Sacha Dhawan)
http://www.channel4.com/programmes/not-safe-for-work
Dan Cruickshank's Civilisation Under Attack, BBC iPlayer
This excellent, infuriating documentary about ISIL's destruction of ancient cultural artefacts in Iraq and Syria will make you weep with frustration; art historian Dan Cruickshank certainly comes close. It's also a brilliant examination of why art is important to the world as a whole and how Islamic terrorists have used propaganda to mask gaping holes in their theological arguments.
http://www.bbc.co.uk/programmes/b0615mxc
The 7/7 Bombings: Survivors Stories, ITV Player
It was the deadliest attack on the capital since the Blitz and next Tuesday will mark a decade since a terrorist attack on London's transport system claimed the lives of 52 civilians. Over 700 more people were injured in the bombings and some of them appeared in this documentary, alongside relatives of the dead and the medics who responded at the scene.
https://www.itv.com/itvplayer/7-7-bombing-survivors-stories
A Deadly Adoption trailer, YouTube
Is this a comedy? A genre spoof? Or a straight-up, made-for-TV melodrama? No one seems quite sure what to make of the latest Kristen Wiig and Will Farrell collaboration, which airs on Channel 5 next week. After a family tragedy, a married couple opt to try surrogacy, but when pregnant Bridget turns up, she's smokin' hot and clearly trouble. 
https://www.youtube.com/watch?v=921UzgGkcVw
Reuse content