Los Angeles in November is still hot and bright, and Michael Connelly is in shirtsleeves as he watches the latest scenes from his crime series Bosch being filmed in the plaza outside police headquarters. It's a rare privilege for a show to be permitted to shoot at the LAPD's downtown base, but Bosch is a special case: Connelly's novels are read and enjoyed by many of the officers who work inside.
Between takes, the author is greeted by Titus Welliver, the actor who plays his fictional gumshoe, the dogged and irascible Hieronymus "Harry" Bosch; and by LAPD homicide detective Tim Marcia, who has been a consultant on his novels for years and now acts as an adviser to the show. Marcia is one of a handful of real cops who frequently appear as characters in Connelly's books.
In fact, it's hard to tell who is real and who is fictional on set, particularly since several of the extras are in fact genuine uniformed officers, working as background actors in their off-hours. "I always wanted Harry to be the only thing in the books that's not real," Connelly says. "I think the best way to sell a made-up character is to plant his feet into the real earth."
When I moved to LA in 2012, I read a handful of books about its history and culture, but crime fiction can be one of the best ways to understand the true nature of a city. Edinburgh has Ian Rankin, Washington DC has George Pelecanos, LA has Michael Connelly. Connelly's best-known characters, Bosch and his half-brother, defence attorney Mickey Haller – aka "the Lincoln Lawyer" – might as well be living, breathing Angelenos.
LA has also provided the setting for countless TV cop shows, but few take the city seriously as a location. Bosch, by contrast, is set in a fully realised LA that features far more than just Hollywood and the beach. In that regard, it resembles a selection of other recent shows in different genres, such as Love, You're the Worst, Togetherness and Bosch's Amazon stablemate Transparent.
Culture news in pictures
Culture news in pictures
1/30 30 September 2016

An employee hangs works of art with "Grand Teatro" by Marino Marini (R) and bronze sculpture "Sfera N.3" by Arnaldo Pomodoro seen ahead of a Contemporary Art auction on 7 October, at Sotheby's in London

REUTERS

2/30 29 September 2016

Street art by Portuguese artist Odeith is seen in Dresden, during an exhibition "Magic City - art of the streets"

AFP/Getty Images

3/30 28 September 2016

Dancers attend a photocall for the new "THE ONE Grand Show" at Friedrichstadt-Palast in Berlin, Germany

REUTERS

4/30 28 September 2016

With an array of thrift store china, humorous souvenirs and handmade tile adorning its walls and floors, the Mosaic Tile House in Venice stands as a monument to two decades of artistic collaboration between Cheri Pann and husband Gonzalo Duran

REUTERS

5/30 27 September 2016

A gallery assistant poses amongst work by Anthea Hamilton from her nominated show "Lichen! Libido!(London!) Chastity!" at a preview of the Turner Prize in London

REUTERS

6/30 27 September 2016

A technician wearing virtual reality glasses checks his installation in three British public telephone booths, set up outside the Mauritshuis museum in The Hague, Netherlands. The installation allows visitors a 3-D look into the museum which has twenty-two paintings belonging to the British Royal Collection, on loan for an exhibit from 29 September 2016 till 8 January 2017

AP

7/30 26 September 2016

An Indian artist dressed as Hindu god Shiva performs on a chariot as he participates in a religious procession 'Ravan ki Barat' held to mark the forthcoming Dussehra festival in Allahabad

AFP/Getty Images

8/30 26 September 2016

Jean-Michel Basquiat's 'Air Power', 1984, is displayed at the Bowie/Collector media preview at Sotheby's in New York

AFP/Getty

9/30 25 September 2016

A woman looks at an untitled painting by Albert Oehlen during the opening of an exhibition of works by German artists Georg Baselitz and Albert Oehlen in Reutlingen, Germany. The exhibition runs at the Kunstverein (art society) Reutlingen until 15 January 2017

EPA

10/30 24 September 2016

Fan BingBing (C) attends the closing ceremony of the 64th San Sebastian Film Festival at Kursaal in San Sebastian, Spain

Getty Images

11/30 23 September 2016

A view of the artwork 'You Are Metamorphosing' (1964) as part of the exhibition 'Retrospektive' of Japanese artist Tetsumi Kudo at Fridericianum in Kassel, Germany. The exhibition runs from 25 September 2016 to 1 January 2017

EPA

12/30 22 September 2016

Jo Applin from the Courtauld Institute of Art looks at Green Tilework in Live Flesh by Adriana Vareja, which features in a new exhibition, Flesh, at York Art Gallery. The new exhibition features works by Degas, Chardin, Francis Bacon and Sarah Lucas, showing how flesh has been portrayed by artists over the last 600 years

PA

13/30 21 September 2016

Performers Sean Atkins and Sally Miller standing in for the characters played by Asa Butterfield and Ella Purnell during a photocall for Tim Burton's "Miss Peregrines Home For Peculiar Children" at Potters Field Park in London

Getty Images

14/30 20 September 2016

A detail from the blanket 'Alpine Cattle Drive' from 1926 by artist Ernst Ludwig Kirchner is displayed at the 'Hamburger Bahnhof - Museum for Contemporary Arts' in Berlin. The exhibition named 'Ernst Ludwig Kirchner - Hieroglyphen' showing the complete collection of Berlin's Nationalgallerie works of the German artist Ernst Ludwig Kirchner and will run from 23 September 2016 until 26 February 2017

AP

15/30 20 September 2016

A man looks at portrait photos by US photographer Bruce Gilden in the exhibition 'Masters of Photography' at the photokina in Cologne, Germany. The trade fair on photography, photokina, schowcases some 1,000 exhibitors from 40 countries and runs from 20 to 25 September. The event also features various photo exhibitions

EPA

16/30 20 September 2016

A woman looks at 'Blue Poles', 1952 by Jackson Pollock during a photocall at the Royal Academy of Arts, London

PA

17/30 19 September 2016

Art installation The Refusal of Time, a collaboration with Philip Miller, Catherine Meyburgh and Peter Galison, which features as part of the William Kentridge exhibition Thick Time, showing from 21 September to 15 January at the Whitechapel Gallery in London

PA

18/30 18 September 2016

Artists creating one off designs at the Mm6 Maison Margiela presentation during London Fashion Week Spring/Summer collections 2017 in London

Getty Images

19/30 18 September 2016

Bethenny Frankel attends the special screening of Disney's "Beauty and the Beast" to celebrate the 25th Anniversary Edition release on Blu-Ray and DVD in New York City

Getty Images for Walt Disney Stu

20/30 17 September 2016

Visitors attend the 2016 Oktoberfest beer festival at Theresienwiese in Munich, Germany

Getty Images

21/30 16 September 2016

Visitors looks at British artist Damien Hirst work of art 'The Incomplete Truth', during the 13th Yalta Annual Meeting entitled 'The World, Europe and Ukraine: storms of changes', organised by the Yalta European Strategy (YES) in partnership with the Victor Pinchuk Foundation at the Mystetsky Arsenal Art Center in Kiev

AP

22/30 16 September 2016

Tracey Emin's "My Bed" is exhibited at the Tate Liverpool as part of the exhibition Tracey Emin And William Blake In Focus, which highlights surprising links between the two artists

Getty Images

23/30 15 September 2016

Musician Dave Grohl (L) joins musician Tom Morello of Prophets of Rage onstage at the Forum in Inglewood, California

Getty Images

24/30 14 September 2016

Model feebee poses as part of art installation "Narcissism : Dazzle room" made by artist Shigeki Matsuyama at rooms33 fashion and design exhibition in Tokyo. Matsuyama's installation features a strong contrast of black and white, which he learned from dazzle camouflage used mainly in World War I

AP

25/30 13 September 2016

Visitors look at artworks by Chinese painter Cui Ruzhuo during the exhibition 'Glossiness of Uncarved Jade' held at the exhibition hall 'Manezh' in St. Petersburg, Russia. More than 200 paintings by the Chinese artist are presented until 25 September

EPA

26/30 12 September 2016

A visitor looks at Raphael's painting 'Extase de Sainte Cecile', 1515, from the Uffizi Gallery in Florence during the opening of a Raphael exhibition at the Pushkin State Museum of Fine Arts in Moscow, Russia. The first Russian exhibition of the works of the Italian Renaissance artist Raffaello Sanzio da Urbino includes eight paintings and three drawings which come from Italy. Th exhibit opens to the public from 13 September to 11 December

EPA

27/30 11 September 2016

Steve Cropper and Eddie Floyd perform during Otis Redding 75th Birthday Celebration - Rehearsals at the Macon City Auditorium in Macon, Georgia

Getty Images for Otis Redding 75

28/30 10 September 2016

Sakari Oramo conducting the BBC Symphony Orchestra, the BBC Symphony Chorus and the BBC Singers at the Last Night of the Proms 2016 at the Royal Albert Hall in London

PA

29/30 9 September 2016

A visitor walks past a piece entitled "Fruitcake" by Joana Vasconcelo, during the Beyond Limits selling exhibition at Chatsworth House near Bakewell

REUTERS

30/30 8 September 2016

A sculpture of a crescent standing on the 2,140 meters high mountain 'Freiheit' (German for 'freedom'), in the Alpstein region of the Appenzell alps, eastern Switzerland. The sculpture is lighted during the nights by means of solar panels. The 38-year-old Swiss artist and atheist Christian Meier set the crescent on the peak to start a debate on the meaning of religious symbols - as summit crosses - on mountains. 'Because so many peaks have crosses on them, it struck me as a great idea to put up an equally absurd contrast'. 'Naturally I wanted to provoke in a fun way. But it goes beyond that. The actions of an artist should be food for thought, both visually and in content'

EPA
Connelly, who splits his time between LA and Tampa, recently bought a cottage in the Hollywood Hills, a few blocks below the imagined house where Harry lives. He's still moving in when I visit him there, days after production on Bosch Season 2 wraps. There's barely anything in the house besides boxes, a desk, two chairs and framed posters for Bosch and The Long Goodbye.
It was the latter, Robert Altman's loose, 1973 adaptation of Raymond Chandler's novel, which first turned Connelly on to LA's mid-century crime fiction laureate and his celebrated creation, private eye Philip Marlowe. Connelly, who is 59, saw and loved the film in college, which led him to Chandler's books. "I wasn't fitting in well at university, and here was this story about a classic outsider who's suspicious of authority," he says. "Marlowe is a tough guy but soft on the inside, a mix of hopeful and cynical. There's something addictive about that in a character."
Connelly grew up in Florida and first set foot in LA aged 30, when he became a crime reporter at the Los Angeles Times, but, he says, "My literary heroes all wrote about LA: Joseph Wambaugh, Ross Macdonald and Raymond Chandler were the three writers that made me want to be a writer. And probably my favourite movie of all time is [Roman Polanski's] Chinatown."
The author was also so enamoured of The Long Goodbye that, for a while, he even rented the same apartment in Hollywood's High Tower Court that Elliott Gould's Marlowe had occupied in Altman's movie. "It was a romantic notion that only lasted about two-and-a-half years," he says. "The apartment wasn't air-conditioned, so it was brutally hot in summer, and there was barely any parking. But I wrote The Lincoln Lawyer there, with that movie a heavy presence."
When he first lived in the city, Connelly made a point of moving house almost every year; he estimates that he has lived in almost 20 different LA neighbourhoods. Harry Bosch, though, has always lived in the same spot on Woodrow Wilson Drive, in a stilt house with an enviable view of the city below. Connelly says he found the location while covering a real murder as a reporter.
"It was about 1989," he recalls. "A woman had been shot and left in the middle of the street, right in front of David Hockney's house. I was cooling my heels, waiting for the cops to tell us what was going on, and I started walking around the neighbourhood. I was writing the first Bosch book at the time. I found a spot where a stilt house had burned down, and they'd cleared away the rubble so that all that was left was the stilts and a platform. I built Harry's house on that spot."
Bosch's dark backstory, it turns out, was informed by yet another LA crime fiction master, James Ellroy. Like Ellroy, Bosch was raised by a single mother who was murdered when he was a child. Before allowing Bosch to solve his mother's killing in The Reversal (2010), Connelly sought Ellroy's permission to plumb his real experiences for inspiration. Ellroy has written two memoirs about his own mother's murder, which remains unsolved.
The first Bosch novel, The Black Echo, was published in January 1992, months before the LA riots, and Bosch came of age amid LAPD scandals such as the OJ Simpson trial. With US police forces again under the spotlight in the era of the Black Lives Matter movement, Connelly says he still sees it as a duty to acknowledge the social climate in his novels.
"I haven't worked for a newspaper in 20 years, but in a way I still view myself as a journalist," he says. "I want to tell stories that reflect how people are feeling. Harry lives by the idea that either everybody counts or nobody counts, and I think that's at the core of what's going on: some police separate themselves from the rest of society and people stop counting – so somebody can flash a knife, and they'll shoot him 16 times. That would never happen to Harry."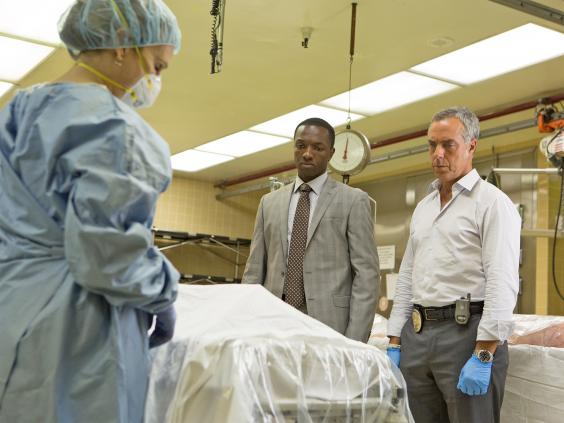 Connelly's responsibilities as an executive producer on Bosch meant he blew through his self-imposed annual deadline to begin a new book, but he is now at work on his 21st Bosch title. One of his other characters, reporter Jack McEvoy, the protagonist of The Poet (1996) and The Scarecrow (2009), is also in development as a screen project.
The author spent years waiting to reclaim the screen rights to Bosch, who was trapped in development hell at Paramount from 1995 to 2010. He had a better experience with The Lincoln Lawyer, which became a film starring Matthew McConaughey as Mickey Haller in 2011. But he is soon due to regain the rights to Haller, too, which means the lawyer may soon overlap with Bosch onscreen, as he has in several books including Connelly's most recent, The Crossing.
It's a cliché but nonetheless true: if Bosch and Haller are Connelly's most famous creations, their key supporting character is LA itself. "Bosch has allowed me to chronicle the evolution of a city over 20 years," the author says. "Because it's an entertainment mecca, this town breeds the cynical hopefulness that you see in Marlowe. I hate people thinking their city is unique, but there is a certain aura about Los Angeles; it's not necessarily a beautiful thing, but it's part of Harry Bosch."
'Bosch' Season 2 will be released on Amazon Prime Video on 11 March