Los Angeles in November is still hot and bright, and Michael Connelly is in shirtsleeves as he watches the latest scenes from his crime series Bosch being filmed in the plaza outside police headquarters. It's a rare privilege for a show to be permitted to shoot at the LAPD's downtown base, but Bosch is a special case: Connelly's novels are read and enjoyed by many of the officers who work inside.
Between takes, the author is greeted by Titus Welliver, the actor who plays his fictional gumshoe, the dogged and irascible Hieronymus "Harry" Bosch; and by LAPD homicide detective Tim Marcia, who has been a consultant on his novels for years and now acts as an adviser to the show. Marcia is one of a handful of real cops who frequently appear as characters in Connelly's books.
In fact, it's hard to tell who is real and who is fictional on set, particularly since several of the extras are in fact genuine uniformed officers, working as background actors in their off-hours. "I always wanted Harry to be the only thing in the books that's not real," Connelly says. "I think the best way to sell a made-up character is to plant his feet into the real earth."
When I moved to LA in 2012, I read a handful of books about its history and culture, but crime fiction can be one of the best ways to understand the true nature of a city. Edinburgh has Ian Rankin, Washington DC has George Pelecanos, LA has Michael Connelly. Connelly's best-known characters, Bosch and his half-brother, defence attorney Mickey Haller – aka "the Lincoln Lawyer" – might as well be living, breathing Angelenos.
LA has also provided the setting for countless TV cop shows, but few take the city seriously as a location. Bosch, by contrast, is set in a fully realised LA that features far more than just Hollywood and the beach. In that regard, it resembles a selection of other recent shows in different genres, such as Love, You're the Worst, Togetherness and Bosch's Amazon stablemate Transparent.
Culture news in pictures
Culture news in pictures
1/30 25 May 2016

A view of the Pyramid of the Louvre museum covered with a gigantic black and white trompe l'oeil photo of the Louvre building by French artist JR in Paris. The exhibition 'Contemporary art JR at the Louvre' runs from 25 May to 27 June

EPA

2/30 24 May 2016

Artist paints a reproduction of one of the vincent Van gogh's painting for the 'Loving Vincent' film in Wroclaw, Poland. 'Loving Vincent', the world's first fully painted animation feature film, will be about the life and death of the Dutch famous painter Vincent van Gogh

EPA

3/30 23 May 2016

John Oliver, Jimmy Fallon and Jennifer Lawrence during a taping of "The Tonight Show Starring Jimmy Fallon" in New York City

Getty Images

4/30 22 May 2016

French Moroccan director Houda Benyamina (C) poses with the Camera d'Or next to actresses Jisca Kalvanda (L), Oulaya Amamra (2ndL) and Deborah Lukumuena (R) at the Palme D'Or Winner Photocall during the 69th annual Cannes Film Festival

Getty Images

5/30 21 May 2016

Swedish artist Andreas Englund signs one of his murals at the Urban Nation museum for urban contemporary art, in Berlin

Getty Images

6/30 20 May 2016

(L-R) Autor Tom Brokaw, Legion of Honor's Grand Chancellor General Jean-Louis Georgelin, Actor Tom Hanks, Ambassador of USA in France, Jane D. Hartley and Doctor Gordon "Nick" Mueller attend Tom Hanks, Tom Brokaw & Gordon "Nick" Mueller receive the Legion d'Honneur Medal at Palais de la Legion d'Honneur in Paris

Getty Images

7/30 19 May 2016

Visitors study work by Tod Papageorge in the gallery areas at the "Photo London 2016" event at Somerset House in central London. Featuring work from some of the world's most respected photographers, the event is aiming to put London on the map as the global city of photography

Getty Images

8/30 18 May 2016

A view of the building that will house planned Urban Nation - Museum for Urban Contemporary Art in Berlin. The street art museum is scheduled to open in 2017

EPA

9/30 17 May 2016

Kate Morais looks at the 'Colossal statues of a king and a queen' (283-246 BC) - which are reflected in a display cabinet glass - which stand over five meters tall during a preview of the 'Sunken Cities: Egypt's Lost Worlds' exhibition at the British Museum in London. This is the museum's first large scale exhibition of underwater archaeological finds and tells the story of two lost Egyptian cities and their recent discoveries beneath the Mediterranean, excavated off the coast of Egypt near Alexandria between 1996 and 2012

Getty Images

10/30 16 May 2016

Kurt Cobain's Univox electric guitar played and destroyed by Cobain at Nirvana's 13 July 1989 concert at Maxwell's in Hoboken, New Jersey is displayed during Julien's Auction Music Icons Press Exhibition at Hard Rock Cafe, Times Square in New York City

Getty Images

11/30 15 May 2016

Cast of the "From The Land Of The Moon (Mal De Pierres)" attend the premiere during the 69th annual Cannes Film Festival at the Palais des Festivals

Getty Images

12/30 14 May 2016

Jamala representing Ukraine with the song "1944" celebrates with the trophy after winning the final of the Eurovision Song Contest 2016 Grand Final in Stockholm

Getty Images

13/30 13 May 2016

A mural on a restaurant wall depicting US Presidential hopeful Donald Trump and Russian President Vladimir Putin greeting each other with a kiss in the Lithuanian capital Vilnius. Kestutis Girnius, associate professor of the Institute of International Relations and Political Science in Vilnius university, said: "This graffiti expresses the fear of some Lithuanians that Donald Trump is likely to kowtow to Vladimir Putin and be indifferent to Lithuanias security concerns. Trump has notoriously stated that Putin is a strong leader, and that NATO is obsolete and expensive"

Getty Images

14/30 12 May 2016

People visit the artwork titled Seven Magic Mountains by artist Ugo Rondinone, near Jean, Nevada. The artwork was recently completed in the desert south of Las Vegas

AP

15/30 11 May 2016

Justin Timberlake attends the "Trolls" Photocall during The 69th Annual Cannes Film Festival

Getty Images

16/30 10 May 2016

Curator Ben Russell poses with a 2.4 meter robot called Cygan, built in 1957, on display at the Science Museum before announcing a new robot exhibition for 2017

Getty Images

17/30 9 May 2016

A Palestinian artist paints a graffiti on a wall of the United Nations school of Beit Hanun, in the northern Gaza Strip

Getty Images

18/30 8 May 2016

Jon Snow collects the award for best news coverage on behalf of Channel 4 during the House of Fraser BAFTA TV Awards 2016 at the Royal Festival Hall in London

PA

19/30 7 May 2016

Illustration View of the 'Empires' exhibition of Huang Yong Ping as part of Monumenta 2016 to Grand Palais from 8 May till 18 June 2016

Getty Images

20/30 6 May 2016

People, including Russian servicemen, attend a concert of Mariinsky Theatre in the amphitheatre of the Syrian city of Palmyra, Syria

Reuters

21/30 5 May 2016

A child looks at an artwork titled 'Bi-lateral Relations' by Uruguay artists Fernando Foglino and Valentina Cardellino during the Latin America and Caribbean Art Festival Visual Art Exhibition 2016 at the World Art Museum of the China Millennium Monument in Beijing. The exhibition runs until 26 May, and is part of joint activities to mark the China-Latin America and Caribbean Cultural Exchange Year

EPA

22/30 4 May 2016

(L-R) David Furnish, Lady Gaga and Macy's CEO Terry J. Lundgren attend Love Bravery by Lady Gaga and Elton John Launch at Macy's Herald Square in New York City

Getty Images

23/30 3 May 2016

The Hofburg palace is illuminated by a projection of Viennese artist Viktoria Coeln for the project Dystopia Eutopia in Vienna, Austria

AP

24/30 2 May 2016

A visitor looks at paintings by Yemeni female artists displayed at a gallery during an exhibition entitled Women Creativity for Peace in the capital Sanaa

Getty Images

25/30 1 May 2016

A man looks at an art piece during the Oshtoora festival in an open desert north Fayoum, Egypt. Oshtoora festival, or "A temporary sate," is held only once a year in a different locations within Egypt. The festival is based on expression of music, arts, and cultures in an open natural environment

AP

26/30 30 April 2016

Actress Lupita Nyong'o attends "Eclipsed" To Launch A Dedications Series In Honor Of Abducted Chibok Girls Of Northern Nigeria at Golden Theatre in New York

Getty Images

27/30 29 April 2016

Kabuki actor Shido Nakamura (in red) performs in a final dress rehearsal for the kabuki theatre show 'Hanakurabe Senbonzakura' in Tokyo, Japan. The latest digital technology kabuki theatre piece 'Hanakurabe Senbonzakura' is part of the Niconico Chokaigi festival in Tokyo. The festival was organized by video website Niconico, combining Kabuki, a traditional Japanese theatre art and cutting edge animation technology, co-starring kabuki superstar Shidou Nakamura and the popular virtual idol Hatsune Miku

Getty Images

28/30 28 April 2016

Members of the Australian ballet perform in the scene from "Scent of the Love" during the dress rehearsal for the national premiere of Symphony in C that comprises of five short ballet works at the Opera House in Sydney

Getty Images

29/30 28 April 2016

The statue of Christ the Redeemer is illuminated in Brazilian flag colours, including a projected face designed by Brazil based Italian-French lighting artist Gaspare Di Caro, to celebrate 100 days until the start of the Olympic Games Rio 2016

Getty Images

30/30 27 April 2016

A visitor looks at an artwork during the opening of the exhibition Lumieres d'Afriques (Lights of Africa) at the Charles Donwahi Foundation in Abidjan. The exhibition conceived by African Artists for Development (ADD) displays artworks including photographs, paintings and sculptures by 54 African artists, one from each country of the continent, who have created their pieces inspired by the theme The Illuminated Africa. The exhibition runs from 27 April to 6 June 2016

Getty Images
Connelly, who splits his time between LA and Tampa, recently bought a cottage in the Hollywood Hills, a few blocks below the imagined house where Harry lives. He's still moving in when I visit him there, days after production on Bosch Season 2 wraps. There's barely anything in the house besides boxes, a desk, two chairs and framed posters for Bosch and The Long Goodbye.
It was the latter, Robert Altman's loose, 1973 adaptation of Raymond Chandler's novel, which first turned Connelly on to LA's mid-century crime fiction laureate and his celebrated creation, private eye Philip Marlowe. Connelly, who is 59, saw and loved the film in college, which led him to Chandler's books. "I wasn't fitting in well at university, and here was this story about a classic outsider who's suspicious of authority," he says. "Marlowe is a tough guy but soft on the inside, a mix of hopeful and cynical. There's something addictive about that in a character."
Connelly grew up in Florida and first set foot in LA aged 30, when he became a crime reporter at the Los Angeles Times, but, he says, "My literary heroes all wrote about LA: Joseph Wambaugh, Ross Macdonald and Raymond Chandler were the three writers that made me want to be a writer. And probably my favourite movie of all time is [Roman Polanski's] Chinatown."
The author was also so enamoured of The Long Goodbye that, for a while, he even rented the same apartment in Hollywood's High Tower Court that Elliott Gould's Marlowe had occupied in Altman's movie. "It was a romantic notion that only lasted about two-and-a-half years," he says. "The apartment wasn't air-conditioned, so it was brutally hot in summer, and there was barely any parking. But I wrote The Lincoln Lawyer there, with that movie a heavy presence."
When he first lived in the city, Connelly made a point of moving house almost every year; he estimates that he has lived in almost 20 different LA neighbourhoods. Harry Bosch, though, has always lived in the same spot on Woodrow Wilson Drive, in a stilt house with an enviable view of the city below. Connelly says he found the location while covering a real murder as a reporter.
"It was about 1989," he recalls. "A woman had been shot and left in the middle of the street, right in front of David Hockney's house. I was cooling my heels, waiting for the cops to tell us what was going on, and I started walking around the neighbourhood. I was writing the first Bosch book at the time. I found a spot where a stilt house had burned down, and they'd cleared away the rubble so that all that was left was the stilts and a platform. I built Harry's house on that spot."
Bosch's dark backstory, it turns out, was informed by yet another LA crime fiction master, James Ellroy. Like Ellroy, Bosch was raised by a single mother who was murdered when he was a child. Before allowing Bosch to solve his mother's killing in The Reversal (2010), Connelly sought Ellroy's permission to plumb his real experiences for inspiration. Ellroy has written two memoirs about his own mother's murder, which remains unsolved.
The first Bosch novel, The Black Echo, was published in January 1992, months before the LA riots, and Bosch came of age amid LAPD scandals such as the OJ Simpson trial. With US police forces again under the spotlight in the era of the Black Lives Matter movement, Connelly says he still sees it as a duty to acknowledge the social climate in his novels.
"I haven't worked for a newspaper in 20 years, but in a way I still view myself as a journalist," he says. "I want to tell stories that reflect how people are feeling. Harry lives by the idea that either everybody counts or nobody counts, and I think that's at the core of what's going on: some police separate themselves from the rest of society and people stop counting – so somebody can flash a knife, and they'll shoot him 16 times. That would never happen to Harry."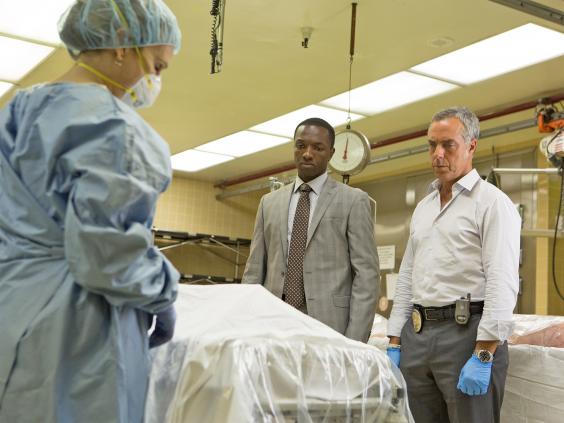 Connelly's responsibilities as an executive producer on Bosch meant he blew through his self-imposed annual deadline to begin a new book, but he is now at work on his 21st Bosch title. One of his other characters, reporter Jack McEvoy, the protagonist of The Poet (1996) and The Scarecrow (2009), is also in development as a screen project.
The author spent years waiting to reclaim the screen rights to Bosch, who was trapped in development hell at Paramount from 1995 to 2010. He had a better experience with The Lincoln Lawyer, which became a film starring Matthew McConaughey as Mickey Haller in 2011. But he is soon due to regain the rights to Haller, too, which means the lawyer may soon overlap with Bosch onscreen, as he has in several books including Connelly's most recent, The Crossing.
It's a cliché but nonetheless true: if Bosch and Haller are Connelly's most famous creations, their key supporting character is LA itself. "Bosch has allowed me to chronicle the evolution of a city over 20 years," the author says. "Because it's an entertainment mecca, this town breeds the cynical hopefulness that you see in Marlowe. I hate people thinking their city is unique, but there is a certain aura about Los Angeles; it's not necessarily a beautiful thing, but it's part of Harry Bosch."
'Bosch' Season 2 will be released on Amazon Prime Video on 11 March