Cora, Countess of Grantham, or whoever does her hiring for her, seems to be a poor judge of character. First the American-born chatelaine of Downton Abbey (played by Elizabeth McGovern) takes on Miss O'Brien as her lady's maid, only to have O'Brien plant a bar of soap on the bathroom floor, resulting in Cora losing her unborn baby. And now, in need of a replacement, the countess has chosen Edna Braithwaite – the maid dismissed during the 2012 Christmas special for pursuing Tom Branson and generally getting above her station.
For actress MyAnna Buring, the return of Edna came out of the blue. "I had no idea I'd be returning… I thought that was it," she says, referring to her character's abrupt departure in 2012. "And then I got a call saying Julian (Fellowes) would like to write me back in." Did Fellowes say why? "No they didn't give me a reason – maybe they just loved Edna."
And maybe they also needed a replacement when Siobhan Finneran, the actress who played O'Brien, decided not to renew her three-year contract. The reason for O'Brien's departure is revealed in tomorrow night's opening episode, but in the meantime, Edna wastes no time in discovering a kindred spirit in O'Brien's old partner in crime, Machiavellian under-butler Thomas (Rob James-Collier). To paraphrase the Taylor Swift song, "We know that she's trouble when she walks in."
"I think she just wants to get ahead," counters Buring. "She's born into an era when where you're born, and to who, dictates how your life's going to be. Your entire life … stuck … that must have been an incredibly claustrophobic feeling."
So, there are fun and games ahead with a character who's already been dubbed "Evil Edna", but precisely what fun and games it's hard to ascertain because of the familiar Downton omerta – or as Buring puts it: "The gods of Downton … I feel they're on my back." She is willing to report that it's a happy set and that she's been welcomed back by the tight and settled cast. The night before our interview, for example, Buring and Cara Theobold, who plays scullery maid Ivy, had been together to a Jake Bugg concert.
Buring is going to be on our screens a lot this autumn, as she's also one of the leads in BBC1's answer to Whitechapel, Ripper Street, in which she plays brothel-keeper Long Susan. But such exposure has only come gradually to the Swedish-born British actress (as she likes to be described) who's full name is My Margaretha Anna Buring Rantapää (her teachers thought My "a ridiculous name" so she became MyAnna – "although I don't like being called Anna … that's my grandmother's name").
Buring's breakthrough movie was the much-admired 2005 female cavers-in-peril horror The Descent, while further plaudits came via director Ben Wheatley's Kill List (compared by one eminent critic to The Wicker Man), in which Buring played ex-Army hitman Neil Maskell's wife. Less fortunate was her involvement as the female lead in the 2009 James Corden-Mathew Horne horror-comedy Lesbian Vampire Killers – a film recently trashed by Corden himself, so no more needs to be said.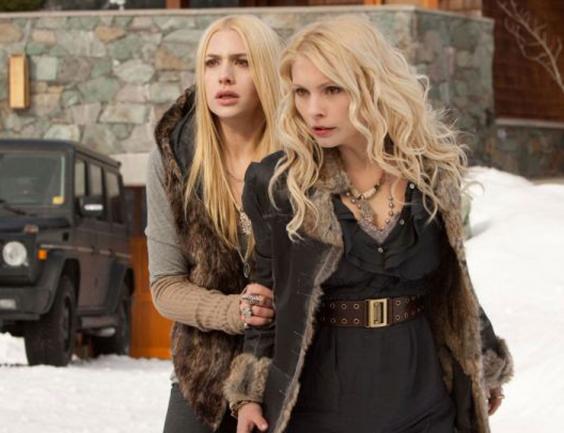 Her television roles have been more diverse – and playing art student Lily in Paula Milne's Sixties saga White Heat (the character played in later life by Lindsay Duncan) signalled a new maturity, as did ITV's The Poison Tree. Now aged 33, there is a definite sense that she has been purposively distancing herself from the horror genre. "For sure," she says. "But I'm very grateful to horror – Kill List three years ago changed my career massively. People suddenly went, 'Oh, she can play meatier parts'."
Such was her growing confidence that Buring sent off a showreel to the producers of the Twilight vampire franchise in the States – and won, two weeks later and without so much as an audition, the role of "vegetarian vampire" Tanya of the Denali coven in the final two Twilight films Breaking Dawn – Part 1 and Part 2. Not being under the age of, say, 21 and, ergo, unfamiliar with Twilight mythology, I have to ask where exactly vegetarian vampires find their protein. "They didn't eat humans, they fed themselves on wild animals instead," she explains. A bit like vegetarians who eat fish, I guess."
Both Buring's parents are Swedish, but she moved to the Middle East at the age of two after her father, an orthopaedic surgeon, took a job in Kuwait – although the family was living in Oman by the time Saddam Hussein invaded in 1990. "If you looked on the horizon there was this thin black line of smoke, which was all the oil-fields burning," she recalls.
She attended a British-American school in Oman, before studying drama at Bristol University and attending drama school at Lamda, where her contemporaries included Tom Riley, Ruth Wilson and the Treadaway twins, Luke and Harry. One of her first roles on graduating was in the David Tennant-era Doctor Who episode, The Impossible Planet, in which her character, Scooti, perished in the vacuum of space, weightlessness being simulated in a water tank at Pinewood ("brilliant … go to Pinewood … get into the big water tank there … float about … it's all in a day's work").
Yet-to-be-seen projects include a film with Matthew Macfadyen, Epic, in which an English film director becomes embroiled in making a patriotic epic for the dictator of a fictional ex-Soviet state (it was filmed in Georgia), and Hyena, about police corruption in London and which re-unites her with Neil Maskell, her husband in Kill List. But it's the role of Edna in Downton Abbey that is going to thrust Buring under the limelight. Having been written out once, is Edna set to stay this time? Has she signed a three-year contract? Even before the question is out of my mouth I can see Buring clam up under the watchful gaze of the gods of Downton. "I, er, mmm, possibly, I don't know."
And fair enough too – few Downton fans would wish to read plot spoilers. But here are five storylines and themes that we can expect from the new series. Those wanting the whole thing to remain completely under wraps can turn the page now.
What to expect from the new series
Lady Mary in mourning
Season Four begins in 1922, and six months have elapsed since Matthew (Dan Stevens), having survived the First World War, had his fatal rendezvous with a delivery van and had a nation choking on their Christmas dinners. Michelle Dockery looks great in her black widow's weeds, but has only one facial expression and tone of voice: glum. Happily, writer Julian Fellowes has signalled that Mary needs a new man in her life, and favourites to put a smile back on her face are Downton newbies Viscount Gillingham (a childhood friend played by Tom Cullen) and Charles Blake (Julian Ovenden), a civil servant undertaking a study into the collapse of estates such as Downton. Those looking for a crafty side-bet might considers Mary's widower brother-in-law Tom Branson (Allen Leech).
Downton meets the Jazz Age and goes multi-racial
Did Julian Fellowes watch Stephen Poliakoff's 'Dancing On The Edge? Either way, the Downton creator has said that he is determined to write a "positive role model" with Downton Abbey's first black character, Jack Ross, a US jazz singer played by National Theatre regular Gary Carr. And it looks like an inter-racial, inter-class romance is going to rock the stately home, as paparazzi photographs taken on set this summer show Ross going for a boat ride with Downton's resident wild child, Violet's flapper niece, Lady Rose MacClare (Lily James).
Carson gets a back story
Here's your Downton Abbey quiz-question starter for 10: what is butler Mr Carson's first name? Answer: Charles, or Charlie to his intimates, who are scarce because if Mr Carson (played by Jim Carter) were any more buttoned up he'd end up strangling himself. And yet an intriguing chink opens up Carson's hitherto impregnable emotional armour – and it comes in the form of a former acquaintance discovered living in a nearby workhouse. Carson would prefer to have nothing to do with the man, but kindly Mrs Hughes is determined to discover his secret. Could Carson have once had his heart broken? It's all very Remains Of The Day.
Lady Edith joins the Bloomsbury Set
Things are hotting up for Lady Mary's bookish sister, Lady Edith (Laura Carmichael) as she is reunited with her married newspaper editor lover Michael Gregson (Charles Edwards). Gregson introduces Edith to the Bloomsbury set, including Virginia Woolf – played by Irish actress Christina Carty without a hint of prosthetic nasal elongation. Edith meanwhile has had a wardrobe overhaul to go with her new position amongst the literati of 1920s London, including risqué dress covered in beads – "The sorts of things people would wear to awards ceremonies now," says Carmichael who, as part of one of the most garlanded British TV series ever, should know.
The stunt casting continues
Virginia Woolf isn't the only real-life character portrayed in the new series. Kiwi soprano Dame Kiri Te Kanawa will play another opera dame, Australian singing legend Nellie Melba (she of the Escoffier peach pudding), after Melba is invited to Downton for a party aimed at cheering up Mary. Other casting coups include hangdog US actor Paul Giamatti (Sideways, Cinderella Man) playing Lady Cora's playboy Uncle Harold, and Harriet Walter, drafted in to cross tongues with Maggie Smith's Dowager Countess.