"I'm an East End boy… you can take the boy out of Leytonstone but you can't take Leytonstone out of the boy", says Sir Derek Jacobi, gently debunking the perception that he is somehow "grand" – a view that leads to him not being uppermost in casting directors' minds when allocating parts as ordinary people in popular TV shows. After BBC1's Last Tango in Halifax, in which he plays the septuagenarian widower Alan, all that might just change. "People are surprised that I'm in Tango", he says. "Like I myself was originally, because I've got a sort of reputation for being posh and classical and costumes [sic]; and to be asked to play just an ordinary fella was wonderful."
On the day we meet, Jacobi is walking for the first time in months without a stick, following an accident while holidaying in the Maldives that left him in hospital for three months. "I was on the veranda and missed the top step and came down on both my knees and ruptured the quadriceps on both my legs."
A regular visitor to Jacobi's bedside at the private King Edward VII hospital in London was his Last Tango co-star, Anne Reid, who plays Celia, Alan's former childhood sweetheart and – since last Christmas's special episode – his new wife. "His room was full of roses and lilacs," says Reid. "And I said, 'I see you've been ignored again Derek.' And he said, 'Would you like a drink?', me thinking coffee or something. And right then the nurse came up with three G&Ts."
The anecdote illustrates their warm, easy relationship at the heart of Last Tango, which has helped make Sally Wainwright's intergenerational saga such a success both here and abroad. It was broadcast on PBS in America, and Diane Keaton bought the rights for an American remake on HBO, while (with echoes of the American guest stars queuing up to appear in Downton Abbey) New York actress Michelle Hurst from Orange Is the New Black joins the British cast for the new series. In the meantime a French version is in production. "We got on from day one", says Reid of Jacobi. "We were comfortable with each other and that's the thing that comes across."
TV specials to watch this Christmas
TV specials to watch this Christmas
1/14 Doctor Who

Nick Frost plays Santa Claus in the Doctor Who Christmas special

BBC

2/14 Downton Abbey

The cast of Downton Abbey up sticks to Northumberland for a shooting party this Christmas

ITV

3/14 The Wrong Mans

Matthew Baynton and James Corden in the Christmas episode of The Wrong Mans

BBC

4/14 The Great British Bake Off Xmas Masterclass

Christmas cooking can be a right nightmare, but never fear, for Mary Berry and Paul Hollywood are here

BBC

5/14 Top Gear

The Top Gear Patagonia Special is going ahead despite complaints from the Argentinian government

BBC

6/14 Miranda

Miranda Hart will put her sitcom character to rest after two Christmas specials

BBC

7/14 Mrs Brown's Boys

Agnes Brown returns for two Mrs Brown's Boys episodes this Christmas

BBC

8/14 Call The Midwife

Miranda Hart will be all over our screens as she also stars in the Call The Midwife festive special

BBC

9/14 Black Mirror

Jon Hamm stars in an episode that will see people 'blocked' in real life

Channel 4

10/14 Esio Trot

Dustin Hoffman and Judi Dench star in the BBC adaptation of Roal Dahl's children's novel

BBC

11/14 The Boy In The Dress

David Walliams' latest children's comedy promises a cameo appearance from Kate Moss

BBC

12/14 The Incredible Adventures of Professor Branestawm

Harry Hill makes his acting debut in this family drama about an absent-minded, mad professor who causes chaos with his hare-brained creations

BBC

13/14 Attenborough's Paradise Birds

It wouldn't be Christmas without David Attenborough's soothing tones

BBC

14/14 EastEnders

The Carter family pose for a photo in the EastEnders Christmas special

BBC
"I think they're our modern-day Spencer Tracy and Katharine Hepburn", says Sarah Lancashire, who plays Celia's daughter Caroline. "I don't watch anything that I'm in ever, but I watch this show because I'm a fan of the other actors."
We're sitting in a living room in a large house in Altrincham, Greater Manchester, which doubles as Caroline's home in Harrogate. Given the Yorkshire-born Sally Wainwright's penchant for calling a spade a spade – or a Hebden Bridge a Hebden Bridge (some of whose locals weren't too happy when she portrayed their hometown as a drugs den in Happy Valley), it may seem surprising that most of Last Tango in Halifax is not filmed in Yorkshire at all. It turns out that the reason is logistical; Last Tango was never intended to be so geographically specific; that change came when the title was changed from its original "Anthony and Cleopatra". The production company is based in Manchester and overtime costs on taking the crew to the real Halifax would be prohibitive.
The premise of the show is based on what actually happened to Wainwright's mother, who was happily reunited with her childhood sweetheart in later life, and it has been praised for avoiding the patronising attitude towards old people that Wainwright says permeates the industry at all levels. "When we started looking at titles and music, a number of people pitched to us", she says. "And apart from Sarah Rhys, who did the titles – and Murray Gold, who does the music – everybody just went, 'Oh, this is about little old people being cute,' and everything they pitched was about being little old fuddy-duddies."
Wainwright's ear for naturalistic dialogue was inspired by David Mamet and Barrie Keeffe (The Long Good Friday) and honed on five years in the Coronation Street writers' room. "I don't know if it's hard for the actors to learn my lines or not", she says. "Sometimes they say it's hard, which I take as an insult because if things are well written they're easy to learn, because the thought processes should be there."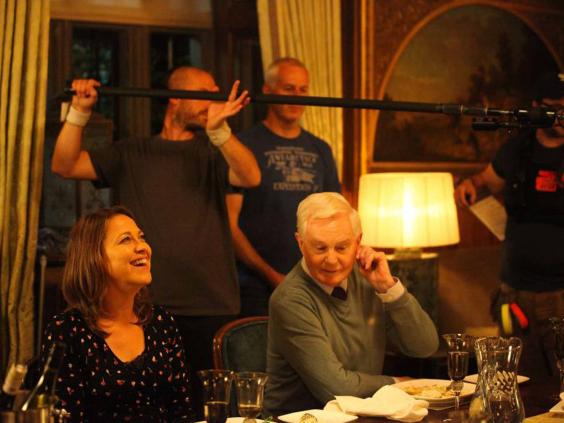 "Sally writes dialogue in a way I've never seen before", says Lancashire. "It's almost like a transcript rather than a script… her language is very economical." The scripts for series three are under tight wraps; suffice it to say that the action recommences two months after last year's Christmas special, in which Alan and Celia finally married, and Caroline committed to her girlfriend Kate (played by Nina Sosanya). As so often with Wainwright, a big, primetime, "family" drama includes some quietly radical scenarios – in this case probably one of the most normalised lesbian relationships ever shown on the small screen.
"We don't often see gay women portrayed, but it's the first time I've seen something that feels normal", says Lancashire, the recipient of some intensely personal letters from lesbians of all ages. "I think a lot of gay women have truly appreciated that because they're seeing themselves."
"We giggle a lot like completely juvenile idiots", says Sosanya of filming her love scenes with Lancashire. "It's actually just the same as kissing someone you're not going out with. It's weird the first couple of times you do it, and then within a day it was so normal; it was so mundane."
As for Derek Jacobi and the sitcom Vicious, debate rages as to how normalised is the gay relationship between Jacobi's character Stuart and Ian McKellen's character Freddie, some railing at what they see as old-fashioned gay stereotypes. Either way, a new series is being filmed straight after Jacobi hobbles away from Last Tango. "I think they're getting us out of that room; we're going to do some location," he says, looking down at his newly healed legs. "Unfortunately, the first episode is set in a gym."
'Last Tango in Halifax' returns on 28 December at 9pm on BBC1
Reuse content