Even if you aren't American you'll know that this Thursday is Thanksgiving – the annual national holiday for giving thanks for your blessings.
So what better time to take a look back at some of the best Thanksgiving scenes in TV shows and films, and show how grateful we are for the likes of Friends, Will and Grace, How I Met Your Mother and The Simpsons?
The Simpsons
Cheeky Bart goes a bit crazy in "Bart vs. Thanksgiving" before miraculously apologising to sister Lisa for ruining the day and enjoying a delightful family meal. His cranberry sauce making efforts leave a lot to be desired, and we love him for it.
Friends
"The One With All The Thanksgivings" where Monica sticks her head in a turkey, complete with shades and a Santa hat, in an effort to cheer up Chandler. Just in case anyone's forgotten.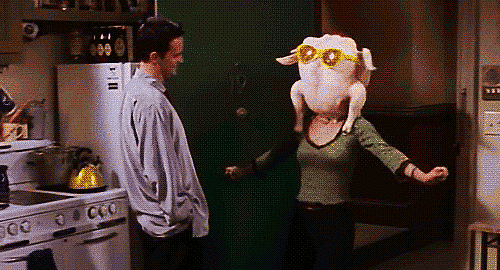 Will and Grace
Thanksgiving crops up regularly in this hit US sitcom, but "Homo For The Holidays" deserves a special mention. Will and Grace are shocked that Jack has never told his mother he is gay...so they encourage him to do just that over dinner.
A Charlie Brown Thanksgiving
This special episode sees Charlie, Linus, Snoopy and Woodstock rustle up a Thanksgiving dinner, of sorts, after Peppermint Patty invites herself over. Their celebratory meal consists of ice cream sundae, buttered toast, pretzel sticks, jelly beans and popcorns. Jealous.
Cheers
Naturally, a food fight breaks out when Carla has everyone over for Thanksgiving dinner. This episode was rare in featuring Norm's wife Vera (played by Bernadette Birkett, George Wendt's real life wife), who gets a face full of ice cold mashed potato moments after stepping through the door.
Everybody Loves Raymond
When Debra tries and fails to convince everyone that tofurkey (that's tofu turkey…) is better for them and therefore the perfect Thanksgiving meal.
Funny People
Adam Sandler gives a moving, if rather depressing and at times amusing, toast as George at Thanksgiving dinner in this 2009 movie. "Let us give thanks to our families not being here."
Free Birds
Owen Wilson voices presidentially pardoned turkey Reggie and Woody Harrelson voices Turkey Freedom Front member Jake in this 2013 computer-animated comedy about two birds who travel back in time to stop the annual turkey cull for Thanksgiving.
Planes, Trains and Automobiles
Marketing executive Neal Page is caught in a freak New York snowstorm while trying to get home to his wife and kids in Chicago for Thanksgiving in this sentimental 1987 comedy. Page finds himself stuck with an overly optimistic loudmouth who unfortunately is his only hope for getting home in time.
The widely-celebrated US tradition of Thanksgiving was established in 1621 when a group of English separatists and Native Americans shared a meal near Plymouth Rock.
This year Thanksgiving falls on Thursday 26 November.
Reuse content