The British Government has spent and invested millions in Afghanistan, on troops, infrastructure and a considerable number of missiles. It has now emerged that it deployed a secret and perhaps more effective weapon in its mission to win hearts and minds in the battle against the Taliban: an Afghan version of The Archers.
New Home, New Life, first broadcast in 1994, swaps Ambridge for the fictitious village of Bar Killi, and storylines about organic pigs and rural affairs (extra-marital, usually) for tales of forced marriages, land mines and opium cultivation.
Partly developed by producers of the Radio 4 soap, and broadcast on the World Service, it soon became a hit, at its peak drawing audiences of more than 35 million people. Now a previously restricted government document has revealed the extent to which it was funded by the UK as part of a global policy of using soap opera to influence audiences.
The report, drawn up in 2009 by the Government's defence research body, shows that the Ministry of Defence, the Foreign Office and the Department for International Development contributed £300,000 to fund the programme in 2007-08, and a "similar figure" in the years since it was launched shortly before the Taliban came to power.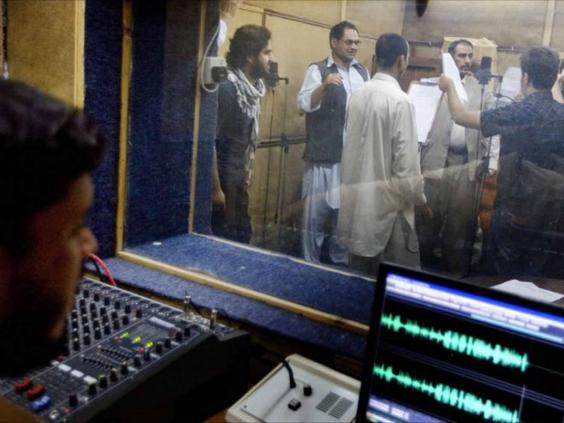 "How Soap Operas Bring about Change" puts forward the idea that "because radio is a key information tool in regions with poor infrastructure, it should be a central feature of influence campaigns". It details how this influence can be used more nobly than it was in the original soaps (domestic dramas that US soap manufacturers sponsored as vehicles for advertising targeted at daytime audiences).
New Home, New Life (Naway Kor, Naway Jwand), which is now produced independently, is the report's leading case study. It was founded by John Butt, a Briton who has spent more than 40 years living with Pashtun tribes in Afghanistan after arriving as an idealistic hippie in 1969. He later joined BBC World Service's Pashto section, which in 1993 wanted to develop an educational, yet entertaining drama, something new in a region that had been occupied by Soviets and torn apart by civil war.
Butt found inspiration in The Archers, which was first broadcast in 1951 to encourage farmers to modernise. He invited Liz Rigbey, editor of The Archers in the late 1980s, to travel to Peshawar in Pakistan to work with him and his team of Afghan refugees (the show focuses on a community of refugees who have returned to Afghanistan after years in exile). "It was an amazing experience," Rigbey recalls. "At that time the kind of education messages we were broadcasting were, for example, the importance of filling in missile craters so they didn't fill with water and attract mosquitos with malaria."
As the Taliban strengthened its hold on Afghanistan after taking power in 1996, the show and its plots became only more significant, surviving attempts to shut it down. "We had girls going to school in the show but the Taliban found it very difficult to challenge," Rigbey says. "Every village had radios and people crouched under the stars to listen. Everything else – aid, food, aid workers – could be stopped but you can't shoot words."
Many Taliban leaders were also reportedly fans. In 2001, before 9/11 propelled New Home, New Life into a third chapter, a Taliban education minister compared US President George W Bush to Jabar Khan, an arrogant landowner on the show. Later, an Afghan government official reportedly kept a British diplomat waiting 15 minutes before a meeting while he listened to that day's episode.
Storylines have also included a boy who stood on a land mine, losing his leg, a man struggling to manage two wives, and the plight of women facing challenges in pregnancy and childbirth, themes that were rarely discussed elsewhere. "Our job was to soak up a new world and culture like a sponge, without judging it or commenting on it," Rigbey adds. "We enabled them to create a world of their own."
The show reflected that world off as well as on the microphone. Felicity Finch, who has played Ruth Archer since 1987, has also travelled to Afghanistan to work with producers. "One popular character died in the programme in a story about conflict related to poppy cultivation," she says. "In real life, the actor playing the character had emigrated to Australia." Finch also remembers an Afghan tailor offering to make the wedding suit of a character who was about to get married.
A 1997 evaluation on national mine awareness commissioned by the UN concluded that a rapid decrease in the number of mine accidents after 1994 could only be attributed to storylines in New Home, New Life. In 2004, the then UN Secretary-General, Kofi Annan, called it "a perfect illustration of how the media can use drama and entertainment to advance the cause of peace and development".
The BBC World Service Trust, now BBC Media Action, has broadcast similar soaps elsewhere, while charities and other governments have also adopted the model in places such as Rwanda. But the route of airwave inspiration need not be one way.
In Afghanistan, John Butt went on to launch Across the Borders, a smaller soap with the same ideals. He again called on Rigbey, who later rewrote the soap for an English audience. In 2012 she broadcast five episodes of An Everyday Story of Afghan Folk on Radio 4. "It was wonderful to complete the circle," she says.
Reuse content