The saviour of television doesn't much care for television. Nor, he seems to aver, does the medium care much for him. Certainly in viewership figures. David Simon is the writer/producer who gave us The Wire, Generation Kill and Treme. Revolutionary HBO dramas all, they told the stories of (respectively) crime on the streets of Baltimore, the boots-on-the-ground perspective on the 2003 invasion of Iraq, and a population and a musical culture trying to rebuild in post-Hurricane Katrina New Orleans. All were critically acclaimed, fan-revered, slow-burn series that valued character development, political veracity and social commentary over whizz-bang plot development. None set the ratings on fire, neither at home in America nor here.
"The Wire's numbers went down every year from season two onwards," Simon notes of his greatest achievement, the five-season epic that ran until 2008 and made stars of Dominic West and Idris Elba. "They were never good!
"I don't think people watch my stuff," the 55-year-old chuckles, drily and entirely without rancour, before adding, "when it's on the air. I think I have a very long tail. If the stuff is allowed to exist, it will stand. Some people will find it, and some people won't."
This former newspaper reporter who cut his teeth pounding the crime beat for The Baltimore Sun – the home town in which he still lives – knows only too well how to account for this "failure". "I'm looking at how well we're executing stories that we want to tell, not how well we can conduct a television franchise. If I want to create a television franchise, I need to be trading in violence or sex. Those are the only two currencies that have been proven to work time and again… Most of this industry is about sustaining a franchise. If you get something up and people are watching, keep doing that – and don't do anything different. And don't write any endings!"
Cue Simon's hugely promising Show Me a Hero, a mini-series about local government and public housing in greater New York in the Eighties. The six-parter, another partnership with HBO and directed by Paul Haggis (an Oscar-winner for the 2004 film Crash), is based on the non-fiction book of the same title by the New York Times reporter Lisa Belkin. It explores the social and political fault-lines that fractured Yonkers in 1987 after a federal judge ordered the city to end decades of systemic segregation and build low-income housing for the black community. In the opening episode we see six-term mayor Angelo Martinelli (Jim Belushi) challenged for office by an ambitious freshman councilman Nick Wasicsko (Oscar Isaac). Their policy battleground: the imposition of the new housing units, which is fiercely opposed by the (white) residents of Yonkers.
"This is a story about the struggle to govern when the government was comprised of people that did not want to address the realities on the ground," says Simon. "One of the stories of Yonkers is that of this moment in time where the housing policies of the Fifties and Sixties and Seventies – which was basically stacking the poor and hyper-segregating the poor in massive housing projects, which, of course, led to a lot of the isolation and the denigration of public housing over the next decades – that was abandoned, and has been abandoned as national policy for a long while now. And Yonkers was one of the first places where scattered site and defensible space theories of housing were applied."
This is how Simon speaks: in flowing sentences, redolent of an impassioned academic. His shows don't trade in easy rhetoric, and nor does his "selling" of them. When I ask if he takes any credit for inspiring the dynamics of other, great slow-burn American dramas – Mad Men, Breaking Bad, The Walking Dead, even Game of Thrones – he replies that he barely watches any TV. "I'm usually way behind the curve on popular culture," he admits with total unconcern. "I'm not being a snob but why don't you ask me about some books I read or movies I saw?" he laughs. "I don't follow television." No, Simon has not seen Downton Abbey. Simon is a big-picture guy with a forensic eye for street-level detail. He's about exploring real lives, about taking almost a documentarian approach. So, in Show Me a Hero, "I don't begrudge the truth of the fear that those white residents of East Yonkers felt when they were told this was coming. But it's one thing to acknowledge the fear, and then it's another thing to suggest that the fear itself is what's supposed to guide us as a country or as a society."
Simon credits HBO for supporting his non-commercial work, and the A-list talent that make real his ideas. As Haggis says: "Frankly, I have long desired to be a part of anything David Simon does. If he had asked me to direct a history of footwear, that's what we would be discussing now."
In front of the camera, Show Me a Hero boasts similar strength-in-depth. Aside from the none-more-hot Isaac, the series features Winona Ryder, Catherine Keener, Jon Bernthal and Alfred Molina. "I've never pulled a cast like this," notes Simon. "This is just a wonderful cast."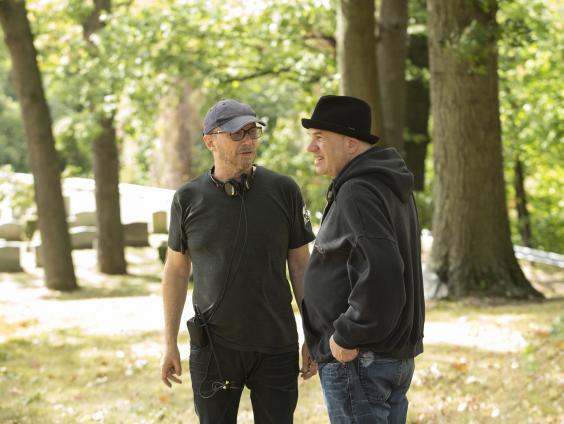 Thinking back to his casting of Idris Elba as The Wire's Stringer Bell, Simon, typically, shrugs off the idea of any great insight as to the then-unknown Brit's talents: "We knew he was a great actor when he auditioned – incredible presence, complete professional."
And yes, he avers with a chuckle, he had some sense that, to play street cop Jimmy McNulty, he was hiring a public-schooled Englishman. "I knew Dominic West was very educated and well-read, but like every American my sense of his accent [was that] I could distinguish him from Dick van Dyke in Mary Poppins. I knew he was more posh than that! But Americans are notoriously naïve about the nuances of the English accent."
Was there any resistance from his producing partners to casting two Brits in these key roles in his portrait of a broken-down American city? "No, they liked it. They like fresh faces. The only question was: 'Are you gonna be able to get them on American accents quickly enough?' That's always a struggle. But it's usually worth it for the acting ability and for introducing a fresh, credible face to an American audience."
Fresh, credible, real – as reaffirmed by the opening episode of Show Me a Hero, it's what Simon does better than any other TV dramatist.
'Show Me a Hero' is on Sky Atlantic  from 17 August
Reuse content