It was March 2012 and Sharon Rooney had just caught a break.
When she was first asked to audition for the lead in E4's teen show My Mad Fat Diary, Rooney told her agent she wasn't interested.
At the time she was touring the country in a van with two other actors, performing a skit about flood awareness for schools. Their audience alternated between heckling and ignoring them entirely.
Having lived that way for the previous three years, Rooney had had enough.
"When my agent called to tell me to travel down to London for the audition, I told him I wasn't coming and not to bother sending the script," recalls 25-year-old Rooney, laughing at her own stubbornness.
Her agent, however, knowing she would be perfect for the part of Rae, had other ideas and insisted she just take a peek at the script. "I read the first page and I was like, 'I'll be there!'. I fell in love."
My Mad Fat Diary, based on the real-life diaries of Rae Earl, was a hit last year for E4, which is hoping to repeat its success when the second series airs this month. Set in 1996, it follows the trials and tribulations of Rae, a boy-crazy, music-mad 16-year-old living in Stamford, Lincolnshire.
Rae is far from your average telly teen protagonist, however. When we meet her in the first episode, she is just leaving the psychiatric clinic where she has spent the past four months after a failed suicide attempt. She is worried that she has no friends. That no boy will ever fancy her. "I am a body dysmorphic without the dysmorphic," Rae tells us. "I am a bulimic without the sick. I am fat." Did I mention it was a comedy?
The show resonated with viewers: 1.2 million tuned in each week to watch Rae tackle her demons, lust after local lads, fall out with friends, and bicker with her mother. Rae isn't perfect, but she is perfectly realised. A fully-formed character – one moment charming, the next, infuriating.
"I would have loved a character like Rae on TV when I was growing up," Rooney says in her gentle Scottish accent (she was born and raised in Glasgow) when we meet in a north London café. "Someone who doesn't fit in a box, yet has friends who like her for her. Yes, she's funny, but she's also very smart and quick. And she struggles, but she shows us that it's OK to struggle. I don't think in 25 years I have seen someone on telly go, 'You know what? It's OK not to be OK all the time'. It shows you don't have to live your life a certain way or look a certain way to have a great life."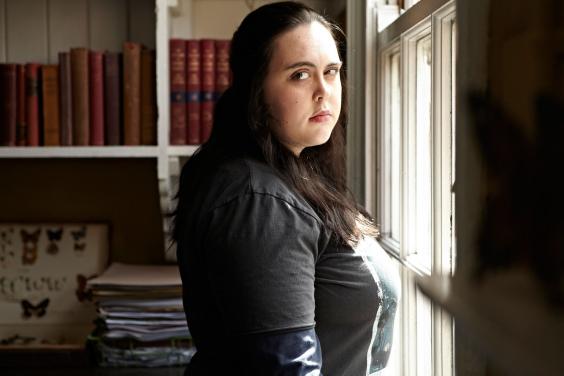 Rooney knew she wanted to perform since she was a child, when her grandmother took her to a pantomime and she couldn't stop dancing on her seat. From then on, Rooney would put on shows for her family each night and force them to watch as she belted out hits by Michael Jackson and Doris Day.
"If people visited at the weekend they'd have to allocate time for me to perform. I was really annoying," she chuckles.
Later she auditioned for a musical theatre course at Knightswood, the dance school of Scotland, but was turned away by the head teacher. "Go and be an actress," he told her. "I haven't been wrong about a kid yet."
At 16, she left school and enrolled on a performing arts course for three years, after which she did a drama degree at Hull University at her father's insistence. Although they put on performances of Little Voice and Blood Brothers, the course wasn't what she'd hoped it would be; everyone there wanted to be a teacher, while Rooney harboured dreams of stardom.
Instead, she found herself working with a 'Theatre and Education' (TAE) group (the team behind the flood awareness play) after uni. While it was not quite the glamorous gig she'd hoped for, she insists it was a valuable time.
"I think every actor should have to do TAE because you learn so much. You have to unpack the van, take care of your own costumes, wash them, put the set up. You do everything."
And despite travelling frequently down to London for auditions, she was getting nowhere. Until My Mad Fat Diary.
"For me to get a script where I wasn't playing the bully or the funny side-kick was so refreshing," she says. "I just loved that, for once, I wasn't dumbing myself down or being really nasty. I could just be a real person regardless of size or looks."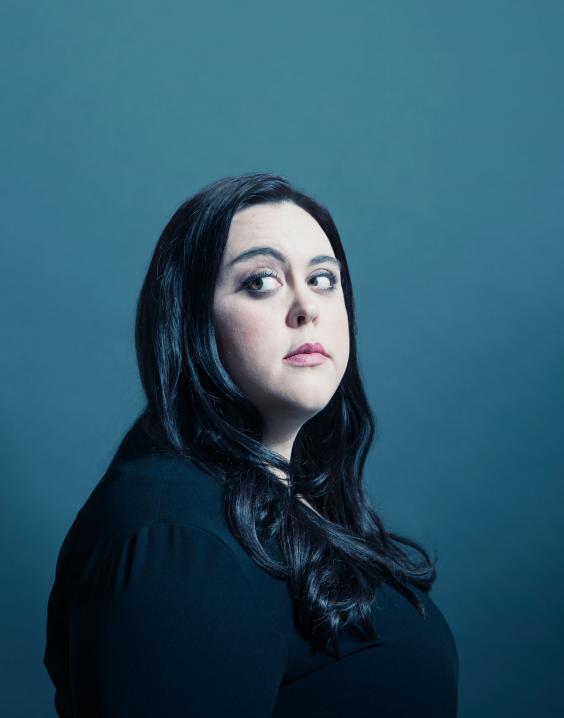 Rooney threw herself into the role, speaking to a number of people in her life about their experiences with depression. "That was really important for me," she says, all of a sudden getting very sombre. "People can say what they want about me – the usual comments – whatever, I'm not interested. But if someone who had gone through what Rae is going through watched the show and dismissed it, and said, 'Nope, that's nothing like how it is', then that would have been the worst thing for me. I wanted it to be as real as it could be. I did a lot of research and I really took it seriously. I still do."
That the show deals with mental illness and refuses to shy away from some tough themes, including self-harm and abortion, means fans have a tendency to open up to Rooney with their problems.
"You do get a lot of tweets and messages and letters. At first I became obsessed with replying and sort of felt like I was responsible for every single person who had ever had a problem."
Colleagues and friends soon intervened, telling her she was going to make herself ill if she kept trying to reach out to everyone who approached her. "I'm a nice person, I do care," she says. "But you take on the weight of the world. And you have to realise that I don't have a degree in mental health; I'm not trained to give out advice to anyone. I can't write to someone and tell them what they should do.
"But the fans are lovely," she continues, smiling at the thought of them. "When I get tweets and letters telling me that they now feel brave enough to go and get help, especially when it's older people, it's so special to have that sort of influence. I've had people cry when they met me. It's astounding."
Having grown up as a dedicated "Nickelodeon kid" (she watched anything on the young adult US network station, her favourites being Sabrina, the Teenage Witch and Sister, Sister), Rooney is thrilled to be in a show that tackles the daunting world of adolescence.
"I love that I'm part of that genre now," she beams. "Being a teenager is when you're at your most vulnerable. It's when you pick up things and attitudes that can stick with you for ever. People change. It's a very important time."
Rooney's own school days were markedly less dramatic than Rae's. Describing herself as "a floater", she pretty much got on with everyone. "I wasn't in the popular group, but I'd speak to the popular girls. And I never wanted to be one of them. I always just wanted to be me. I did fall into the trap of always making people laugh, though. Then, come exam time, I was a bit like, 'Ohhhhh. I appear to have made some mistakes'."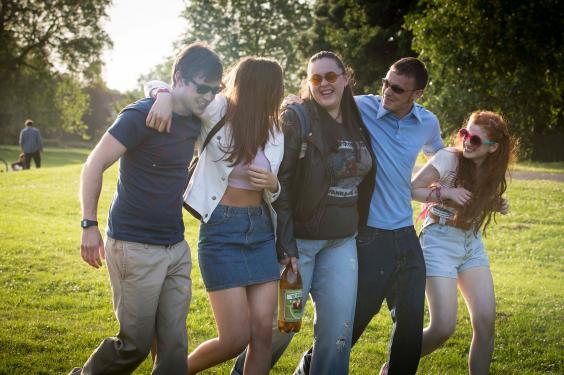 Despite being almost a decade older than her character, Rooney insists she still picks up plenty from playing Rae. "I'm 25 now, but some of the lessons I've learnt on the show have been a huge kick up the bum for me. It's taught me about life and relationships and friendship and how important they are. And she inspires me. Rae is so much cooler than me, she's so savvy. Yes, she's sensitive, but she's strong, too. She gets on with life. She goes jogging in the park, for God's sake. I couldn't do that, I'd be terrified. She just goes for it. I think she's brilliant."
Unlike Rae's scrawling journal, which manages to go from being hilarious to heartbreaking with a flick of the ink, Rooney never quite got to grips with the art of diary-keeping, admitting she was "too lazy".
"I started one in my teens but it was really over-dramatic. That's the kind of person I am; I tend to exaggerate things. And I didn't keep it up for very long. I wish I had, though; how funny would that be now?"
While she hasn't read anyone else's diary (even published ones), Rooney claims to be an inherently nosy person, and consumes vast numbers of autobiographies. "Patsy Palmer's was brilliant!" she exclaims. "Genuinely great. And I read all of the Nolan sisters." As well as devoting time to the sorts of figures who might be found in the jungle or the Big Brother house, she also brushes up on her acting inspirations. Julie Walters' and Dawn French's life stories both have a place on her bookshelf.
Her ultimate hero, however, is Olivia Colman. She was due to meet the Broadchurch star after being named a Bafta Breakthrough Brit last year, but had to cancel the engagement when her grandmother passed away. "I'll meet her some other time," she shrugs.
Another way that Rooney fails to match her on-screen alter-ego is with her taste in music. While Rae is constantly making mix-tapes for her pals, no one will let Rooney near the stereo. "I do love most of the bands that feature on the show, like the Stone Roses and Radiohead – my iPod's full of them. But then I love country as well. And dance music, things like Avicii. I have a soft spot for musicals, too. None of my family and friends will let me put my iPod shuffle on to play. They'll be like, 'We just listened to Shania Twain, and now it's The Little Mermaid soundtrack. Get it off'."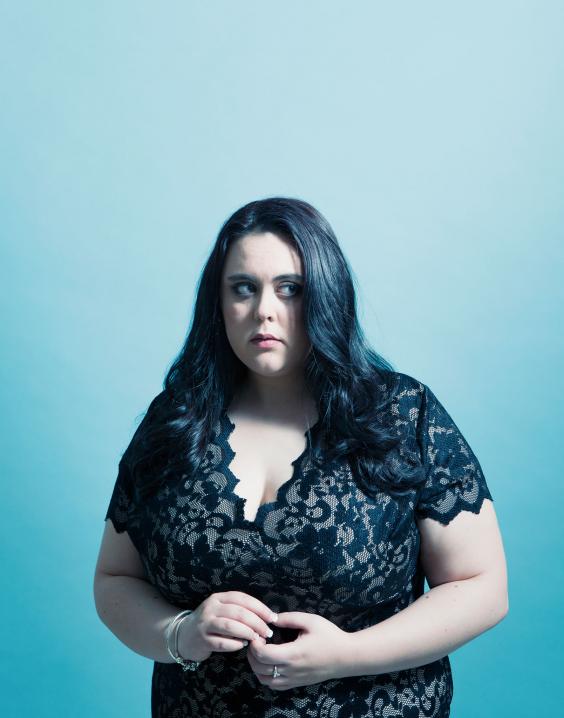 Britpop plays a huge part in the series; everything from Blur to less memorable bands, such as Longpigs, soundtrack every small victory, accompany every painful upset.
But where does she fall on the question that divided the nation back in 1996: Blur or Oasis? "I don't know!" she squeals. "Probably Oasis. Oh, I don't know. I probably know more Oasis. But saying that, Blur have some great tunes. I'm sticking with Oasis. I'm going to wake up in the middle of the night about this."
Rooney was only eight when My Mad Fat Diary takes place. So she was more preoccupied with girl power, anyway. "The Spice Girls were my life," she declares earnestly. "I was one of those creepy fans. I didn't have posters, I had framed pictures on my wall. Framed. And bed covers, curtains, the lot."
At the moment she still lives in Glasgow (the Geri Halliwell bedspread long gone, I'm assured). She's toying with the idea of moving to London, but her closeness to her family means it would be tough to break away.
The decision might soon be made for her, however; her star is on the rise. Over the New Year, she appeared in two episodes of BBC1's Sherlock ("It was so cool") and she is auditioning all the time.
For her role in the detective drama, Rooney used her real Glaswegian voice (for Rae she's nailed a Lincolnshire accent). "After it aired I got so many tweets telling me how my Scottish accent needed work, and that it was terrible. I was like, 'That's my voice!'."
For a moment she beams, looking really pleased with herself.
"Oh well. I suppose it just means that Rae's accent is really good, doesn't it?"
The new series of 'My Mad Fat Diary' begins on E4 in mid-February
Styling by Emma Akebarian; hair and make-up by Alyse Alexander using MAC pro
Lace dress: Lace Marrakech dress, £70, Gemma Collins, 18 St Thomas Road, Brentwood, Essex, 01277 500272; Nude gold ankle bangle shoe, £336, Richard Braqo, wolfandbadger.com; Black dress: Black flared sleeve dress, £470, Moschino Cheap & Chic, harrods.com; Silver dress: Sparkle twist front dress, £139, Ted Baker, johnlewis.com
Dear diary: Match the excerpt with the diarist
1. "I've got this really mad urge to start a diary up again. I don't know what it is but I think things are on the 'up and up' as it were."
2. "I WILL NOT. Drink more than 14 alcohol units a week. Smoke. Waste money on: pasta-makers, ice-cream machines or other culinary devices which will never use; books by unreadable literary authors to put impressively on shelves; exotic underwear, since pointless as have no boyfriend."
3. "These are my New Year's resolutions. 1. I will help the blind across the road. 2. I will hang my trousers up. 3. I will put the sleeves back on my records. 4. I will not start smoking. 5. I will stop squeezing my spots. 6. I will be kind to the dog. 7. I will help the poor and ignorant. 8. After hearing the disgusting noises from downstairs last night, I have also vowed never to drink alcohol."
4. "Dear God, I am 14 years old. I am I have always been a good girl. Maybe you can give me a sign letting me know what is happening to me."
5. "My dear wife Carrie and I have just been a week in our new house, 'The Laurels', Brickfield Terrace, Holloway – a nice six-roomed residence, not counting basement, with a front breakfast-parlour."
A. Charles Pooter in The Diary of a Nobody by George and Weedon Grossmith
B. Adrian Mole in The Secret Diary of Adrian Mole aged 13¾ by Sue Townsend
C. Bridget Jones in Bridget Jones's Diary by Helen Fielding
D. Celie in The Color Purple by Alice Walker
E. Rae in My Mad, Fat Teenage Diary by Rae Earl
ANSWERS
1. E
2. C
3. B
4. D
5. A
Reuse content