It was amusing, if not slightly puzzling, to observe from afar the extent to which yanks went nuts for Downton Abbey.
British viewers saw off the upstairs-dullstairs soap opera over Christmas, if not a long time before that, when it not so much jumped the shark as stopped the boat and shared a plate of kedgeree with it. There was a sense that, like Lord Grantham's faithful dog Isis, duty above all motivated those who stuck with it until the end.
Sure, the final episode got a decent 6.6 million viewers in Britain, but that wasn't enough to beat Sherlock or the Queen's Speech. It also marked a significant decline since the actually-quite-good early series, first broadcast in 2010, pulled in almost 10 million viewers.
Downton Abbey series 6
Downton Abbey series 6
1/8 Downton Abbey series 6

Mrs Hughes and Mrs Patmore

ITV

2/8 Downton Abbey series 6

Cora Crawley (centre) with her two daughters Mary and Edith

ITV

3/8 Downton Abbey series 6

The Downton under butlers

ITV

4/8 Downton Abbey series 6

Mr Carson and Mrs Hughes are engaged to tie the knot

ITV

5/8 Downton Abbey series 6

Will Mr and Mrs Hughes' police case be dropped?

ITV

6/8 Downton Abbey series 6

Mrs Crawley continues to wind up the Dowager Countess

ITV

7/8 Downton Abbey series 6

What will the Dowager Countess say to tightening of the purse strings in the Crawley house?

ITV

8/8 Downton Abbey series 6

The sun sets on the final series of Downton Abbey

ITV
But Americans, who watched the last episode on Sunday, never seemed to tire of the Granthams; they only grew to love them more. The biggest fans refer to themselves as "Abbots". Just shy of 10 million people tuned in on Sunday, one of the show's four biggest audiences, all of which have come during its final three series. It was nominated for 59 Emmy Awards. Fifty-nine!
Yet watching isn't enough for many. A Scottish castle reports this week that demand has surged among wealthy Americans for its Downton experience holidays. For £3,000 a day, there is as much interest at Dundas Castle in the "downstairs" deal, with its butler tutorials, as the more leisurely pursuits offered upstairs.
The end of the series in the States has also triggered an unlikely rash of thoughtful commentary. A writer at the Vulture blog wondered if Downton's origins not long after the financial crisis "enabled us to feel better about the 21st century's increasingly wide gap between rich and poor by watching how symbiotically [they] co-existed." Hmm. The piece also noted the way Americans enjoy "poking fun at the absurdity and veddy Britishness of it all".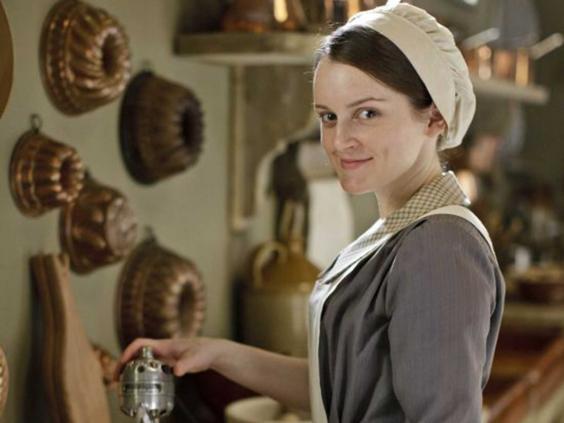 All of which pleases Lord Fellowes, Downton's veddy rich creator. "The American reaction has been incredibly heartening," he tells The Independent. "When they love something they love it, and that's not always the English way, although it seems a bit hard to have to pay money to work below stairs."
It may be that the sort of cynicism displayed on this page doesn't translate. It took James Fenton, the British writer based in New York, to issue one of the biggest Downton takedowns. In 2013 in the New York Review of Books, he described the show as "a large sentimental contraption". Simon Schama, another Brit in New York, went further. Writing for Newsweek, the historian dismissed Downton as "cultural necrophilia", a "servile soap opera" and a "steaming, silvered tureen of snobbery".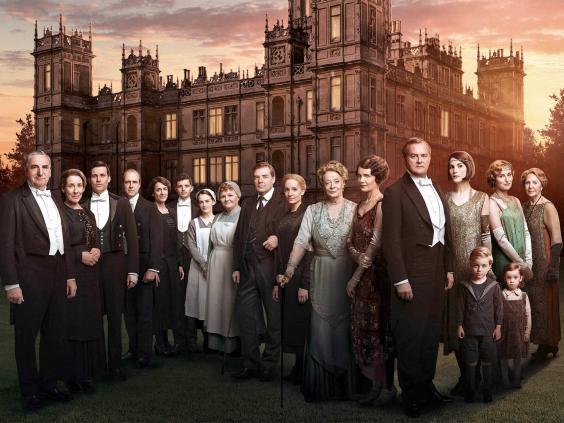 Don't tell that to Lorraine Simpson, an American travel agent and the proud owner of downtonfanclub.com. On Sunday, she and her friends dressed up for a screening of the last episode at a theatre in Buffalo, New York. "It was really quite emotional," she reports. "I even tear up now writing this to you as it is the end of an era. I went home and watched it over again, still crying… My dream is one day to meet Julian Fellowes and kiss him on the cheek for bringing me so much Joy!"
At her house in Niagara, built in 1929 ("this is very old here – lol"), Simpson, 52, offers lower-key Downton experiences. Later this year she will take a group on a Downton tour of England, climaxing with tea at Highclere Castle, which lends its exterior to the show. "We all can relate to at least one character and watch over and over to laugh at the funny way they speak," she says, concluding that, above all else, the "veddy British" thing explains much the Downton's American appeal. "'Golly!', said by Lord Grantham in the final episode, got a huge roar of laughter in the live audience of the final screening. The mannerisms and especially ANYTHING that the Dowager says we love!"