From Fawlty Towers and Dad's Army to Absolutely Fabulous and The IT Crowd, classic British sitcoms have an inglorious record when it comes to being re-made in the USA. Typically, their humour is lost in translation, a fact that BBC2's Episodes has recently mined for laughs in its tale of married English comedy writers lured to Hollywood in order to "Americanise" their British sitcom hit.
In fact only two UK comedies have successfully made the Atlantic crossing in recent times, The Office and The Thick of It – except that the latter is called Veep in its HBO incarnation, which stars Seinfeld's Julia Louis-Dreyfus as Selina Meyer, a fictional Vice President. "It's a cousin of The Thick of It rather than a remake,'' says Simon Blackwell, Armando Iannucci's co-writer on both the UK and US versions of the political satire (as well as In the Loop, the 2009 film spin-off set against the backdrop of the Iraq War).
Initially, when it debuted in 2012, some American TV writers compared Veep unfavourably with The Thick of It. However, approval ratings have risen season by season, and this year's third series, in which the hapless Selina Meyer runs for President, won over even the sternest critics when it aired in America. And so, as it now returns to Sky Atlantic, I asked Blackwell for his guide to successfully translating your British sitcom into an all-American product – and here's what he said:
Don't leave it to others – especially to US network TV
"There was an attempt to do The Thick of It for a network and it didn't have the energy and movement," says Blackwell of ABC's failed 2007 pilot centred on a low-level congressman and his staff and overseen by Arrested Development producer Mitch Hurwitz. "And, obviously, being for a network it didn't have the swearing, which is part of the DNA of the show.
"It was good in a way because it meant we could then re-group, and HBO were keen to do something with Armando, and Armando asked me to co-write a pilot with him, and it was a case of 'let's think of a situation that would be funny in American politics'. And we thought of the Vice President – the idea of someone who is a chicken bone away from being the most powerful person in the world but in fact has very little power."
Cast a great comedy actor
"There were a lot of names in the frame to play Selina and then HBO said 'What about Julia Louis-Dreyfus?' and we said 'Yes please' because she is one of the best comic actors in the world. She and Armando met in New York and you would expect with the big star she would arrive with a big entourage and you would have 15 minutes with them, but she arrived on her own and she and Armando just talked for two and half hours, and they laughed and they both then thought 'this will be fun'.
"The cast all come from fantastic improv backgrounds – they're coming from Second City [the improv club] in Chicago, or Upright Citizens Brigade [the sketch comedy group] in New York which was founded by Matt Walsh who plays Selina's director of communications, Mike [Parks and Recreation's Amy Poehler is also a founding member of UCB]. And Julia's training before Saturday Night Live was at the Practical Theatre Company in Chicago, another improv group."
Remember: the budget may be bigger, but the process is much the same
"I think we could do a series of The Thick of It on the money we spent on one episode of Veep.  It's a bigger crew and we have this huge warehouse a few miles outside of Baltimore, where The Wire was filmed, and where we have our sets built. So we have the Eisenhower Building set, a West Wing set, an Air Force 2 set and space to build others. With The Thick of It we would always use locations. But otherwise it's a very similar experience – especially with HBO, who trust the creative to get on with it; there's never an executive sitting at the monitors, telling you to do something differently."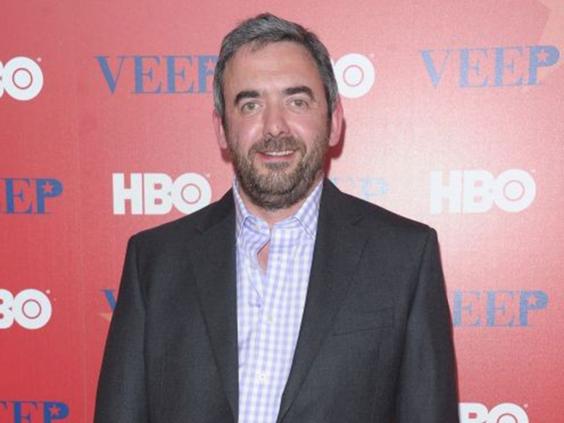 Watch out for 'Britishisms'
"A phrase we used all the time in The Thick of It was 'get that sorted' and initially we put that in scripts and Americans have no idea what it means. So we learned that they say 'you need to get that squared away'. Julia now has a shorthand – she has a noise she makes for a Britishism, which is she shows her front teeth to imitate bad British teeth and she goes 'Haw-haw-haw'. That's her code. Our cast are great. Often in a read-through they'll come up against a Britishism and they'll Americanise it on the run.
"We didn't want to hire an American writer because we've all worked together for so long … we're the Thick of It team. Anyway there are far fewer Britishisms than there used to be. You become bilingual and you find yourself translating in your head. As I was leaving my hotel during filming recently a guy said 'do you need transport?' and I was going to say 'No, it's all right, I've a lift coming' and I translated that as 'No, I'm good; I have a ride'.''
Do your research
"We have several consultants who we run stuff by from across the political spectrum – Republicans and Democrats. We also have Frank Rich as one of our executive producers, who is a political columnist for New York Magazine, born and bred in DC.
"We did a lot of research before we started to make Veep – we went to DC a lot to meet with staffers, to walk around buildings and things. Washington is architecturally gorgeous and you've got these brilliant white-fronted buildings, but you go inside and there are like four people in an office designed for one, sitting on dingy chairs eating their lunch at their desk. We wanted to show that side of American politics rather than the reverential West Wing version. We had a tour of the West Wing and it's tiny; the stairway up to the West Wing is just like a staircase in someone's house, it's like you're going up to use the toilet."
Be gentle – or at least gentler
"American politicians swear less than their British counterparts, and Americans are less cynical about the offices of state. It's why we ditched Malcolm Tucker.
"We thought of Veep as a slightly milder cousin of The Thick of It in terms of swearing. We were told that there just wasn't the amount of swearing in the offices of the Vice President . People did ask in the early days 'why is there no Malcolm Tucker character?' and it was partly because he couldn't exist – he wouldn't be allowed to talk to the Vice President like that. There's a huge respect for the office of vice president whether you hate the incumbent or not. Nobody ever calls Selina 'Selina', they always call her 'Ma'am' or Madam Vice President'."
Don't think you can coast on your reputation
"I don't think we had very many hiccups in terms of translating British humour to American humour – things cross over from us to them a lot more easily than they might have done 30 years ago. But they're not as attuned to our culture as much as we are to theirs. We always got The Phil Silvers Show and stuff, but if you'd have showed The Likely Lads in America that might not have worked there.''
'Veep' returns to Sky Atlantic on Wednesday 16 July
Reuse content