It's probably best not to think of new drama 1864 as an eight-hour lesson in Danish history. That might dissuade viewers from tuning in tomorrow evening, which would be a shame. Better to think of it as sweeping, period drama on an epic scale, featuring all your favourite actors from the subtitled BBC4 hits of the past six years.
Søren Malling aka The Killing's Detective Jan Meyer plays Johan, a senior Danish army officer during the Second Schleswig War fought against Prussia. Borgen's PM Birgitte Nyborg (real name: Sidse Babett Knudsen) is more charismatic still as Johanne Luise Heiberg, the greatest actress of her day, while Jakob Oftebro who played eco-terrorist Mads in the second series of The Bridge has a starring role here as Laust Jensen, an ordinary Danish farmhand who goes off to fight in the doomed war.
In Denmark, 1864 has become much more than either a history lesson or a piece of evening entertainment. When it first aired there last October, it captured a massive 67 per cent viewing share and as writer/director Ole Boredal joked "this can only be compared to when Kim Jong-un makes a speech [in North Korea]". However, not everyone approved of the drama's implicit criticism of the nationalism-inspired war. "The right wing said we were rewriting history. They thought it was an attack on them," explained Boredal "The Danes, like the British, feel we are the best…A certain kind of humility would be suitable for both the Brits and the Danes."
But has a British television programme ever stirred up an equivalent national controversy? The closest comparison might be Blackadder Goes Forth which aired in 1989, but is still used in classroom teaching of the First World War. Last year, the then education secretary Michael Gove took the programme to task for what he saw as a false portrayal of the war as "a series of catastrophic mistakes perpetrated by an out-of-touch elite." Writing in the Daily Mail he urged readers to remember that "Britain's role in the world has also been marked by nobility and courage."
It says something that Gove had to reach 25 years back to find a programme which offended his patriotism. It's not that Britain doesn't still make many programmes about itself, but while 1864 challenges the easy answers of nationalism, our TV hits are much happier to bask in nostalgia. Downton Abbey has found massive, international success by showing the British aristocracy as it would like to be rather than as it was, while The Great British Bake Off, The Great British Sewing Bee, Great British Menu etc all celebrate a softer sort of nationalism with lashings of chintz and bunting. So it makes no sense to dismiss 1864 as a lesson in Danish history, when it might offer some equally interesting insights into Britain's own place in the world.
Auntie goes to war with Whittingdale
If the new Culture Secretary John Whittingdale meant it when he described the licence fee as "worse than the poll tax", then the BBC's got a big fight on its hands. Fortunately for those who value our advertisement-free, independent broadcaster there are signs that the defence is already being mounted.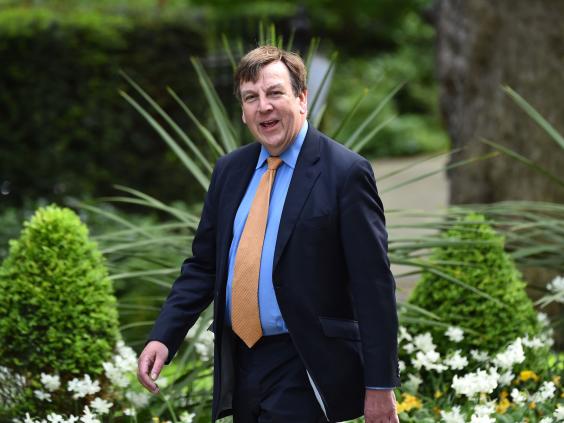 Not only is Broadcasting House satire W1A rumoured to be tackling the licence fee in its next series, but a recent documentary commission, The BBC at War should be full of pointers. The two-parter will look at the role of the BBC during the Second World War, and particularly "the story of how the BBC fought Hitler - and Whitehall". As if that wasn't enough of a veiled threat to Auntie's enemies, the two-part series will also be fronted by the Today programme's Jonathan Dimbleby, scourge of politicians everywhere.
CATCH UP
The Affair, SkyGo
A noirish tone and a classy cast make the early episodes of this new drama unmissable - even if it does eventually go off the boil. Dominic West plays a married man who becomes obsessed with a waitress he meets at his in-laws' summer party (Luther's Ruth Wilson), but flash-forward scenes of a police interview suggest it doesn't end well.
www.sky.com/tv/show/the-affair/episodes
Born Naughty?, 4oD
Channel 4 parenting programmes have changed a lot since the Supernanny days. It's no longer enough to attribute bad behaviour to "naughtiness" and prescribe a two-minute 'time out' in a quiet corner. Telegenic experts Dr Dawn Harper and Dr Ravi Jayaram collaborate to suggest a whole range of potential diagnoses for six-year-old Theo and nine-year-old Honey.
www.channel4.com/programmes/born-naughty
Big Brother: Timebomb Live Launch, Demand5
This year's BB sounds more like a Geneva Convention-contravening CIA black op than reality television. According to host Emma Willis "Days will turn into nights, time will stop, rewind and tasks will get turned on their heads," leading, presumably, to the emotional breakdown of all 16 housemates. As for viewers? Prepare to lose your entire summer down a wormhole.
www.channel5.com/shows/big-brother/episodes/episode-1-760
Amy Schumer's 12 Angry Men sketch, YouTube
Rarely does a week go by without Comedy Central's Inside Amy Schumer producing a fresh internet scandal, but this week's episode-long black and white riff on the 1957 film 12 Angry Men has got the internet talking like no other. Here the subject at hand is not a murder trial, but whether Schumer is "hot enough" to have her own TV show.
www.youtube.com/watch?v=96LgRmOF9_o
Reuse content