Ever fancied yourself and your family as the new stars of Channel 4's Gogglebox? Be careful what you wish for. We may all soon be watched as we watch, and in a far more sinister way than previously imagined.
An activist for US-based group Electronic Frontier Foundation has drawn the world's attention to the small print in the privacy policy for Samsung's cutting edge smart TV. It warns users that anything they say within the vicinity of the telly could be recorded: "Please be aware that if your spoken words include personal or other sensitive information, that information will be among the data captured and transmitted to a third party through your use of voice recognition."
Actually, this sort of nightmare, spy-in-the-home scenario has been feasible for some time, thanks to a variety of other voice command and webcam-equipped household devices. If you're reading this on a laptop right now, for instance, then, for all you know, the webcam is simultaneously transmitting pictures of your gorgeous face to hacker-perverts on the other side of the globe. Say cheese!
The prospect of a spying TV is particularly unnerving, however, but not because the breach of our privacy is any more flagrant. While most people use their computer in near-silence, lots of us talk out loud to our television set and as Gogglebox fans will attest, the things we say can be very revealing. We shout out the answers to questions on Pointless, shout abuse at politicians on Question Time and offer encouragement to favourite soap opera characters when they're going through a hard time ("Noooo Michelle! Don't give him another chance!"). Or is that just me?
The Casual Vacancy vs Indian Summers - which should you watch?
This Sunday evening two major new TV dramas begin. On BBC One there's an adaptation of The Casual Vacancy, J.K. Rowling's ghost story for adults, starring Rory Kinnear and Michael Gambon. Then, on Channel 4, in the same 9pm slot, it's Indian Summers, a sumptuous period piece set in the foothills of the Himalayas during the last days of the Raj. But which one should be your Sunday night drama of choice?
If you like your brassy local busybodies played by Julie Walters (as is traditional) then it's Indian Summers for you, but to see Keeley Hawes cast against type in that role, try The Casual Vacancy instead. The Casual Vacancy is also the one to watch for a searing indictment of modern British values, but if you prefer to contemplate social injustice through the soft-focus lens of history, it's Indian Summers. Ultimately, though, the decision will have to be a practical one. Watch one and record the other, by all means, but note that while Indian Summers requires ten weeks of committed viewing, The Casual Vacancy reaches a snappier conclusion after just three episodes.
Breaking Bad-inspired exhibition opens in London
Netflix's Better Call Saul has had a surprisingly warm reception from fans of its parent show Breaking Bad. It's proof that the creative legacy of a great TV show can live on long after the final episode airs. Nor is that legacy limited to other TV programmes.
The difference between a series that's merely popular and a truly cult show, is that only the latter inspires 'fan art'. Tumblr is full of lovingly rendered Photoshop homages to Walt, Jesse and the rest of the gang and now fan art has finally graduated to fine art.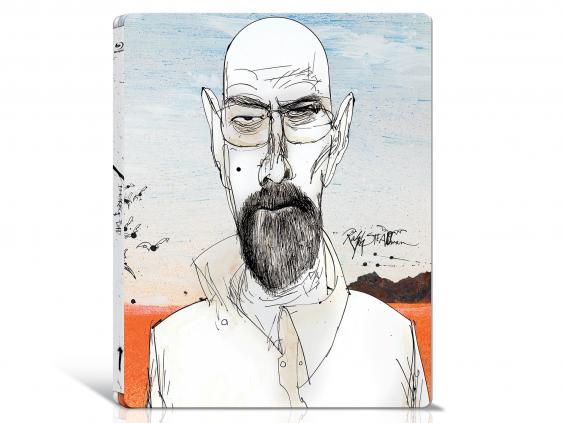 This weekend an exhibition opens at the 71a gallery in London featuring Breaking Bad-inspired works by the legendary illustrator and cartoonist, Ralph Steadman. Steadman is best known for his Hunter S. Thompson collaborations, but now he's put pen to paper to commemorate a different sort of druggie drama; the release of the Breaking Bad Blu-ray Steelbooks.
CATCH UP
Better Call Saul, Netflix
What a relief to discover that Better Call Saul lives up to the hype. The opening episode 'Uno' has a somber opening sequence, lots of mystery and plenty of the fast-talk that made us fall for shyster lawyer Saul in the first place. The only flaw? Not enough Mike Ehrmantraut.
http://www.netflix.com/wimovie
The Secret Life of Four-Year-Olds, 4oD
The Secret Life of…series can be hit and miss, but this week's documentary was undoutedly the best so far. A nursery classroom had been rigged with cameras so that psychologists could analyse the behaviour of ten children getting to know each other for the first time. Fascinating, hilarious and very, very cute.
http://www.channel4.com/programmes
The Great Comic Relief Bake Off, BBCiPlayer
Here's all the fun of The Great British Bake Off, minus the shame regarding your own baking skills. That's because all celebrities, without exception, are terrible in the kitchen. Embarrassing themselves this week were Lulu, Jennifer Saunders and Dame Edna Everage, whose giant cookie had to be cut out of the baking with gardening shears.
Bloodline - The Official Trailer, You Tube
Netflix Originals has already given us House of Cards and Orange is the New Black, so there's every reason to anticipate this southern gothic family drama slated for March. And that's before you consider the phenomenal cast. Sam Shepard is the patriarch and superb Australian actor, Ben Mendelsohn, is the family's black sheep.
Reuse content