It's Thanksgiving 1968. After a year of race riots, anti-Vietnam War protests and the assassinations of Martin Luther King and Robert Kennedy, Richard Milhous Nixon has just been elected the 37th President of the United States on a law-and-order ticket.
Meanwhile, in midtown Manhattan, Don Draper, the womanising alcoholic Creative Director of advertising firm Sterling Cooper, has just revealed to his dumbstruck co-partners (as well as executives of the Hershey's chocolate company) that he is not the Wasp former fur salesman they assumed to him be, but an orphan raised in Pennsylvania whorehouse. His partners order him "to take time off and re-group". Indefinitely.
Meanwhile, fed up with his drinking, his evasions and his refusal to take her acting career seriously, Don's much younger French-Canadian second wife, Megan, has left him, although she is still unaware of her husband's affair with a married neighbour – unlike Don's teenage daughter, Sally, who caught them in flagrante.
"Don had a very bad 1968," admits Matthew Weiner, the creator-executive producer of Mad Men. Weiner is currently in the midst of the seventh and final season, which, like its cable-channel stable-mate Breaking Bad, has been split into two halves. The first seven episodes will start next month, and the final seven will be shown next year. "By the time the first seven finish airing I will have almost finished shooting the second seven, so it should be interesting," says Weiner.
How is he feeling right now, so near the end? "I'm not a wreck yet – there's too much work to do," he says, "but for someone who doesn't like saying 'goodbye' it's going to be really hard ending something that's been part of my life since I was 35. It hasn't just been the past seven years – I actually wrote the pilot 14 years ago now."
Raised in a high-achieving Jewish family in Baltimore, Weiner, 48, has been married since college to architect Linda Brettler and the couple live in Los Angeles with their four sons, including Marten, who plays Glen Bishop in Mad Men. For a while Brettler was the sole breadwinner but by his early thirties Weiner was a writer on the Ted Danson sitcom Becker – while beavering away at night on the pilot episode of Mad Men. For four years he famously carried the script with him everywhere in his briefcase, before impressing David Chase so much with it that he gave Weiner a job on The Sopranos. He did four seasons of HBO's ground-breaking Mafia drama – although HBO would later pass up on Mad Men, without even the dignity of a reply.
Since the close of season four of Mad Men, says Weiner, he has carried in his head an exact picture of what will be the final moments of his show. "I hope that it has an impact... I don't want to under-sell it but this is not a mystery show, so it's not like it's so earth-shattering. But it's how I felt the series should end."
And as he put it to an American website recently: "I believe in risk and I'm not just going to limp out with Don in a Nehru jacket."
Whatever Don is wearing in 14 episodes' time, don't expect Weiner to share any details. "It's not a game that I'm playing. For me, most of the audience doesn't want to know, so we try and preserve that so the credits land and you'll think, 'Where am I?' Or even: 'What year are we in?'"
With season six ending in late 1968, it wouldn't be a long shot to suggest that season seven will take place in 1969. The tumultuous events of that decade have always been a supporting character in Mad Men, more important in their way than the sharp suits, hourglass dresses and the whole retro-glamour provided by art director Dan Bishop and his team. But, says Weiner, you have to tread carefully with history.
"If you were to write a Mad Men-type show about this period 47 years from now, it might be hard to explain to people how obsessed we are about this Malaysian airliner," he says. "I've had a very consistent philosophy that history is not important at all on one level because I don't feel those events are important on our lives. I cannot avoid history in 1968 – it is in people's lives – but I treated the civil rights movement for example in the way I think it was absorbed... from what I can tell was going on in New York City, which was free of violence for the most part.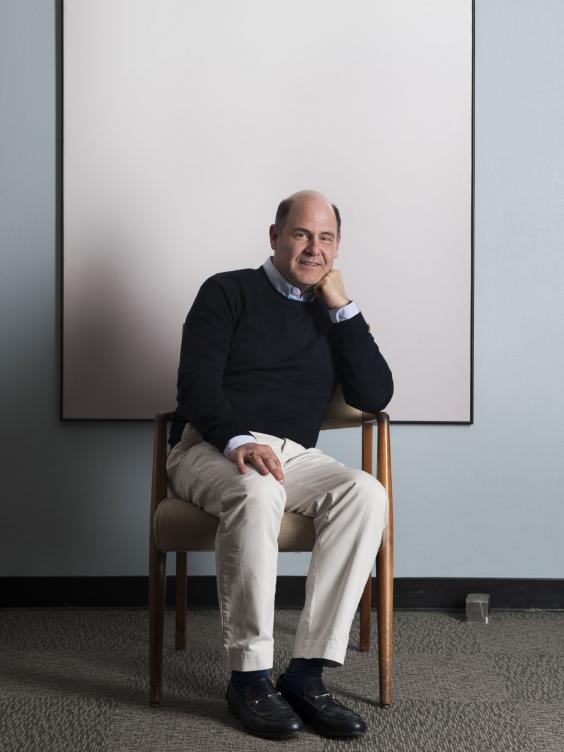 "[This period] was the beginnings of our modern relationship with violent chaos, with the feeling that you are never safe," he says. Like when Charles Manson murdered Sharon Tate and four others in August 1969, I suggest. "Charles Manson is definitely, you know... Charles Manson and Woodstock are within days of each other," says Weiner, quickly adding, just in case I thought he'd just let slip a plot detail: "That's not me saying that as a writer, but as someone who's studied the period."
On the subject of Woodstock, there is no end of classic rock and pop songs with which to end episodes – a process Weiner calls "emotionally taking care of the story". He says: "I'm wary of using very popular music because sometimes it has previous associations." In season five, the licensing fee for the Beatles' "Tomorrow Never Knows", reportedly cost $250,000, although Weiner says: "The Beatles were picky but it wasn't about money in the end, it was just really about whether they felt they wanted to be in a television show. I felt I couldn't tell the story of the show without having a real Beatles song in there, but I had to pick carefully."
So what of the perennially enigmatic Don Draper, embodied so brilliantly by Jon Hamm, who at the end of season six, in Roger Sterling's (as so often) immortal words, "shit the bed". "I look at that finale and it could have been the end of the series," says Weiner. "I told all the story we had but I didn't know it was going to be such a good set-up for what was appropriately the last season of the show.
"It was a great place to leave him – in a moment of truth. The question is – what about the rest of his life which he blew up at that moment? If hitting bottom was the best thing that ever happened to him, then what's next?"
Don's daughter is played by the extraordinary child actor Kiernan Shipka, who is 14 now but only six when she started playing Sally. "Most of times on TV when you get a young kid like that, even if they are a good actor, they're just a prop," says Weiner. "It wasn't until the first season was over that I realised that the six-year-old girl who was playing Sally Draper was standing in for the audience. And having an actress who's basically a prodigy... she really became a character and I did not expect that.
"Coming from The Sopranos, I realised right away that if I cast the show right and took everybody's lives very seriously and said, 'OK, Pete Campbell's not just a villain, Peggy is not just the new girl, Joan is a character with her own story through the life of the show, Roger Sterling is alternately Don's best friend and the most entitled person and some older version of Pete...' and then having this many hours you have to take these things seriously. The surprise is the actors exceeded their purpose. From Jon Hamm down all the actors have always worked hard here."
Mad Men has certainly transformed the careers of Vincent Kartheiser (who plays entitled slime-ball Pete Campbell), Elisabeth Moss (Peggy Olson, the copywriter and proto-feminist last seen seated in Don's chair), January Jones (Don's ex-wife Betty) and Christina Hendricks (Jessica Rabbit-shaped office manager Joan Holloway).
As a treat before filming began on the final season, Weiner gathered his lead cast to watch each other's audition tapes, including John Slattery pitching to be Don Draper (Slattery eventually, of course, won the wise-cracking silver-fox role of Roger Sterling). "It was an opportunity for sentimentality," says Weiner. "It was also a real moment of camaraderie and respect because those are about eight or nine of the best auditions you are ever going to see; the most exciting part was seeing them watch each other's stuff because actors are very competitive people.
"We're all trying to get through this thing without disintegrating. I can't speak for the fans, but for the writers and actors this is a mortality issue on some level, this is a very big moment for all of us and our careers and our personal lives – the marriages, the divorces and the amount of babies who've been born – in the last seven years. But when we get to 'this is your last scene' that is going to be something. I'm not ready for that yet."
With AMC network getting into the spin-off game with both a Breaking Bad prequel and a sequel to The Walking Dead, I wonder if he has been approached to make "The Further Adventures of Pete Campbell", or "Sally Draper: The College Years". "They haven't approached me but that may be because of my clear expression that I don't want to do that," he says. "I will watch the Breaking Bad spin-off... I understand the lack of the show and want to see more of it. But I've done a lot more episodes of Mad Men than they did of Breaking Bad and I think I have exhausted that story."
Weiner has made a movie comedy, You Are Here, starring Owen Wilson and Zach Galifianakis, as well as having written a play. "But I don't know what's on my mind right now, I really don't," he says. "I haven't stopped doing this at all for the past seven years. My vacations have either been filled with contentious negotiations or preparation for the next season or making a movie – and sometimes all three at once."
What about another long-running TV drama? "I think television the way we have gotten to do it on The Sopranos and Mad Men is one of the most creatively satisfying experiences you can have. And I'm in the position now where everything I write gets read, I get to cast anybody I want and everything I write gets shot. What more could you want?"
'Mad Men' returns on Wednesday 16 April at 10pm on Sky Atlantic
Ad finem: What Mad Men's leads did next
Jon Hamm (Don Draper)
Portraying a down-at-heel sports agent who turns two Indian cricketers into baseball stars in Disney's Million Dollar Arm; co-starring with James Franco in Franco's adaptation of William Faulkner's 1929 novel The Sound and the Fury; and voicing Sandra Bullock's husband's character in the Despicable Me spinoff animation The Minions.
Vincent Kartheiser  (Pete Campbell)
In the experimental improvised movie Red Knot, Kartheiser and Olivia Thirlby play married New Yorkers who take a belated honeymoon... on the Antarctic Ocean. Also voicing the lead character in the adult TV animation High School USA!
Elisabeth Moss (Peggy Olson)
Playing one half of a married couple on the brink of divorce in the highly-acclaimed rom-com The One I Love, and the girlfriend of self-destructive novelist Jason Schwartzman in the darkly comic art-house drama Listen Up Philip.
Christina Hendricks (Joan Holloway)
Playing a single mother who works in a fetish club in Ryan Gosling's directorial debut How to Catch a Monster, and co-starring with The West Wing's Alison Janney in A Book of Common Prayer, about two women whose paths cross during a Central American revolution.
"When we get to shooting the last scene, that will be something. I'm not ready for that yet"