Being the President of the United States of America is getting in the way of Barack Obama's Netflix binges it seems, after he asked his Twitter followers to resist the urge to post spoilers from House of Cards season 2.
The entirety of the political drama's second season goes live on Netflix across the world this morning, leading many viewers to sit down to a marathon viewing session.
The ability to wolf down all 13 episodes in one go inevitably leads to spoilers being splashed across social media however, which leaves those who are watching at a slower pace struggling to avoid having the plot ruined.
Obama is one such fan, tweeting last night: "Tomorrow: @HouseOfCards. No spoilers, please."
Review: House of Cards makes ferocious, spoilerific return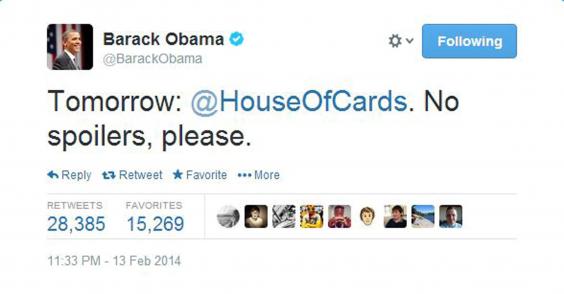 If the president is truly concerned by the possibility of spoilers (and not, say, just cashing in on a trending topic) he might want to make use of Netflix's spoiler foiler, which allows users to browse their Twitter feeds without any mention of the show.
Netflix's first major commission, House of Cards became the first online-only TV show to win an Emmy in September.
House of Cards confirmed for season 3
Here's what the distributor said to expect in the second season:
'Frank Underwood (Kevin Spacey) has masterfully maneuvered his way into the vice presidency, but his ascension faces threats on all fronts. Investigative reporter Zoe Barnes (Kate Mara) is inching closer to the truth about Frank and Peter Russo (Corey Stoll) and will stop at nothing to break the story. And Frank's wife Claire (Robin Wright), the newly appointed Second Lady, must deal with the bright glare of the spotlight and how the intense scrutiny eats away at their once private existence.'