It's hard to imagine The Queen Vic's most famous landlady experiencing even the briefest moment of fear.
But Barbara Windsor, who was Peggy Mitchell for 15 years – with some characteristic EastEnders breaks – said her journey to becoming the tough-talking mum that the nation grew to love was a difficult one.
It's clear that 'Babs' is still in love with the soap – returning for an appearance in 30th anniversary live shows earlier this month.
The 77-year-old actress may even make future appearances, telling BBC Radio 2 that the executive producer "knows my love is here" and phones her from time to time to ask: "Do you fancy coming back?"
But even after 15 years on the show, she was still nervous about returning, and recently reflected on a tough start, during which she really had to "earn my stripes".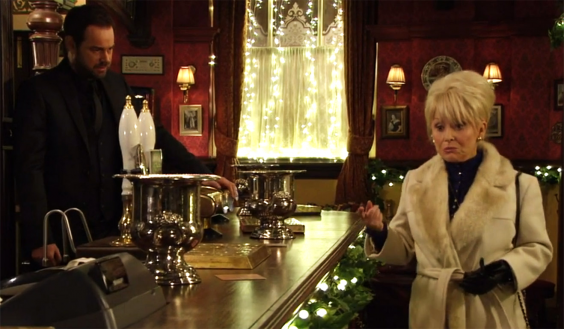 She told the Daily Mail that the phone "hadn't exactly been red-hot with offers" when she first auditioned, after mentioning in passing that she wanted to play a character "my own age" to one of the casting directors.
Barbara doubted herself right up until she was offered the part – after being knocked back for a revamp of panel show What's My Line, in favour of June Whitfield.
But even after being offered the part, she continued to doubt herself, even months into filming.
After years of playing glamorous and bawdy young women in the Carry On films – alongside legends such as Kenneth Williams and Sid James – the focus would shift from her "boobs and bottom" to her expressions and acting.
And adjusting to that new role was no walk in The Square. She was nervous and admits to throwing up on the way to the set on her first day. And while she wanted to get away from her own "glamorous image", she didn't want to look like "Whistler's mother".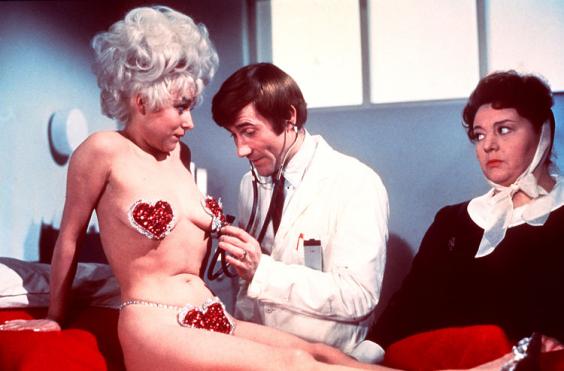 She told the Mail: "My first word in my first scene was simply my son's name, 'Grant'. But I was saying it too loud, and we had to re-shoot it time and again. 'Take it easy,' the director kept saying, 'Keep it down.' So much for the reputation I'd gained as 'One-Take Windsor' during my nine Carry On films.
"It took me five takes to get the tone right on that one word. It was embarrassing; I knew everyone was taking a chance on me, trusting that this tiny lady with the sexy dumb-blonde image could convince the nation she was a dominating force. And it was important to me to live up to their expectations and not let anyone down.
"No dressing room, me stumbling over my one-word line. I'd love to be able to say it was a roaring success, but I arrived home shattered and very depressed. 'I don't know if I'm going to get the hang of this,' I said to my then boyfriend Scott, whom I was to marry in 2000."
Barbara said she continued to find it difficult and at one point, expected to be dismissed from the cast when Corinne Hollingworth, the new executive producer, called her into her office.
Let's not pretend that the best thing in Eastenders this week wasn't Danny Dyer saying "get outta my pub" to Peggy Mitchell though

Nick (@nicklibertine) February 19, 2015
Instead, not only was her contract renewed, but she was told she was to become the landlady at The Queen Vic, taking over from Grant and Sharon Mitchell, her son and daughter-in-law in the show.
But crucially, she was also given a little more autonomy over her wardrobe, which is what led to the characteristic style that most have come to associate with Peggy Mitchell.
She told The Mail that Hollingworth said: "I want Peggy to look at the magazines, then get it a bit wrong. She shops at Walthamstow market for her version of what she's seen, and it's never quite right."
But as Peggy Mitchell returned to the square last week, it's difficult to conceive that Barbara Windsor was anything but a natural when she met new landlord Danny Dyer.
On Twitter, one user wrote "Let's not pretend that the best thing in EastEnders this week wasn't Danny Dyer saying "get outta my pub" to Peggy Mitchell though".
Others use her name alongside the hashtag #legend.
Reuse content