When Saul Goodman sloped off-screen in the penultimate episode of Breaking Bad, to begin a new life in Nebraska under another identity, it seemed we'd seen the last of television's most lovable sleazy lawyer. But this weekend the charming shyster returns in his own spin-off series, Better Call Saul, a prequel to the acclaimed drama, which concluded in 2013.
The first two, hour-long episodes of Better Call Saul had their premiere last week at an event in Los Angeles, attended by star Bob Odenkirk and his Breaking Bad colleagues Bryan Cranston and Aaron Paul. The series begins on the AMC channel in the US on Sunday, and in the UK on Netflix next Monday, 9 February. The second episode will be available online the following day, with the remainder of the show released by Netflix weekly, in line with the US broadcast.
Like Breaking Bad, Better Call Saul is filmed and set in New Mexico, yet its present-day prologue – shot in moody black and white – begins with a downtrodden Saul working as a bottom-feeder at a fast-food restaurant in Omaha, Nebraska, where he spends his evenings thinking fondly of the days before he ever heard the name "Walter White": 2002, to be precise, when he was a struggling, law-abiding Albuquerque attorney who went by his real name, Jimmy McGill.
Just as Breaking Bad depicted Walter's moral descent from milquetoast high school chemistry teacher to meth kingpin, so Better Call Saul will chart Jimmy's development from broke public defender to local TV celebrity and facilitator of organised crime. Like many a comic book blockbuster, it is an origins tale for a character as-yet-unaware of his power and potential.
Vince Gilligan, the creator of both series, recently told Variety, "Saul Goodman as we know him on Breaking Bad is very self-assured, very confident. And that can be a tricky thing, dramatically. It really helped us to go six years in the past and see him before he was Saul Goodman, and see him as an underdog and struggling and really trying to make it."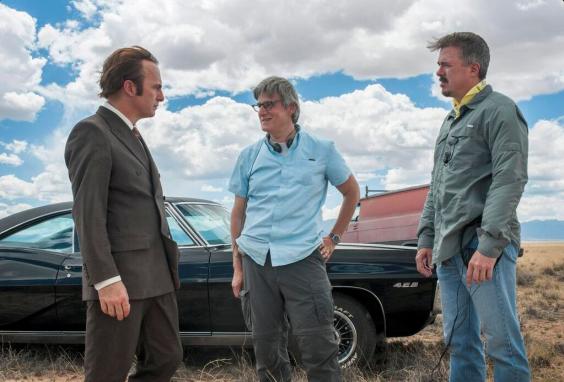 Odenkirk, 52, told Radio Times that the idea for Better Call Saul originally began as an on-set joke. "While filming Breaking Bad we would say, 'In a few years when we're doing the Saul Goodman Show…'" he said. "Then we started to realise, we're making this joke an awful lot."
Though it was at first conceived as a comedy, Netflix now describes Better Call Saul as a "one-hour drama with comedic elements." What most people want to know is whether the first spin-off show from this Golden Age of television drama is a Frasier or a Joey.
Some critics received the early episodes ecstatically, with Esquire's Stephen Marche saying the show is "better than Breaking Bad", and Tim Goodman of The Hollywood Reporter singling out Odenkirk's "superb" performance. Jeff Jensen, TV critic for Entertainment Weekly, described the series as "a character study of a postmodern Willy Loman... a satire about self-creation... a subversive poke at those who find wish fulfilment in antihero fantasy."
Others were more circumspect, however. Reviewing the show for the Huffington Post, Maureen Ryan noted: "It's hard to escape the suspicion that a story built on the aspirations of a sketchy, self-serving lawyer whose fate we already know may be a somewhat rickety enterprise."
Plainly, Better Call Saul will appeal most to existing Breaking Bad fans, not least because it will feature a selection of late, lamented characters from the earlier show, including Mike Ehrmantraut, Saul's dour hitman-fixer, played by Jonathan Banks. AMC is sufficiently confident of the show's success that it has already ordered a second series.
Gilligan has famously, repeatedly said that the intent of Breaking Bad was to turn Mr Chips into Scarface. The journey from Jimmy McGill to Saul Goodman is hardly as dramatic, but it's one that many viewers will doubtless make all the same.
Reuse content