Britain's Got Talent champion Jules O'Dwyer has said she is "shocked and surprised" by the public's reaction to her revelation that she used a stunt double dog for her winning sketch.
The guide dog trainer, who beat Welsh choir Cor Glanaethwy and magician Jamie Raven to the £250,000 prize with a sketch involving a tightrope and stolen sausages, told ITV's Lorraine show that another border collie - Chase - walked the parallel ropes in their act, because Matisse is not keen on heights.
Annoyed fans expressed their irritation on Twitter, saying that another dog had performed the trick which won them the show while a statement from the show's producers suggested the judges were also not aware that a second dog had been used for the trick.
O'Dwyer said: "I was surprised, I was shocked because I'm thinking 'Why?'. I spent so much time creating this lovely story - I wanted to make it exciting for the people watching. I wanted that 'wow' nail-biting element (where they're at) the edge of their seat, I wanted people to laugh so I wanted the comedy and the humour and then I wanted that 'awww'.
"I was disappointed when people said I allegedly hid Chase and I was trying to make it like Chase was Matisse. That's not so."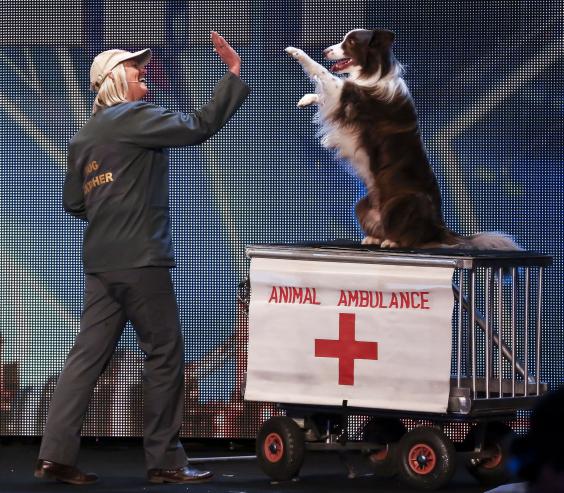 She continued: "I introduced Chase in the semi-final, and I said Chase is Matisse's best mate. Chase does the trick very well, Matisse prefers it lower but he's never been at that height. I have a choice: I have a dog that can do it at that height, or I have a dog I'd have to push in three days to achieve this.
"Why put the pressure on the dog, when I already have another dog who can perform it on television?"
The sketch, which starred O'Dwyer as a policewoman going after "sausage thief" Matisse, also featured another of her pets, three-legged Skippy.
The dog trainer, originally from Blackpool but who now lives in Belgium, had earlier said on ITV show Lorraine: "Matisse is a little bit afraid of heights so, although he could physically do it, Chase is the dog who says 'I'm the action dog'. He plays the double for him."
Britain's Got Talent past winners
Britain's Got Talent past winners
1/8 2014- Collabro

English boyband Collabro celebrate winning BGT with their musical theatre performances.

Rex

2/8 2013- Attraction

Hungarian shadow dance act Attraction won 2013's contest after a British-themed display including the voice of Winston Churchill. Cowell described their victory as "a bit of a surprise".

PA

3/8 2012- Ashleigh and Pudsey

Ashleigh and her loveable dancing dog Pudsey met the Queen after winning 2012's Britain Got Talent. Simon Cowell loved this act so much he made Pudsey: The Movie.

Reuters

4/8 2011 - Jai McDowall

Jai McDowall has faded into obscurity since winning Britain's Got Talent in 2011. He took victory from Ronan Parke but his subsequent career was short-lived after its debut solo album Believe failed to make an impact.

Rex

5/8 2010 - Spelbound

Another dance group followed Diversity in the form of Spelbound, who won in 2010. They became the first act to perform at the new Olympic Stadium and appeared twice at the closing ceremony. Many of the original members have since left.

Rex

6/8 2009 - Diversity

Diversity dance group took the Britain's Got Talent title in 2009 after a dramatic final showdown with singer Susan Boyle. Diversity have toured multiple times and performed at several high profile events since their triumph.

Getty Images

7/8 2008- George Sampson

George Sampson won Britain's Got Talent in 2008 after winning fans with his impressive dancing in the rain. The youngster, now 19, has since appeared on stage and in Natwest advertising campaigns. He made his cinema debut in Streetdance 3D and went on to star in Waterloo Road and Mount Pleasant.

Rex

8/8 2007 - Paul Potts

Paul Potts won over Simon Cowell with his rendition of Nessum Dorma and went on to become Britain's Got Talent's first victor. Potts has enjoyed a successful operatic career since the competition, with Harvey Weinstein even making a biopic of his life starring James Corden in the lead.

Getty Images
There was no sign of Chase, who had previously appeared in the semi-final, O'Dwyer and Matisse took the stage to be congratulated on their win by the judges and hosts Ant and Dec.
Their prize includes a spot at this year's Royal Variety Performance.
A spokesman for the producers of Britain's Got Talent said:
"The audience had previously seen from Jules' semi-final routine that she works with a second dog Chase alongside Matisse. For the final performance, as Jules has said publicly herself, Chase completed the tight-rope walking section of the act.
"During the competition viewers have seen that Jules' act involves a team of dogs, including Chase and Skippy, alongside starring dog Matisse, to perform her unique mixture of dog agility and story-telling. We are sorry if this was not made clearer to the judges and viewers at home during their final performance."
PA
Reuse content