Not even dogs are safe from the vileness of Twitter trolls, as proved by the nasty death threats Britain's Got Talent winner Matisse has been receiving.
The collie's trainer Jules O'Dwyer came under attack last week when it emerged that she had used a doggy double for a heart-stopping tightrope stunt in the final without making this clear to the voting public.
Simon Cowell was left with his "head in his hands" as viewers called his talent show a "con" and more than 1,000 people complained to TV watchdog Ofcom.
O'Dwyer has had to beef up security around her pooches in the midst of the fall-out after angry social media users sent her messages threatening to kill her dogs and demanding they be put down.
@Stacydunn6n7 @SkyNews its a big con. I want my money back. I voted for Matisse, not this other dog. It should be put down.

— Michael Scrivens (@Scib77) June 2, 2015
O'Dwyer is concerned about her dogs' welfare and finding the reaction "upsetting". "I never leave them unattended. I don't trust anybody. I'm pretty strict as it is. I'm a bit over the top," she told The Daily Star.
"They're my babies and if anything happened I'd be distraught, as would be daughter. They're her little teddy bears. They're our family pets."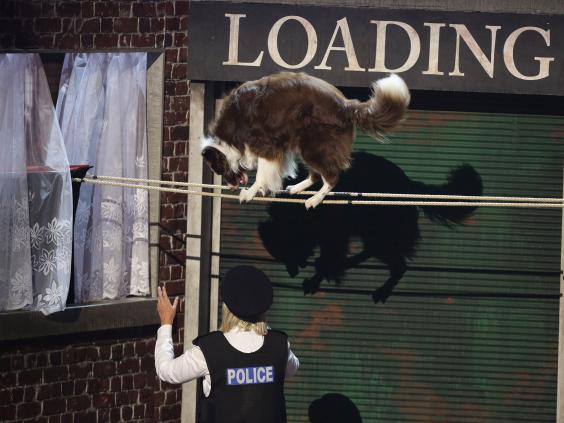 The 48-year-old won a cash prize of £250,000 after beating magician Jamie Raven and Welsh choir Cor Glanaethwy in last Sunday's grand final. She will also perform with Matisse in front of the Queen at the Royal Variety Performance.
Britain's Got Talent 2015 finalists
Britain's Got Talent 2015 finalists
1/10

Jules and Matisse wowed the Britain's Got Talent crowd with their comedy dog routines to go on and win Britain's Got Talent 2015

ITV

2/10 Calum Scott

Calum Scott was Simon Cowell's Golden Buzzer act earlier in the series and has performed 'Dancing on My Own' and 'We Don't Have To Take Our Clothes Off' so far

Syco/Thames/Corbis

3/10 Old Men Grooving

Old Men Grooving are showing Britain's Got Talent that dad-dancing is definitely back in - they went through based on the public vote after the judges' votes were tied

ITV

4/10 UDI

Light dance group UDI offer something 'unique' to Britain's Got Talent - they went through based on the public vote after the judges' votes were tied

Dymond/Syco/Thames/Corbis

5/10 Danny Posthill

Danny Posthill will be hoping his funny impressions of the rich and famous bag him the grand Britain's Got Talent prize

Dymond/Syco/Thames/Corbis

6/10 Jamie Raven

The Britain's Got Talent judges watch contestant Jamie Raven turn fire into ice during a live semi final - he won the public vote

Corbis

7/10 Isaac Waddington

Isaac Waddington performs in the Britain's Got Talent semi-final to win the public vote and guarantee a spot in the final

Syco/Thames/Corbis

8/10 The Neales

Family vocal group The Neales moved Simon Cowell to tears with their semi-final performance of 'Father and Son' to win the judges vote and go through to the final

Syco/Thames/Corbis

9/10 Cor Glanaethwy

Welsh choir Cor Glanaethwy perform on Britain's Got Talent before winning the public vote to make it through to the grand final

ITV

10/10 Entity Allstars

Alesha Dixon pressed her Golden Buzzer for dance group Entity Allstars and they later progressed into the final courtesy of the judges

ITV
Ofcom is yet to confirm whether or not there will be an investigation into the doggy double scandal.
Reuse content