A petition calling for the BBC to abandon a project pitting the unemployed and low-wage earners against each other in a "Hunger Games" style show has reached more than 12,000 signatures.
Supporters of the Change.org campaign, which describes the show as part of a disturbing trend of voyeuristic "poverty porn", have been expressing their dismay at the Broadcaster's plans.
"I find it disgusting that the BBC is fuelling the propaganda to ensure that people continue to believe that less well-off people are scroungers and no hopers," wrote Sarah Williams from Combe Down.
Britain's Hardest Grafter invites people who are either unemployed or on the minimum wage to "prove themselves" through a range of "real-world job" challenges.
The person who has "produced the least" will be eliminated at the end of each episode before an eventual winner of a year's living wage outside of London (£15,000) is found.
Amanda Darling, from Stornaway, described the idea for the show as "a brutal, undignified travesty and a disgrace to the BBC."
Another signatory, Aaron Close from Edinburgh, said the "disgusting and divisive 'concept' shouldn't have passed the 'ideas' stage", adding: "Even worse is the fact this is [being made] with public money."
James Pauley, the petition's author, wrote: "Unemployment and poverty are serious social issues and should not be the subject of a cheap game show format, designed to exploit some of the most impoverished in our society for the purposes of dubious 'entertainment'. 
"Not even the cheapest and tackiest of the cable or satellite channels have stooped to this level.  We believe a higher standard should be expected from the BBC."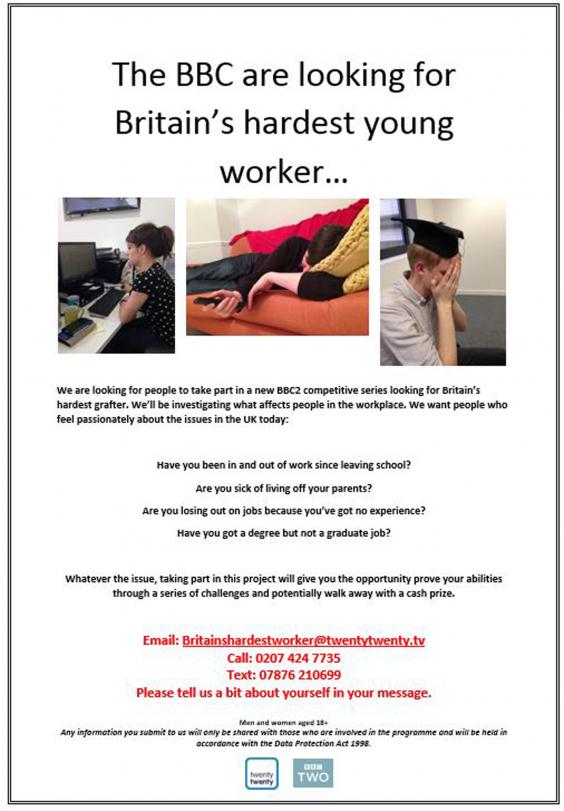 Britain's Hardest Grafter seems to be following in the footsteps of controversial Channel 4 documentary Benefits Street, which explores the lives of residents dependent on social welfare in poor areas of Britain.
The BBC is seeking 25 British workers, a mix of the unemployed, the under-employed and those earning the minimum wage and applications are limited to those earning less than £15,500 per year.
A cash prize is on offer for the winner.
Plans for the show were first announced back in January by BBC Two controller Kim Shillinglaw and described as a five-episode series "exploring the front line of our nation's low wage economy".
Read more:
"The series will tackle some of the most pressing issues of our time: why is British productivity low? Is the benefits system providing many with a reason not to work or hindering their working opportunity?" the official outline read.
"Is the hidden truth about immigrants simply that they work harder than Brits – and we need them as much as they need us - or are they simply prepared to work for a lower wage? And have the young simply not inherited the work ethic of older generations or have working conditions just got too hard? Who in Britain still knows how to graft? It's time to find out."
Benefits Street 2: Meet the residents of Kingston Road
Benefits Street 2: Meet the residents of Kingston Road
1/8 Dot

Dorothy 'Little Dot' Taylor lives with her partner Kev, with whom she has five grown up children. Dot, 48, cooks a big roast for anyone who wants it every Sunday. She was bemused by press reports claiming she spent her benefits on fake tan and calling her 'Orange Dot' when she is in fact mixed race.

Channel 4

2/8 Maxwell

Maxwell, 35, has lived on Tilery Estate for nine years. He has a string of convictions for fraud, drugs and more. Known locally as 'King of the Kids', Maxwell is a role model to the young lads of the state, despite spending a typical day training, smoking drugs or visiting the local sunbed salon to top up his tan.

Channel 4

3/8 Julie

'Matriarch of the street' Julie Young has lived on Kingston Road for more than 20 years. She is respected as the road's agony aunt and dishes out no-nonsense advice to her neighbours. A single mother-of-six, 53-year-old Julie used to work in the council but left when her son Reagen was left severely brain-damaged by a stroke at nine months. She dedicated her life to caring for Reagan around the clock. She believes the 'salt of the earth' live on Tilery Estate.

Channel 4

4/8 Lee

Lee Nutley has been claiming Job Seekers Allowance for a year, living on £45 a week after being laid off by the construction company he worked for. Lee is battling poor health and the benefits system and has so many broken kitchen appliances that he can't cook himself a meal.

Channel 4

5/8 Sue

Sue Griffiths is a mum of five and insists she wouldn't move from her home of 30 years if she was paid a million pounds. Residents meet in Sue's front garden to drink tea and share gossip. She used to work at the local racecourse but gave up after suffering a breakdown last year. Sue, 50, does not think being on benefits makes you a worse person.

Channel 4

6/8 Cameron

Cameron from Benefits Street

Channel 4

7/8 Julie and Sue

Julie and Sue are neighbours and good friends on Kingston Road.

Channel 4

8/8 Lee and Chrissie

Lee, 42, relies on his neighbours and mum Chrissie, the 'Bard of Benefits Street' who writes and performs her own poems about life on Kingston Road.

Channel 4
The Independent approached the BBC for comment and was told that Britain's Hardest Grafter is in the "very early stages of production" and has been "misinterpreted" by website Graduate Fog, which was sent the advert.
"Britain's Hardest Grafter is a serious social experiment for BBC Two which investigates just how hard people in the low wage economy work," a spokesperson said.
"Each week the contributors - who are all in work or actively looking - will experience a different 'blue collar' role as the series explores the truth about Britain's work ethic. Throughout the series, the contributors are rewarded for the work they do."
Reuse content