Sophie Thompson has been named the winner of Celebrity MasterChef 2014, beating 20 celebrities to claim the title.
After six gruelling weeks, the 52-year-old actress was awarded her trophy by judges John Torode and Gregg Wallace.
Actor, Sophie Thompson said: "I can't Adam and Eve it! Thank you so much, this has been the best fun! It's ridiculous winning something like this! The trouble is if you put it in your kitchen.. you could be hoisted by your own petard, if you serve up something a bit naff!"
She added: "It's awesome, honestly, it's mad. It's M for mad.. the whole thing's been mad!"
Torode praised Thompson's food for being "Original, exciting, daring."
"I think she's a force to be reckoned with!" he added.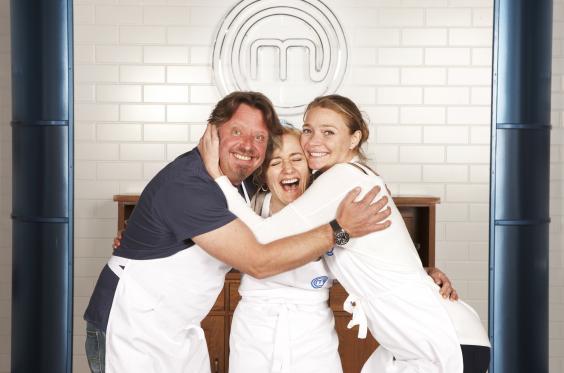 Are Celebrity MasterChef winners still cooking?
Are Celebrity MasterChef winners still cooking?
1/8 Lisa Faulkner, 2010

2010, Lisa Faulkner

Holby City and Spooks actress Lisa Faulkner is arguably the most successful Celebrity MasterChef winner.

At the time, Greg Wallace called Lisa 'possibly the best celebrity MasterChef winner we have ever had'.

Her cook book 'Recipes from My Mother to My Daughter' became a number one bestseller, selling over 70,000 copies in the UK. Her second cook book 'The Way I Cook…' will be published in September.

She is currently dating John Torode.

Winning menu: Goat's cheese and red onion tartlet, pan-fried monkfish with butternut squash fondant and almond panna cotta with poached tamarillos.

 

Shine

2/8 Liz McClarnon, 2008

Liz McClarnon, 2008

Former Atomic Kitten Liz McClarnon won Celebrity MasterChef in 2008 despite never having cooked before taking part in the show.

Since winning she regularly appears on the Good Food Channel's 'Market Kitchen' and has a summer cooking slot on 'This Morning'. She has also expressed an interest in opening her own restaurants in London and Liverpool.

In addition, McClarnon can claim to be the only celebrity in the UK to have created her own pasta dish for Pizza Hut.

Winning menu: Prosciutto-wrapped scallops, de-constructed beef wellington with oxtail, sticky toffee crème brulee.

Shine TV

3/8 Matt Dawson, 2006

Matt Dawson, 2006

Former England rugby international and seafood lover Matt Dawson has written his own cook book 'Fresh. Simple. Tasty' since appearing on the show.

Alongside his regular appearances on A Question of Sport he has also fronted TV shows 'Matt and Allegra's Big Farm' and 'Tesco's Real Food Family Cook Off.'

Winning menu: Salmon carpaccio with scallion pancakes, sea bass with a spicy tamarind broth and almond and pear tart.

Shine TV

4/8 Nadia Sawalha, 2007

Shine TV

5/8 Jayne Middlemiss, 2009

Jayne Middlemiss, 2009

Since winning celebrity MasterChef in 2009, former Top of the Pops presenter Jayne Middlemiss has taken a step back from the limelight and has had little professional involvement with food.

She continues to practise yoga on a regular basis and make guest TV appearances.

Winning menu: Seared scallops on apple puree, pan-fried veal with truffle potatoes, lavender pana cotta and crystallised violets.

Shine TV

6/8 Phil Vickery, 2011

Phil Vickery, 2011

Former England rugby star Phil Vickery has become involved with food on a commercial level since his win in 2011.

Most recently he has signed up with McDonald's to choose 'Quality Scouts' to go behind the scenes of the fast food chain to see where some of its most famous products- including Big Macs and Sausage McMuffins- are sourced from.

The farmer's son has also backed a campaign to support Britain's pig farmers and worked with a local Gloucestershire business to produce gourmet pies for supermarket sale.

He is currently looking to open his own restaurant in Gloucestershire.

Winning menu: Scallops with black pudding, lamb with baby carrots and fondant potatoes, orange and chocolate bread and butter pudding.

Shine TV

7/8 Emma Kennedy, 2012

2012, Emma Kennedy

After her win last year Emma Kennedy has several projects in the pipeline, but no planned cookery book or show…yet.

Winning dish: Pea, mint and ricotta ravioli with pancetta butter, pan-fried turbot with samphire, poached meringue in crème anglaise with almond praline.

Shine TV

8/8 Ade Edmondson, 2013

Celebrity MasterChef winner Ade Edmondson

BBC
Wallace mirrored Thompson's thoughts, and said: "Sophie's food is very much like her, it's original, it's individual, it has a style, it's different.
"She creates some absolute delights on a plate, they look like little stories to me; they just look amazing."
Thompson and her fellow finalists Charley Boorman and Jodie Kidd, were asked to prepare an exceptional three-course meal for judges John Torode and Gregg Wallace in two and a half hours.
Sophie's winning menu consisted of a starter of Roulade of Duck stuffed with Juniper Berries and served with Sweetcorn puree, Wild Mushrooms and a Wild Mushroom and Port sauce, a main of Oven roasted Brill with a Pepper Crust, Seared Scallops, Black Pudding, Samphire, a Chive and Butter Sauce and Chorizo oil, and a dessert of Steamed Cherry Pudding served with Butterscotch Sauce served with Crushed Pistachios and Brandy ice cream.
Reuse content