Chris Evans has apologised "unreservedly" for the new Top Gear series shooting next to the Cenotaph in central London. 
This follows an outrage stirred by photographs of host Matt Le Blanc driving near the war monument while shooting for the BBC Two show around Westminster, leaving large tyre tracks on the roads surrounding the Cenotaph; leading retired Colonel Richard Kemp to call the stunt, "gravely disrespectful". 
Evans, on his BBC Radio 2 show (via The Guardian), stated: "It doesn't matter what actually happened, it doesn't matter what the circumstances were that could explain this away, what is important about this is what these images look like and they look entirely disrespectful which is not and would never be the intention of the Top Gear team or Matt (LeBlanc)."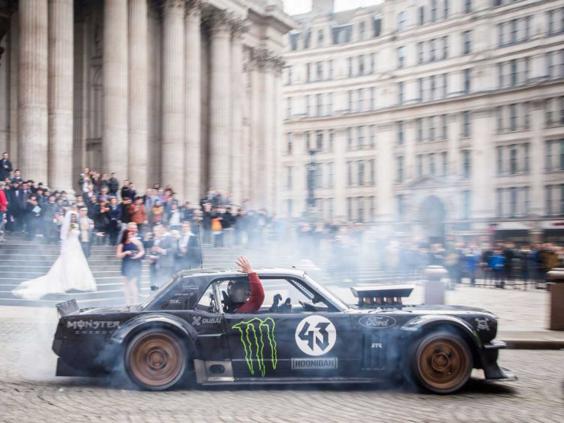 "On behalf of the Top Gear team and Matt, I would like to apologise unreservedly for what these images seem to portray. There have been some very incendiary comments written alongside these pictures and I completely understand this furore but the Top Gear team would never ever do that." 
"Retrospectively it was unwise to be anywhere near the Cenotaph with this motor car." The host also elaborated that filming had seen LeBlanc drive a car called the Hoonicorn alongside professional racer Ken Block. 
Meet the new Top Gear presenters
Meet the new Top Gear presenters
1/7 Chris Evans

Chris Evans said of his new Top Gear gang: "We really do have a bit of everything for everyone. A fellow lifelong petrolhead from the other side of the pond in Matt; a fearless speed-demon in the irrepressible and effervescent Sabine; the encyclopedic, funny and wonderfully colourful character that is EJ; Chris, one of the world's top no-nonsense car reviewers; and Rory, who simply blew me away in his audition and fully deserves his place on the team"

2/7 Matt LeBlanc

LeBlanc, best known for playing Joey in Friends, set the fastest celebrity lap time in the reasonably priced car on the former Top Gear hosted by Jeremy Clarkson, Richard Hammond and James May. He recently presented the standalone spin-off Top Gear: The Races, where he reminded fans of the most memorable moments from the past 22 series. He will be Top Gear's first non-British host.

2015 Getty Images

3/7 The Stig

The Stig, clearly not wanting to be left out of today's announcement, sent the following reply via electronic communication: "-.-. .... . .-- .. . --..-- / .-- . .----. .-. . / .... --- -- . .-.-.-"

4/7 Sabine Schmitz

Sabine Schmitz is a German racing driver who is already well known to fans of Top Gear. She grew up in her parents' hotel just 300m from the legendary Nurburgring track and has spent her life surrounded by cars and racing. She became the first woman to win the prestigious Nurburgring 24 hours in 1996 and repeated the feat a year later. Sabine became known as the 'World's fastest taxi driver' by driving passengers around the track in a BMW M5 and has since presented several motoring shows for German TV. She has appeared on Top Gear several times over the years, becoming a firm favourite with viewers. She still races successfully today and runs her own race team

5/7 Eddie Jordan

Eddie Jordan is an Irish former racing driver, team owner and entrepreneur whom a host of drivers owe their breaks to Eddie as a champion of young talent including Michael Schumacher and Rubens Barrichello and Eddie Irvine. Having suffered a number of major accidents whilst competing in racing himself Eddie retired to set up his Jordan team in 1980. The team went on to be champions in Formula 3 with Johnny Herbert in 1987, Formula 3000 in 1989 with Jean Alesi - and in 1990 Eddie established Jordan Grand Prix and entered Formula 1. He sold Jordan Grand Prix in January 2005 and has since developed a portfolio of business interests as well as presenting the BBC's coverage of Formula 1. He has been inducted into the Irish Motorsport Hall of Fame and in 2012 he was awarded an honorary OBE by Her Majesty The Queen in recognition of his services to charity and motor racing

2015 Getty Images

6/7 Rory Reid

Rory Reid is an award-winning journalist of eighteen years specialising in cars. Rory has written and presented for the likes of CNET UK, where he launched the company's popular Car Tech channel, receiving a prestigious Association of Online Publishers (AOP) award for 'Best Use of Video' in the process. Rory has featured in a number of car-focused television shows and had a starring role in the Gadget Geeks series on Sky 1, where he reviewed cars and consumer tech. He was also a presenter on the hugely successful Fast Furious & Funny YouTube channel. He is editor-in-chief of Recombu, specialising in producing car reviews

7/7 Chris Harris

Chris Harris is probably best known for his popular YouTube channel, Chris Harris on Cars which he launched in 2014, established with the help longtime friend Neil Carey. It has already amassed over a quarter of a million subscribers and the content has been viewed over 20 million times. Chris began his career in motoring journalism at UK-based Autocar magazine, becoming their official road-test editor. This gave him the opportunity to do some "racing and skidding" before starting a website for fast cars the week Lehman Brothers went under in 2008, which obviously ended badly. He then looked to solve his new found indebtedness at Evo magazine and then became a member of the Pistonheads.com crew, as well as a regular feature on YouTube's DRIVE channel
A spokesman for Top Gear stated the images taken by paparazzi had made it look like the shoot took place closer than it did in reality, with scenes shot around 40 metres away from the memorial; "the filming took place a respectful distance away from the cenotaph and it was all agreed with Westminster Council in advance."
Chancellor George Osborne took to Twitter to criticise Evans for causing noise issues and distracting him from writing the Budget, which is due to be delivered on Wednesday.

The new series of Top Gear will air in May. 
Reuse content