Motoring fans have been teased with two behind-the-scenes videos from the ex-Top Gear trio's upcoming live tour.
Disagraced presenter Jeremy Clarkson is joining Richard Hammond and James May for a series of shows starting in Belfast on 22 May and coming to London in November. Preparations are well underway to bring supercars, stunts, fire and tyre smoke to the stage.
The three men have been filming video content to be screened exclusively for Clarkson, Hammond and May Live, formerly known as Top Gear Live but rebranded after the BBC decided against renewing Clarkson's contract.
The 55-year-old was axed after punching a producer on set following a row over the lack of hot food in a hotel. Hammond and May have both since confirmed that they will not be returning to Top Gear with a "surrogate Jeremy".
For anyone not attending the live shows but desperate to see Clarkson, Hammond and May reunited, here's the gang staring in disbelief as a long line of awesome cars board the tour truck...
...and Clarkson dropping "May's piano" from a crane onto a classic car, because he does like to cause trouble.
Those of you still mourning the disappearance of Top Gear from your Sunday evenings, BBC2 boss Kim Shillinglaw has hinted that final scenes featuring Clarkson could air as early as this summer. The current series was brought to a dramatic close before the last three scheduled episodes went out.
The car show, which is viewed in 170 territories and generates an estimated £50 million a year for the BBC, will continue without Clarkson.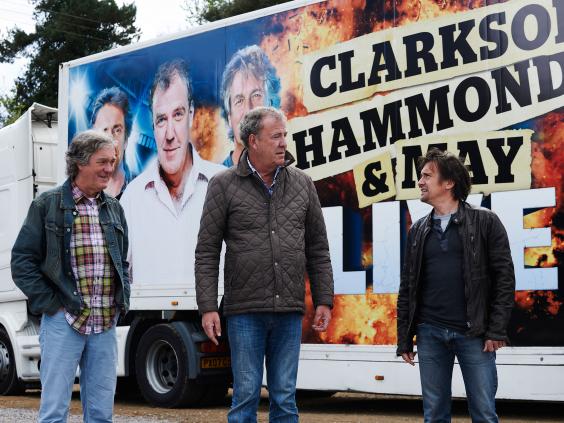 Shillinglaw, who also revealed she would strongly consider female contenders for the Top Gear job, said she was not thinking of Clarkson's replacement "in terms of gender".
Jodie Kidd, Philip Glenister and Guy Martin are reportedly the 'dream team' tipped to present the show but the BBC has declined to comment on the speculation.
It remains to be seen whether Clarkson, Hammond and May will be seen on another channel for a different car programme soon.
Reuse content