Dapper Laughs, the "proper lad" comedian known for his dating show that purports to help people to "pull," his love of the phrase "proper moist," and his jokes about having sex with other people's mothers, has been defended by ITV as being respectful to women.
In a letter shared with the Huffington Post, ITV claims Dapper's pulling tips are "firmly based on treating women with respect and speaking to them in the right way," adding that "this is the message he gives to all the singles on his show during the series".
Dapper, real name Daniel O'Reilly, has also apologised to anyone he may have upset with his online language. While he does not reference any specific incidents, his apology follows a twitter spat with a female writer for UsVsth3m.
His statement reads: "I know that there has been heated commentary on social media in recent days, online abuse of any kind is wrong. Therefore, I would like to say a few words to make my views clear.
Dapper Laughs
Dapper Laughs
1/5 Dapper Laughs

Dapper Laughs found success through the video app Vine

ITV

2/5 Dapper Laughs

Dapper Laughs had his own ITV dating show up until earlier this week when it was axed by the channel

3/5 Dapper Laughs

Dapper Laughs' brand of 'lad comedy' has causes widespread offence and anger

ITV

4/5 Dapper Laughs

'Clapham lad' Daniel O'Reilly aka Dapper Laughs

Stephen Barber

5/5 Dapper Laughs

The comedian Daniel O'Reilly appeared contrite on BBC Newsnight last night

BBC Newsnight
"Some comedians push the boundaries in the name of entertainment. That means taking risks. But I think it's important that if we over step the mark and cause upset that we apologise.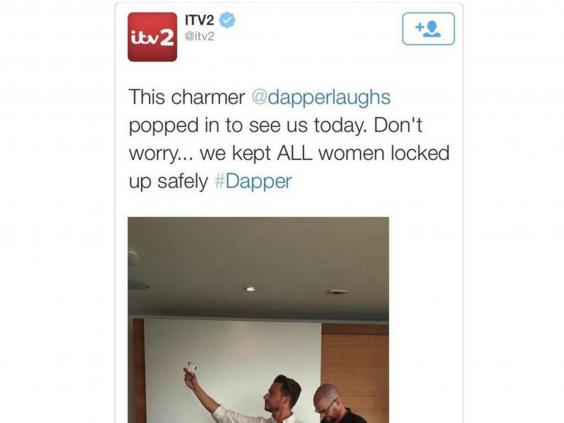 "I would like to say sorry to those people who I have upset by my recent comments. I assure them this was not my intention."
Dapper, who presents On The Pull on ITV2, has built his persona around himself as a "pulling magnet" and his jokes about the treatment of "birds".
His comments, which many have branded offensive, include tweets about "side boob," how how men apparently act after sex, and his nose being "your mum's fave seat". One reads: "Remember, it's only sexual harassment if she's more attractive then [sic] you."
Just read an article saying I'm dead! Sorry! Still here! Only one way I'm going down, literally: pic.twitter.com/9PQ7L3uDew

— Dapper Laughs (@dapperlaughs) September 13, 2014
After a viewer wrote into to ITV to complain that it is giving "direct endorsement of sexual assault" through Dapper's show, the broadcaster responded with the statement that Dapper respects women.
ITV added: "We realise that all humour is subjective and accept that Dapper's humour is more risqué but feel that his unique brand of banter and brash charm is neither sexist nor degrading to women and that this approach to pulling is based on displaying the right attitude to women in order to succeed."
The broadcaster has deleted one of its own tweets however, which claimed it would "lock up" its women while Dapper was on the broadcaster's premises. 
Off to Cornwall this weekend, best give you lot a flood warning.

— Dapper Laughs (@dapperlaughs) September 11, 2014
Ok I'm Soldado, Bentley, and the ear biter from the apprentice & my nose is your mums fave seat. I also look like Rylan. Good times ;)

— Dapper Laughs (@dapperlaughs) October 18, 2014
The ITV2 tweet from 5 September, which many saved pictures of before it was deleted, read: "This charmer @dapperlaughs popped in to see us today. Don't worry… we kept ALL women locked up safely #Dapper", accompanied by a picture of the comedian in the company's building.
ITV told the Independent that while the tweet was published in September, before the show aired, it felt it was appropriate for the tweet to be taken down, given the potential for its content to be misinterpreted or taken out of context following the very recent social media activity surrounding Dapper, though this activity was not connected to the series which has recently concluded on ITV2.
Like my grandad always used to say.... pic.twitter.com/XX24G6AzTn

— Dapper Laughs (@dapperlaughs) September 8, 2014
On Friday, homeless charity Shelter said it would not take any money made from Dapper's Christmas album, which was intended to raise money for the homeless.
The album, which includes a song about a "tramp" who "smells of shit", has been called "deeply offensive about homeless people" by Shelter, and the charity said the fact that 90,000 children will wake up homeless this Christmas "is no joke".
Reuse content