Disney is to shoot its first UK drama series in George Osborne's constituency just weeks after the Chancellor introduced a tax break designed to encourage companies including the US entertainment giant to bring major productions to Britain.
The Disney Channel announced that it will produce a 22-part series of The Evermoor Chronicles, a live-action drama about a teenage girl who moves from the US to start a new life in the spooky Evermoor Manor.
The drama, which will be screened globally, is Disney's first commitment to a full series produced in the UK. The series will be shot in the north-west of England and Arley Hall, a Jacobethan pile in Northwich, Cheshire, has been chosen as the location for Evermoor Manor.
Arley Hall is located in Osborne's constituency of Tatton. The Chancellor visited the location last year. He said: "Productions like Evermoor demonstrate the quality of skills and talent throughout the country, creating jobs and attracting international investment."
A fortnight later, Osborne announced a new tax break designed to encourage production companies to make live-action children's shows in the UK.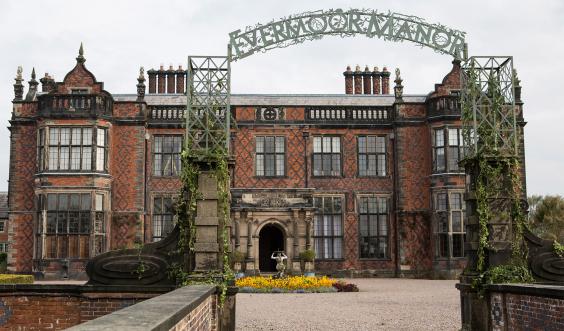 The tax credit, which amounts to a 25 per cent saving on 80 per cent of the UK production spend, is intended as an incentive for US children's television powerhouses such as Disney and Viacom to make shows in Britain.
In his Budget on Wednesday, the Chancellor confirmed that the new children's television tax relief will begin in April and will also include "children's programmes that are game shows or competitions".
Disney announced its commitment to an Evermoor series, with its prominent use of the location in Osborne's constituency, after yesterday's Budget was published.
Disney green-lit The Evermoor Chronicles following a successful four-part mini-series last year, which attracted over 1.6m viewers in the UK. As well as the Tatton manor, the series will utilise locations in Warrington.
It will be produced by Lime Pictures, the Liverpool-based company founded by Brookside creator Phil Redmond which produces Hollyoaks for Channel 4. Disney said its series commitment will create 70 new jobs, including 20 local craftspeople who will be drafted in to create new sets and design elements.
A Disney spokesman said: "The production will benefit from the tax credit but that is not the primary reason we committed to the series. It was because of the positive response to the mini-series."
Although the lead character of Tara Crossley is played by Naomi Sequeira, a Disney Channel Australia graduate, the series, which explores "themes of teen friendship, family and romance, against the backdrop of a strange and mysterious world", features a largely British cast.
Filming begins this Summer on the series co-created by Diane Whitley and Tim Compton, writers of the hit Nickelodeon children's series, House of Anubis.
David Levine, General Manager of Disney Channels UK & Ireland, said: "We're delighted that the mini-series has proven to be a hit with audiences around the world. The Evermoor Chronicles is our biggest and most successful homegrown live-action production, and provides the perfect platform to establish and build local UK Disney stars. Greenlighting a full season demonstrates our commitment to creating entertaining shows that resonates with both local and global audiences."
The UK's creative industries have benefited from new tax reliefs on animation, video games and high-end drama.
In his Budget, the Chancellor extended a tax relief on British films to "25 per cent for all qualifying core expenditure, for all eligible film productions. "Our creative industries are already a great contributor to the British economy. We back them again today," he said.
The government also announced that it would reduce the minimum UK expenditure requirement for television and animation productions from 25 per cent to 10 per cent, in line with films.
Osborne first announced the tax break for live-action children's programming in the government's Autumn statement last December. "We will help one area of television production that has been in decline, with a new children's television credit, alongside our new animation credit," the Chancellor said.
Reuse content