It was only a matter of time until Donald Trump's presidency became the target of satirists. Wasting no time is The Simpsons and Saturday Night Live veteran Harry Shearer who will star in a brand new weekly series, titled Too Soon?, centered on the Republican's election.
In a bizarre twist, the series will be shot using performance capture, making the whole thing feel like a video game set in the White House (which we're sure many people wish it just was).
"I wanted to do this to start what I think is a future, if not the future, of topical sketch comedy," Variety reports the This Is Spinal Tap co-writer as saying.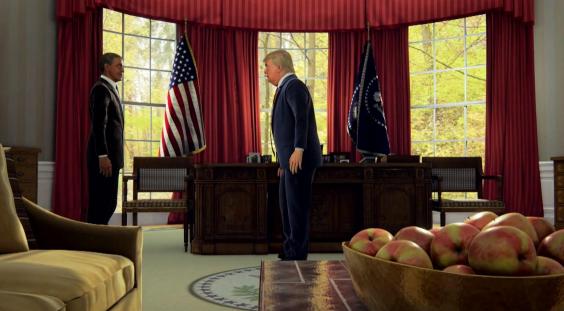 "With Donald Trump now set to be President, this could be comedy gold for the next four years."
Shearer has previous with politically-eschewed humour following his work on Nixon's the One, a 2013 sitcom inspired by the Nixon tapes; while that one aired in the US on YouTube network My Damn Channel, Too Soon? is being developed for television.
A preview for the new series was released earlier this month showing what may have happened behind closed doors when Barack Obama and Trump – here both voiced by Shearer – met following the latter's election victory.
For the series, Shearer is collaborating with John MacInnes and Remington Scott, who first worked together on video game Call of Duty: Advanced Warfare.
It is unknown when Too Soon? will begin – or, of course, how President Trump will respond. Keep your eyes on his all-too-active Twitter account.
Reuse content