Downton Abbey's creator Julian Fellowes acknowledged today that he had concerns that the Emmy-award winning show might "start to fall away" before deciding that the upcoming sixth series would be the last.
Hugh Bonneville, who stars in the ITV period drama as the Earl of Grantham, revealed that the cast had been informed 18 months ago that the show was being brought to an end.
Speaking at the launch of the final series, Lord Fellowes was asked if Downton risked damaging its legacy as a landmark show by continuing for too long. "There's always that concern with any show – you don't want it to go on and start to fall away and start to dwindle," he said. "We could probably all name favourite shows that we adored for the first three or four series and then gradually lost interest in."
He said that by ending the show now, he hoped to go out on a high. "We wanted to try and be sure that we would go out when people were still sorry." Downton Abbey was earlier this week honoured by Bafta with a "special award" for its global success. Only the Harry Potter franchise has had a similar accolade from the academy. Lord Fellowes said: "It seems the right time to go while we are still firing."
What are the Downton Abbey stars doing now?
What are the Downton Abbey stars doing now?
1/14 Jessica Brown Findlay - Lady Sybil Crawley

At just 24, Jessica Brown Findlay has made her name in Hollywood after starring as Beverly Penn in the film adaptation of Mark Helprin's 1983 novel Winter's Tale, alongside Will Smith, Russell Crowe and Colin Farrell.

In 2011 she starred in the leading role in British comedy-drama Albatross and will be playing Lorelai opposite Daniel Radcliffe and James McAvoy in Paul McGuigan's remake of Frankenstein.



ITV

2/14 Dan Stevens – Matthew Crawley

Since leaving the show in 2012 and moving to New York with his family, Stevens made his debut in Broadway opposite Jessica Chastain and David Strathairn in The Heiress.

He has recently been cast in Hollywood blockbusters A Walk Among the Tombstones, The Cobbler, Criminal Activities, and Night at the Museum: Secret of the Tomb, all of which are due to be released later this year or early 2015.



ITV

3/14 Sophie McShera - Daisy Mason

Bradford-born Sophie McShera joined the cast of Jez Butterworth's award-winning stage play Jerusalem as Pea for the show's return to London's West End in 2011 at the Apollo Theatre.

She starred as Job Centre regular Bryony in the ITV sitcom The Job Lot and will be reprising the role for series two which will air on ITV2.

She will also star in the 2015 remake of the Disney classic Cinderella as Drizella, one of the mean stepsisters.

Carnival/ITV

4/14 Michelle Dockery - Lady Mary

Dockery has found fame in Hollywood since playing Lady Mary Crawley, with roles in Hanna, and Tom Stoppard's Anna Karenina in which she played Princess Myagkaya.

In January 2014, she starred in aeroplane thriller Non-Stop together with Liam Neeson and Julianne Moore, and in the same month she was listed in Debrett's 500 most influential people in Britain.

She has also been cast alongside Ryan Reynolds and Ben Kingsley in Selfless, an unconventional sci-fi drama which is due for release in April 2015.

AP

5/14 Laura Carmichael - Lady Edith Crawley

Carmichael made her West End debut in October 2012 as Sonya in Uncle Vanya, opposite Anna Friel and Samuel West. She made headlines when Royal Shakespeare Company founder Sir Peter Hall shouted at her in a half-sleepy state during her performance.

She starred as a receptionist in BAFTA-winning Tinker Tailor Soldier Spy back in 2011 and will be playing the role of Henriette alongside Mia Wasikowska and Rhys Ifans in forthcoming film Madame Bovary.

6/14 Maggie Smith - Dowager Countess

Dame Maggie Smith reprised her role as Professor McGonagall in the final instalment of the Harry Potter series in 2011 before starring as Muriel Donnelly in the hugely successful The Best Exotic Marigold Hotel alongside Dame Judi Dench and Bill Nighy.

NICK BRIGGS

7/14 Hugh Bonneville – Robert Crawley, Earl of Grantham

Since taking on his role as Robert Crawley in 2010, Hugh Bonneville has starred in comedy film Burke and Hare, war drama The Monuments opposite George Clooney and Matt Damon, and Muppets Most Wanted.

In 2011 and 2012, he played the role of Ian Fletcher in the award-winning BBC comedy series Twenty Twelve and is due to star as Mr Brown in the upcoming family comedy Paddington.

ITV

8/14 Elizabeth McGovern - Cora

American actress Elizabeth McGovern has starred in drama Angels Crest and comedy Cheerful Weather for the Wedding since appearing in Downton.

In 2013, she was awarded the Will Award by the Shakespeare Theatre Company for her work on-stage over the years.

McGovern is currently filming alongside Ryan Reynolds and Dame Helen Mirren for drama Woman in Gold, which is due for release in 2015.

9/14 Brendan Coyle - John Bates

Primetime Emmy and Bafta Award nominee Brendan Coyle starred as Terry in Sky comedy series Starlings between 2012 and 2013.

He appeared in crime-thriller The Raven alongside John Cusack in 2012, and is due to portray Gerry Shaw in new Irish film Noble in September 2014.

NICK BRIGGS/ITV

10/14 Joannne Froggatt- Anna Bates

Since joining the cast of Downton Abbey, Froggatt has starred in John Donnelly's play The Knowledge at the Bush Theatre in West London and played guest roles in The Royle Family Christmas special and the TV mini-series True Love.

In 2013, she starred in the comedy drama Filth, based on Irvine Welsh's novel of the same name and Ulberto Pasolini's award-winning Indie film Still Life.

ITV

11/14 Isobel Crawley - Penelope Wilton

Between 2011 and 2012, Penelope Wilton played the role of Mary in the TV series North by Northamptonshire and starred as Lady Mary Murray in the 2014 drama Belle, opposite Matthew Goode.

Wilton will be joining her Downton co-star Dame Maggie Smith in The Best Exotic Marigold Hotel 2 as Jean Ainslie when it is released in 2015.

ITV

12/14 Jim Carter – Mr Carson

In 2011, Carter played the role of Barry in My Week with Marilyn opposite Michelle Williams and Kenneth Branagh, and has since narrated a range of documentaries from Secrets of the Stonehenge Skeletons to Pothole Britain – Drivers Beware!

Carter frequently cycles for charity causes and travelled to Ghana in 2011 to raise money for clean water in the small impoverished town of Tafo. He intended to raise a minimum of £2,750 but actually raised more than triple that amount with £8,670.

13/14 Phyllis Logan – Mrs Hughes

When she isn't playing the maternal Mrs Hughes, Logan starred in several TV series from 2010 including A Touch of Frost, Lip Service and Vera.

ITV

14/14 Lesley Nicol - Mrs Patmore

Since joining the cast of Downton, Nicol played guest roles in the US TV series Once Upon A Time and Raising Hope. She also played a recurring role in the TV series Sarah & Duck in 2013 as Scarf Lady.
At its height Downton had ratings of 9.5m and even by the start of series five it attracted a loyal 8.4m. Lord Fellowes said that the senior production team "had actually thought of ending it at the end of [series] five but it seemed a bit cramped and we thought we needed one series that was essentially all about resolution of the whole thing."
There is expectation that a film version of the hit show would be made and members of the cast, including Dame Maggie Smith (Violet, Dowager Countess of Grantham) expressed interest in such a project. Executive Producer Gareth Neame said: "Were there ever to be a Downton movie it strangely has to be just like the TV show and yet at the same time completely different. That would set a number of really interesting challenges and be a whole other medium for the audience to enjoy."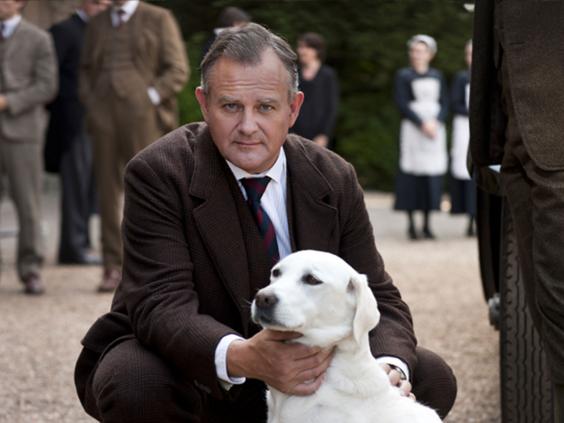 Introducing the final series, ITV director of television Peter Fincham admitted he had "never heard" of Highclere Castle, the Berkshire estate where the show is filmed, before the series was set there and that he had encouraged the writers to set the drama in the north of England. He also said there had been no initial thought of the potential attraction to overseas markets of a drama which is seen in 250 countries.
Lord Fellowes insisted that Elizabeth McGovern's character, the American-born Cora, Countess of Grantham, had not been introduced to give the show a Transatlantic but gave him as the writer a further counterpoint to the English aristocracy. "We weren't thinking…about foreign sales. The advantage for me of having the American wife – who were a great phenomenon of the 1880s and 1890s, these nice dollar princesses who arrived to save a way of life that they outlived for the most part – was it gave me a central character who was not dyed in the wool of the English upper class upbringing."
Storylines for the final series, where the action opens in 1925, are being kept under wraps.  ITV presenter Alastair Stewart, conducting Q&A sessions with the Downton producers and stars, said he identified numerous themes of contemporary relevance. Among topics featured are hospital finances, fox hunting, monetary pressures on stately homes, inequality of wealth, the influence of London and media intrusions of privacy (with even a reference to the now defunct News of the World).
Lord Fellowes said: "There is a conscious effort…to deal with issues which were current at the time they were living but also have some relevance today and strike a chime with us, whether we are dealing with hospitals or hunting or whatever it is, these are issues the public are aware of."
Bonneville, who said he was preparing to play the part of Lord Mountbatten in a film about the partition of India, said he was grateful for having 18 months of notice that Downton was closing and said the final series felt like "an extension". He said: "It would have been awful if they had just pulled the plug." Joanne Froggatt, who plays lady's maid Anna Bates, described the "happy and sad" tearful moments at the filming of the final scenes.
As Dame Maggie looked back on the making of the momentous show, she admitted to not having previously watched her performances as the imperious dowager but said she now intended to view the box set. "I want to sit down and see it all."
Reuse content