We may not have seen the last of the Dowager Countess, according to Downton Abbey creator Julian Fellowes.
The biting Violet Crawley could be making a comeback in Fellowes' new series The Gilded Age, which he is developing for US broadcaster NBC.
The show will be another period drama this time set in the late 19th Century during the so-called "gilded age" of economic growth and prosperity in America. The Gilded Age will reportedly follow the "robber barons" families of high society in New York, who have benefitted from the period of rapid industrialisation.
Dame Maggie Smith plays the role of the acerbic-tongued matriarch in Downton Abbey but if the Dowager Countess did return, it would be a younger version of the character. That's not all though, her son Robert could also have a part to play in the new drama.
"Robert Grantham would be in his early teens, Cora would be a child. A young Violet could make an appearance," Fellowes said in an interview with the Mail on Sunday.
Maggie Smith's best Downton one-liners
Maggie Smith's best Downton one-liners
1/15 The Dowager Countess on one's attitude

'Don't be defeatist, dear. It's very middle class.'

2/15 The Dowager Countess on being a woman

'I'm a woman, Mary, I can be as contrary as I choose.'

ITV

3/15 The Dowager Countess on modern technology

'First electricity, now telephones. Sometimes I feel as if I were living in an HG Wells novel.'

4/15 The Dowager Countess on moaning

'Stop whining and find something to do.'

ITV

5/15 The Dowager Countess on 'foreigners'

'Of course it would happen to a foreigner, it's typical! No English man would dream of dying in someone else's house. Especially someone they didn't even know.'

ITV

6/15 The Dowager Countess on outstaying one's welcome

'No guest should be admitted without the date of their departure settled.'

Carnival Film & Television Limited

7/15 The Dowager Countess on the strangess of a working week

'What…is a weekend?'

8/15 The Dowager Countess on mixing upstairs and downstairs

'It always happens. When you give these little people power it goes to their head like a strong drink.'

ITV

9/15 The Dowager Countess on unwanted company

'She's an obstacle to your happiness, dear, and must be removed.'

ITV

10/15 The Dowager Countess on domesticity

'I do think a woman's place is eventually in the home, but I see no harm in her having some fun before she gets there.'

ITV

11/15 The Dowager Countess on the idea of maids having lives

'I was right about my maid. She's leaving, to get married. How could she be so selfish?'

12/15 The Dowager Countess on marriage

'One way or another, everyone goes down the aisle with half the story hidden.'

ITV

13/15 The Dowager Countess on sharing principles

'Principles are like prayers. Noble, but awkward at a party.'

ITV

14/15 The Dowager Countess on mother-in-laws

'It always seemed rather dark when my mother-in-law lived here. But then she always made everything rather dark.'

ITV

15/15 The Dowager Countess tells it how it is

'Put that in your pipe and smoke it.'

ITV
For the moment though Fellowes is keeping his focus firmly on Downton and has dispelled rumours of working on The Gilded Age.
Last month he announced that Downton had had its day and would be ending after the sixth series and Christmas special.
In a statement Fellowes said, "The Downton journey has been amazing for everyone aboard. People ask if we knew what was going to happen when we started to make the first series and the answer is that, of course, we had no idea."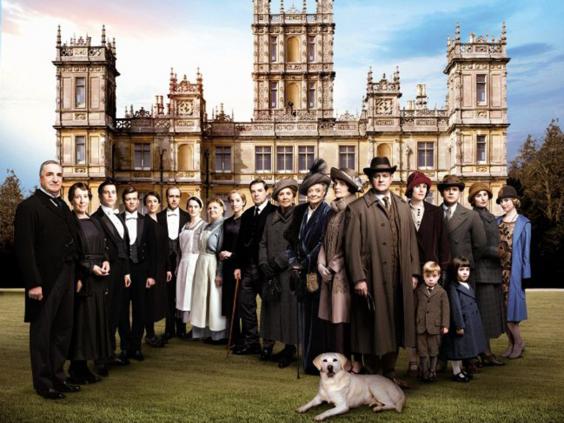 "Exactly why the series had such an impact and reached so many people around the world, all nationalities, all ages, all types, I cannot begin to explain. But I do know how grateful we are to have been allowed this unique experience.
"I suspect the show will always be a principal marker in most of our careers as we set out from here and, if so, I consider that a blessing and a compliment."
The period drama is filmed at Highclere Castle and features a mixture of established stars including Dame Maggie Smith and Hugh Bonneville and new faces. Downton Abbey helped launch the careers of actors including Michelle Dockery, Lily James and Dan Stevens.
There have been reports that the show's makers would also like to make a film spin-off of Downton Abbey that would be a standalone rather than being part of the main story arc.