Even the cast of Aussie soap Neighbours are excited to find out who killed Lucy Beale on EastEnders, so much so that they have recorded a special sketch.
Susan Kennedy is seen slipping on milk before waking up in the midst of episode of EastEnders, which celebrates its 30th anniversary today.
Jackie Woodburne's Ramsay Street regular then meets a host of people, played by Neighbours actors, claiming to be EastEnders characters.
Cockney accents are employed to varying degrees of success in the entertaining clip, titled "East Erinsborough", with Alan Fletcher, Colette Mann, Morgana O'Reilly, Stefan Dennis, Olympia Valance and Kate Kendall all taking part.
Some classic EastEnders moments are re-enacted in the video, including a fight between Naomi Canning and Paige Smith that echoes the famous row between Kat and Zoe Slater ("You ain't my mother! Yes I am!").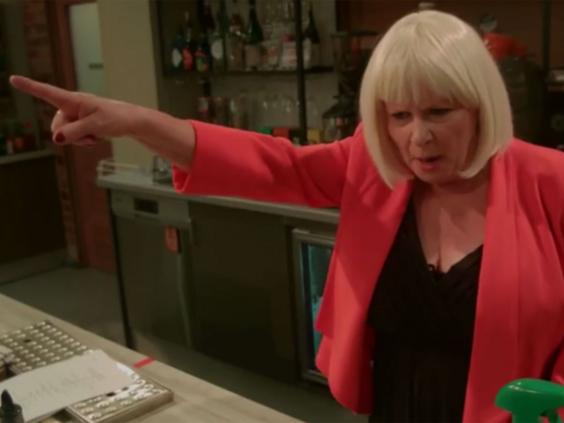 We see Sheila Canning pay tribute to Peggy Mitchell with her classic line "Get out of my pub!", while Karl Kennedy delivers Susan divorce papers and acts out a scene involving Den and Angie Watts.
Who killed Lucy Beale?
Who killed Lucy Beale?
1/9 Bobby Beale

Lucy's cute little brother is the chief suspect according to the bookies. If she was killed at home as Lauren has suggested, then a family member is likely the culprit. But how could this adorable little fella do such a thing?

BBC

2/9 Jane Beale

Jane failed to attend Lucy's funeral and was allegedly away with Bobby at the time of her death. She was sent a scary letter by Lauren before her wedding to Ian and now's she strongly in the frame.

BBC

3/9 Abi Branning

Dad Max appeared to accuse Abi on Tuesday night's episode. She is seething that her friend Lucy was kissing her dad soon before her death so maybe Abi's angelic looks are hiding something more sinister? After all, she did try to drown her own sister and has been seen frantically scrubbing blood from the car park. Oh and she killed her pet dog.

BBC

4/9 Max Branning

Max is a major suspect because of his affair with Lucy right before she died. He's had many affairs on Albert Square though and the women are alive and well.

BBC

5/9 Lauren Branning

She's accused her demented little sister Abi of Lucy's murder but maybe she's deliberately covering her own tracks. Actress Madeline Duggan is taking a break from EastEnders to have a baby so perhaps she'll be 'going to jail'...

BBC

6/9 Jay Brown

He buried Lucy's purse and phone and set fire to a beanie hat he was caught on CCTV wearing the night she died. Sounds suspcious to us...

BBC

7/9 Lee Carter

Lucy's ex-soldier ex-boyfriend did drop Lauren Branning in it with that video footage - a clever ploy to take the heat off himself?

BBC

8/9 Ben Mitchell

Ben is already a murderer so his inclusion on the suspect list makes sense. He was out of prison when Lucy was killed too. Very possible.

BBC

9/9 Lucy Beale

Suicide is still a possibility but what a disappointment it would be with no 'I can't believe it was you!'

BBC
"Thirty years is a long time in television and we know how much blood, sweat and tears, as well as a lot of love and laughs, goes into producing serial drama, so well done EastEnders," said Neighbours producer Jason Herbison.
"Our cast had a fantastic time paying homage to save memorable Walford moments in the sketch, and I couldn't miss the opportunity to have Colette scream, 'Get out of me pub'."
Neighbours will celebrate its own 30th anniversary later this year, with past characters returning for special episodes in March.
Reuse content