Following the brutal murder of Lee Rigby at the hands of Muslim extremists last May, membership to the English Defence League has grown fivefold.
Notorious for its far-right views, racist chanting and often violent street protests, the organisation's members often feel misrepresented and misunderstood.
Tonight, EDL Girls - Don't Call Me Racist delves into the lives of some of the largely male organisation's female supporters, who on joining become known as EDL Angels.
"We're not going to stand behind our men. We'll stand in front, we will stand by your side but we'll never stand behind, ever," one Angel shouts at a protest.
But what pushes women, many still just teenagers, to join such an infamous organisation?
EDL Girls – Don't Call Me Racist follows one of the founding Angels, 41-year-old Gail, who leads the EDL's Yorkshire unit. Gail was left with a broken jaw after a fight in May 2013. The show explores how her beliefs have impacted her life and family during the court case of the men accused of attacking her.
Amanda, 18, is a new EDL recruit also from Yorkshire. She discusses the fear of Muslim extremists that led her to the EDL and invites BBC Three to film her nervously attending her first demonstration.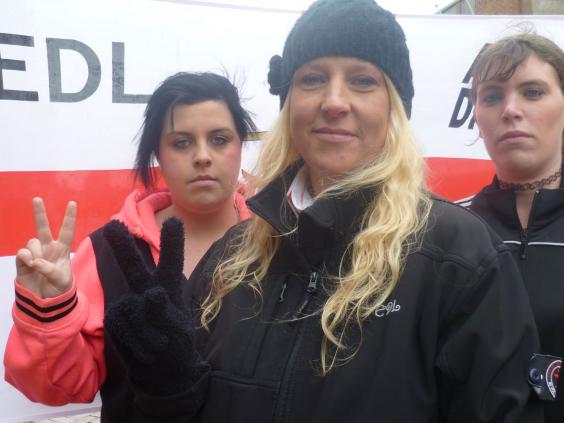 The mixed reaction her friends have towards her new political stance is also charted, with Amanda admitting that joining the EDL has made her feel included. "It's the first time I've felt like I've been wanted," she says.
A third female member or, rather, possible member-to-be, is 16-year-old Katie from Reading. Katie comes from a large family of dedicated EDL supporters but struggles to make up her mind over whether to become an active campaigner herself.
"I don't want to be labelled as being a racist thug when I know that I'm not
The impact of former EDL leader Tommy Robinson's departure is also explored, as are the more general views of the EDL.
"Two weeks ago I didn't know what the EDL was but I always thought Muslims were wrong," one young recruit says, while Katie's dad rants that you "can't buy a loaf of bread that's not Halal".
EDL Girls – Don't Call Me Racist airs tonight at 9pm on BBC Three