Before Empire had its US premiere in January, not a single UK channel had bid to acquire the Fox TV network's drama about a feuding New York hip-hop clan.
But by the climax of its first series this week, Fox's international TV chief Marion Edwards told The Hollywood Reporter, three broadcasters were vying for the right to show it to British viewers.
That's because Empire has unexpectedly become the breakout US TV hit of the year, if not the decade.
Some nine million viewers tuned in to the series premiere, growing to 16.7 million for Wednesday's two-hour finale – a number that will likely top 20 million once On Demand and DVR viewing are taken into account. The drama's audience ratings grew for every week of its 12-episode run, a feat never before achieved under the ratings system introduced by Nielsen in 1991.
The best TV to watch in 2015
The best TV to watch in 2015
1/13 Game of Thrones

Sky Atlantic, April

HBO

2/13 Poldark

BBC 1, March

BBC

3/13 Fortitude

A murder mystery set in a close-knit Arctic Circle community, with an impressive ensemble cast -Sky Atlantic, January

Sky Atlantic

4/13 Banished

BBC 2, March

BBC

5/13 Ordinary Lise

BBC 1, March

BBC

6/13 Life in Squares

Phoebe Fox, James Norton and Lydia Lynch in 'Life in Squares'

BBC

7/13 Wolf Hall

BBC2, January

BBC

8/13 Better Call Saul

Netflix, February

Netflix

9/13 Mel & Sue chat show

ITV, January

Princess Productions

10/13 Mad Men, Series 7, Part II

Sky Atlantic, Spring

©Lionsgate

11/13 Dementiaville

This series of documentaries explores both the heart-breaking experiences of those with dementia and a ground-breaking new approach to their care - Channel 4, Summer

Georgie Scott/Age UK 2013

12/13 Morning Has Broken

More than a decade since Nighty Night established Julia Davis's reputation for caustic character comedy, she's back with a new creation on Channel 4

BBC

13/13 Cucumber/Banana

Sixteen years after Queer as Folk, Russell T Davies returns with two interlinked series about gay life in Manchester on Channel 4

c.Showtime/Everett/REX
Some 2.4 million tweets were sent about the show during its finale, flooding the web with Empire memes and gifs. Meanwhile, the show's official soundtrack, produced by Timbaland and performed in large part by its cast members, beat Madonna's new album to the top of the Billboard charts in its first week of release. The series was created by director Lee Daniels and writer Danny Strong, the creative team behind the 2013 film, The Butler, and it marks quite a leap from that sombre civil rights saga. Empire's central character is music mogul Lucious Lyon (played by Terrence Howard), whose rise from drug dealer to hip-hop star to the boss of his own music label, fashion line and champagne brand was modelled on the life of Jay-Z.
In the pilot episode, Lucious learns he has ALS. Given three years to live, he must choose a successor as CEO of Empire Records from among his three sons: the ambitious but unmusical eldest, Andre; talented Jamal, who – to his homophobic father's disgust – is gay; or brattish rapper Hakeem. The family dynamic is further disrupted when estranged matriarch Cookie (Taraji P Henson) returns after 17 years in jail.
With cameos from Cuba Gooding Jr, Jennifer Hudson, Snoop Dogg and more, Daniels has described his twisty, explosive melodrama as a "black Dynasty".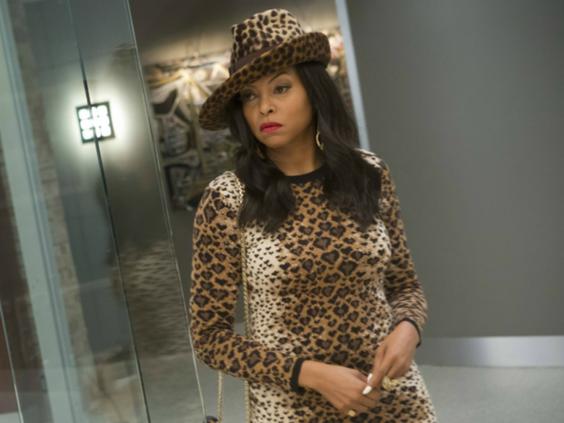 "No one could have told me that a TV show airing one night could reach more people than all my movies combined," the filmmaker told Vanity Fair. "I've always been that 'film guy' who looked down on television. Not anymore. I also never thought I'd see the day when black people would be all over the television."
Empire has proven that TV audiences are not turned off by onscreen diversity. Two more of this year's new network hits, the sitcom Black-ish and drama How to Get Away with Murder, also have diverse casts. How to Get Away with Murder was created by Shonda Rhimes, the writer behind Scandal, another hit series with a black female protagonist. Yet unlike Scandal, which is set in the Washington political world, Empire is specifically about the black urban experience.
In some quarters, the show has been criticised for perpetuating negative stereotypes. Novelist Attica Locke, a member of Empire's writing team, recently addressed such criticism, saying: "If white people can have Tony Soprano and Walter White, then why can't we have an equally conflicted, complex leading man?"
Black audiences, in particular, have embraced Empire. Fox's targeted pre-launch marketing campaign, which included segments on hip-hop radio stations, was rewarded: at least a third of black households in the US watched the series, making up almost two-thirds of its total viewership.
According to Nielsen, recent episodes were watched by more than half of African-American women aged 35-49. Empire attracted a bigger black audience than any other programme on TV: more black viewers watched its finale than watched the Super Bowl.
The Empire formula now seems likely to be repeated. "People are seeing that shows with people of colour can make money," Henson said. "When things make money, people are interested."
Reuse content