Much like the Star Wars panel at the San Diego Comic Con, Game of Thrones brought the masses, many of whom were hoping their questions concerning John Snow and Stannis Baratheon would be answered.
It turns out the cast know as much about the future of Westeros as the presumed dead hero: nothing.
"To be perfectly honest, honey, a lot of us here at the table are in the same position as you guys and I don't have an effing clue what will happen," Natalie Dormer, who plays Margaery Tyrell, told an adoring crowd.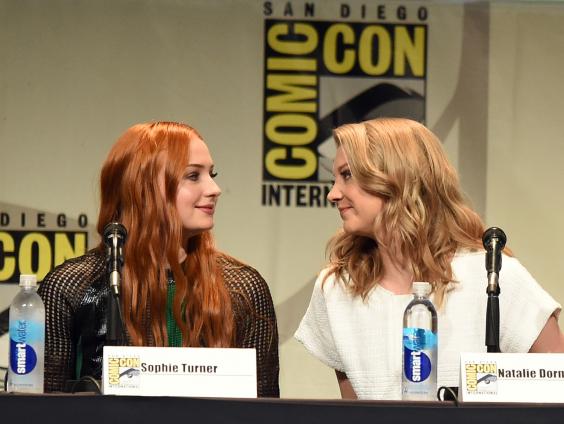 However, even without knowledge of what is going to happen, the panel were still able to answer a variety of questions concerning the season just past.
Notably, Sansa Stark actress Sophie Turner spoke about that controversial rape scene that managed to put off a number of viewers.
"Sansa is still strong despite what she's been through, she is not to blame for any of that," she said. Then, in a joking manner, she added: "I don't know why they focused on Theon during that scene because I was giving a great performance.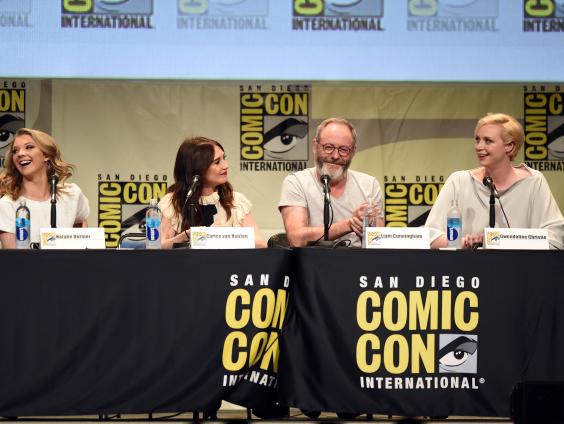 "Sansa has developed skills from Maergery and Cersei and other folks and is still just as strong as ever. Over this whole series she has been getting by without doing anything radical, because she knows it's dangerous for her. She could die. And that is certainly true with the Ramsays.
"She didn't fight. She could have, but she chose not to. She is one of those characters who does her scheming in her mind rather than openly."
Producer Carolyn Strauss and director David Nutter also answered questions about the controversial death of Stannis Baratheon's daughter Shireen.
"It was an amazingly powerful moment that I think turned out just right," Nutter said, while Strauss added: "It hurts more the more you know the characters, but just because it's painful doesn't mean it's not a good point in the story. It wasn't done because of the pain, but in spite of it."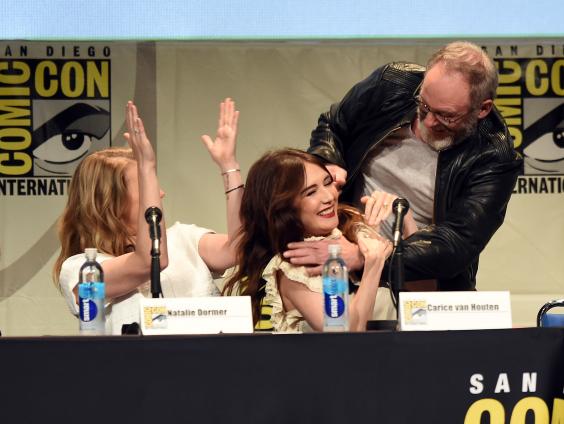 It also turns out that only one of the cast has actually read George R.R. Martin's books, Gwendoline Christie, who plays Brienne. "I did the homework for once," she said.
Maisie Williams also added how people would always ask if she knew she would later go blind: "And I'd be like, 'Yeah, I knew that. I totally knew that.' Even though I didn't."
Shocking Game of Thrones scenes
Shocking Game of Thrones scenes
1/9 Sansa/Ramsey rape scene

Season 5, episode 6: Fans were outraged as the episode ended with Sansa Stark being brutally raped by her new husband, Ramsey. The camera soon panned to Theon as he watched on, terrified.

HBO

2/9 Shireen burns at the stake

Season 5, episode 9:Stannis burns his daughter Shireen at the stake after Red Priestess Melisandre advises him to make a sacrifice to gain more power

3/9 Theon gets his penis chopped off

Season 3, episode 10: While being tortured by Ramsey, Theon Greyjoy goes through all sorts of pain. The most horrible though is when his penis is cut off and then sent to his family.

YouTube

4/9 George Bush's head on spike

Season 1, episode 10: According to the directors, they couldn't get enough prosthetic heads made up for the show and ended up using the spare one's lying around. One of those just happened to be the fake head of George Bush, which eventually ended up on a spike.

YouTube

5/9 Joffrey murders two prostitutes

Season 2, episode 4: In one of his most violent moments, Joffrey finds himself with two prostitutes in his room and the most disgusting thing he can think to do with them, uses them as living targets.

YouTube

6/9 The Red Wedding

Season 3, episode 9: It was the turning point for the entire show. Just as everyone thought it was going the Starks way, they nearly all end up murdered in one of the bloodiest episodes of any TV series ever.

HBO

7/9 Rat torture

Season 2, episode 4: Torture is a pretty common occurrence on Game of Thrones, but none were quite a bad as this. In the scene a bucket of rats is put to a man's chest and then heated up with a flame so they must eat through the man to escape. Terrifying.

YouTube

8/9 Mountain head explosion

Season 4, episode 8: Just as everything was going Oberyn Martell's way, it all literally blew up in his face. The warrior ended up looking like a squashed watermelon in one of the most awful scenes in the entire series.

9/9 Theon botched beheading

Season 2, episode 6: Beheadings: In one of the more gruesome beheadings, Theon strikes Ser Rodrick Cassel not just once but four times in the neck, finally taking it all the way off with a kick.