With characters getting knocked off every other episode, it's no surprise that every other week there seems to be a new casting announcement for HBO's Game of Thrones. 
Richard E. Grant apparently joined season 6's cast earlier this year, as did Ian McShane. Now, according to Deadline, Spartacus actor Joe Naufahu has also signed on for a 'recurring' role in the show.
Naufahu is best known for his role in Spartacus: War of the Damned, where he played the Liscus in a number of episodes.
Since the casting the rumour-mill has been running non-stop with speculation, many believing he will play a Dothraki due to his previous roles as muscular bruiser. 
Readers' favourite lines from Game of Thrones
Readers' favourite lines from Game of Thrones
1/10 Jon Snow

'We are only human, and the gods have fashioned us for love. That is our great glory, and our great tragedy.'

HBO

2/10 Tyrion Lannister

'Never forget what you are, for surely the world will not. Make it your strength. Then it can never be your weakness. Armor yourself in it, and it will never be used to hurt you.'

3/10 Tyrion Lannister

'Death is so terribly final, while life is full of possibilities.'

HBO

4/10 Ned Stark

'A ruler who hides behind paid executioners soon forgets what death is.'

5/10 Tyrion Lannister

'A mind needs books as a sword needs a whetstone, if it is to keep its edge.'

HBO

6/10 Cersei Lannister

'When you play the game of thrones, you win or you die. There is no middle ground.'

HBO

7/10 Barristan Selmy

'They say night's beauties fade at dawn, and the children of wine are oft disowned in the morning light.'

HBO

8/10 Ned Stark

'If you would take a man's life, you owe it to him to look into his eyes and hear his final words. And if you cannot bear to do that, then perhaps the man does not deserve to die.'

9/10 Tyrion Lannister

'Let them see that their words can cut you, and you'll never be free of the mockery. If they want to give you a name, take it, make it your own. Then they can't hurt you with it anymore.'

HBO

10/10 Jorah Mormont and Daenerys Targaryen

'The common people pray for rain, healthy children, and a summer that never ends,' Ser Jorah told her. "It is no matter to them if the high lords play their game of thrones, so long as they are left in peace.' He gave a shrug. 'They never are.'

HBO
Screen Rant have pulled out these two old casting callouts which could fit Naufahu well:
Qhogo and Akrat: They're seeking mixed ethnicity or other non-white actors for the roles. The successful young warriors need to be tall, confident, with swagger and linguistic bravado. It's noted that the actors will have to speak in a fictional language. I think it's safe to say that these are Dothraki.
Fierce Warrior: A tall man in 30's or 40's with a powerful physique. They're looking for someone with "mixed ethnicity" for the role.
At the end of last season, Emilia Clarke's character Daenerys Targaryen was captured by a Dothraki horde, and it is expected both Qhogo and Akrat are part of this. In the book there is also a leader of the group, Khal Jhaqo, yet no casting has been made for his role.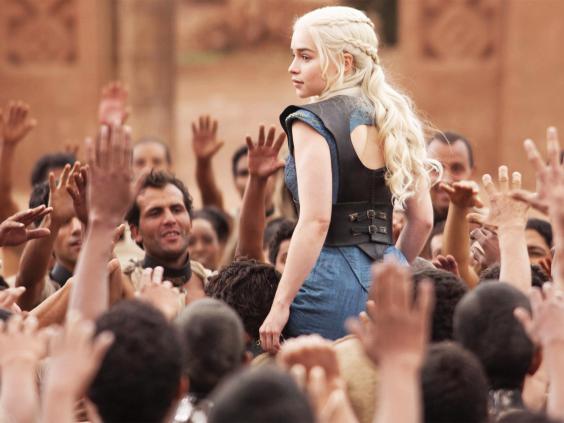 Game of Thrones is expected to return to HBO and Sky Atlantic next sprinng.
Reuse content