Game of Thrones season five may have reached its brutal conclusion just last week, but chatter has already turned to what the sixth series may have in store.
*This article contains possible spoilers*
Casting has already begun for fresh faces, with several as-yet-unseen characters from George RR Martin's books rumoured to be making their introductions next year.
One new character, discovered by fansite Watchers on the Wall, is described as a "beautiful, intense and magnetic" young priestess in her 20s or 30s, but not much else was known about her until an audition video leaked online.
The clip, which has now been taken down, reportedly showed British actress Tehmina Sunny reading the part of a red priestess named Kinvara, who visits Tyrion Lannister and Varys in Meeren.
Viewers will recall chief Iron Throne contender Daenerys Targaryen flying off to the city on her not-so-imaginatively-named dragon Drogan last season. Alas, she never made it back, and an extract from the scene suggests that a) it might be a while until she does and b) the Lord of Light R'hllor has singled her out for glory, which may or may not be a good thing.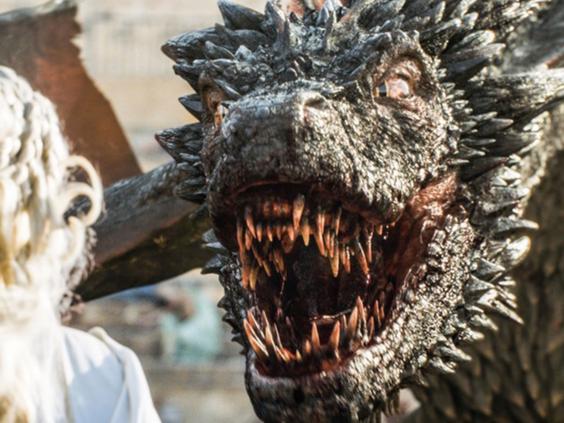 Here's a snippet of the dialogue, first published on i09.com:
Kinvara: "Her dragons are fire made flesh. A gift from the Lord of Light. But you've heard all of this before, haven't you? On the Long Bridge of Volantis? The dragons purify nonbelievers by the thousands, burning their sins and flesh away."
Tyrion/Varys: "Ideally, we'd avoid purifying many non-believers. The Mother of the Dragon has followers from many different faiths."
Kinvara: "You want your queen to be worshiped and obeyed. And while she's gone, you want her advisors to be worshiped and obeyed."
Tyrion: "I'd settle for obeyed."
Kinvara: "I will summon mummers and appoint priests. They will spread the word. Daenerys has been sent to lead the people against the darkness ... for this war, and the Great War yet to come."
Varys: "That sounds excellent. A man named Stannis Baratheon was appointed as the Chosen One by one of your priestesses. He too had a glorious destiny. He attacked King's Landing, and was soundly defeated by the man standing beside me. Last I heard, he'd been defeated again. This time at Winterfell ... and this time for good."
The Game of Thrones season five finale ended in trademark dramatic fashion with long-time favourite Jon Snow being brutally stabbed on his return to The Wall. Stannis Baratheon also met his grisly end and Arya Stark was blinded as punishment while with the Faceless Men.
Shocking Game of Thrones scenes
Shocking Game of Thrones scenes
1/9 Sansa/Ramsey rape scene

Season 5, episode 6: Fans were outraged as the episode ended with Sansa Stark being brutally raped by her new husband, Ramsey. The camera soon panned to Theon as he watched on, terrified.

HBO

2/9 Shireen burns at the stake

Season 5, episode 9:Stannis burns his daughter Shireen at the stake after Red Priestess Melisandre advises him to make a sacrifice to gain more power

3/9 Theon gets his penis chopped off

Season 3, episode 10: While being tortured by Ramsey, Theon Greyjoy goes through all sorts of pain. The most horrible though is when his penis is cut off and then sent to his family.

YouTube

4/9 George Bush's head on spike

Season 1, episode 10: According to the directors, they couldn't get enough prosthetic heads made up for the show and ended up using the spare one's lying around. One of those just happened to be the fake head of George Bush, which eventually ended up on a spike.

YouTube

5/9 Joffrey murders two prostitutes

Season 2, episode 4: In one of his most violent moments, Joffrey finds himself with two prostitutes in his room and the most disgusting thing he can think to do with them, uses them as living targets.

YouTube

6/9 The Red Wedding

Season 3, episode 9: It was the turning point for the entire show. Just as everyone thought it was going the Starks way, they nearly all end up murdered in one of the bloodiest episodes of any TV series ever.

HBO

7/9 Rat torture

Season 2, episode 4: Torture is a pretty common occurrence on Game of Thrones, but none were quite a bad as this. In the scene a bucket of rats is put to a man's chest and then heated up with a flame so they must eat through the man to escape. Terrifying.

YouTube

8/9 Mountain head explosion

Season 4, episode 8: Just as everything was going Oberyn Martell's way, it all literally blew up in his face. The warrior ended up looking like a squashed watermelon in one of the most awful scenes in the entire series.

9/9 Theon botched beheading

Season 2, episode 6: Beheadings: In one of the more gruesome beheadings, Theon strikes Ser Rodrick Cassel not just once but four times in the neck, finally taking it all the way off with a kick.
Season six is expected to reach our living rooms around April next year. Details are scarce at this stage, particularly as the world awaits George RR Martin's next book The Winds of Winter as the TV show has finally caught up with his novels, but here's what we know so far. Just don't kill the Khaleesi!
Reuse content