The sound of Goodfellas mafioso Frankie Carbone demanding $250m in "damages" would be chilling enough on film, let alone in real life.
So one can imagine how the broadcasters of The Simpsons felt when they received a law suit citing that amount from actor Frank Sivero, who played Carbone and claims he "based this character on his own personality".
The law suit against Fox Television Studios is in respect of Springfield's own cartoon wise guy. Never mind the fact that the character is called Louie and was inspired by Joe Pesci's character Tommy DeVito, who had all the best mobster lines in Goodfellas.
But the real life Sivero was reportedly arrested for gun possession earlier this year and is deeply protective of his alter ego, having recently sued a restaurant which had the temerity to name a sandwich after Signor Carbone.
According to his law suit, Sivero lived in an apartment complex in California next door to the writers of The Simpsons at the time he was preparing for the mafia movie. "They knew he was developing the character he was to play in the movie Goodfellas," states the lawsuit. "In fact, they were aware the entire character of 'Frankie Carbone' was created and developed by Sivero, who based this character on his own personality."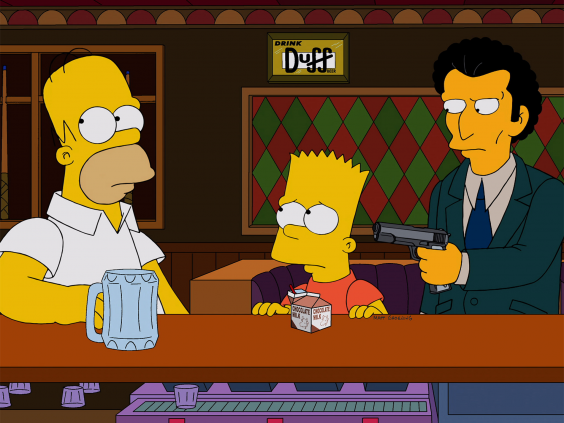 The suit acknowledges that Dan Castellaneta, who voices Louie in The Simpsons - and indeed Homer Simpson - based the sound of the character on Joe Pesci "who also had a role in Goodfellas".
Louie has appeared in 16 episodes of The Simpsons. The mobster first appeared alongside Bart and company in 1991, a year after Goodfellas.
Nearly a quarter of a century later, the legal claim alleges that, by appropriating Silvero likeness and idea, the defendants have "diluted the value of the character created by plaintiff" and contributed to "type-casting" of the actor.
His $250m suit is comprised of a claim of $50 million for actual damage from the loss of his likeness, $100 million for "improper interference", $50 million damages for the appropriation of his "confidential" idea, plus $50 million in exemplary damages.