Sandy Docherty has become the fourth contestant to leave the Bake Off tent after serving up some sloppy desserts.
The 49-year-old from Bradford failed to to impress judges Paul Hollywood and Mary Berry with her runny creme brûlées and raw cheesecake.
Paul called her brûlée custard "soup" and joked she must have forgotten to turn the oven on, while her unusual liquorice flavouring did not go down well with Mary.
The welfare officer, who took a gung-ho approach to cooking in the Bake Off tent, said: "My creme brulee not setting was gobsmackingly shocking.
There was no one more surprised than me when Paul cracked it and it wasn't set. It's never happened before, and I should have trusted my gut instinct and raised the oven temperature."
The worst Bake Off gaffes
The worst Bake Off gaffes
1/7 GBBO gaffes

It sounds impossible, but the great meltdown of series five involving Iain, Diana, and the hottest day of 2014 so far was more controversial than Custardgate. It ended when Iain binned the remains of his Baked Alaska and stormed out of the tent

YouTube

2/7 GBBO gaffes

The bread basket challenge in series two had many bakers scratching their heads. Worst off was poor Janet, whose basket collapsed as soon as she took it out of the oven

YouTube/BBC Food

3/7 GBBO gaffes

Who can forget the most unpatriotic British flag cake ever made in series four? Not only did you have to cut Liz's head off to see inside: the flag itself was more than a little wonky

YouTube/BBC Food

4/7 GBBO gaffes

It's not even clear what this biscuit bake was supposed to look like, but series one contestant Louise said it was supposed to be heart-shaped. It's definitely not

5/7 GBBO gaffes

More of a camera gaff than a baking one: this squirrel made headlines for all the wrong reasons in series two when it found itself on national television. Complaints were made over the fact that the image failed to come with a "may contain nuts" warning

YouTube/BBC Food

6/7 GBBO gaffes

Poor Yasmin in series two had a mini breakdown when her macarons failed to rise. Everyone else was more concerned about the dodgy shade of green. 'I didn't realise I'd get this emotional with baking,' said Yasmin. None of us did, Yasmin. None of us did

YouTube/BBC Food

7/7 GBBO gaffes

The curse of the soggy bottom struck one unlucky contestant in the form of this zingy tart from series three. Mary Berry pursed her lips over how much lime zest had been used, while Paul Hollywood just looked disappointed at the poor quality of pastry on offer

YouTube/BBC Food
Sandy's failed cheesecakes helped save Alvin Magallanes from going home, after he suffered a bad week with disappointing creme brûlée and cheesecake and dry meringue in his Spanische Windtorte that put him last in the technical challenge.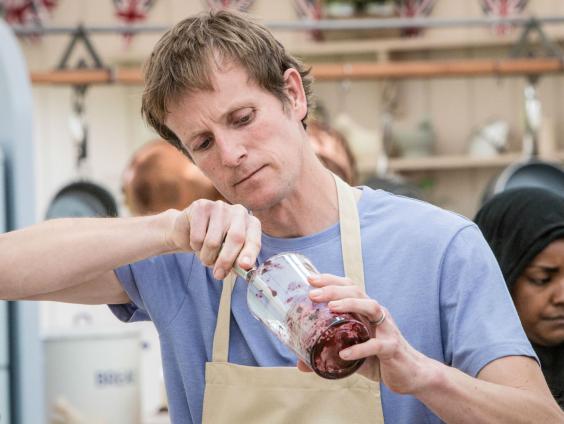 Adventurous cook and self-confessed teacher's pet Ian Cumming was named star baker for the third week in a row.
Additional reporting from PA
Take our Great British Bake Off bumper quiz:
Reuse content