Samantha Cameron will reportedly don a Bake Off apron for a Sport Relief version of the hit BBC show.
The Prime Minister's wife is due to take part in a charity edition of The Great British Bake Off next year, according to the Mail on Sunday.
"Sam Cam", as she has been nicknamed by the press, will appear in the baking tent alongside judges Paul Hollywood, Mary Berry and a host of other celebrity contestants.
Mrs Cameron previously baked cupcakes, cookies and flapjacks in the Downing Street kitchen for Comic Relief 2013, and joked she "felt like Mary Berry" while visiting a group of apprentice bakers on the general election campaign trail earlier this year.
The special edition of the BBC One show, which will be the third to take place, is currently being filmed for Sport Relief, but will not air until next year.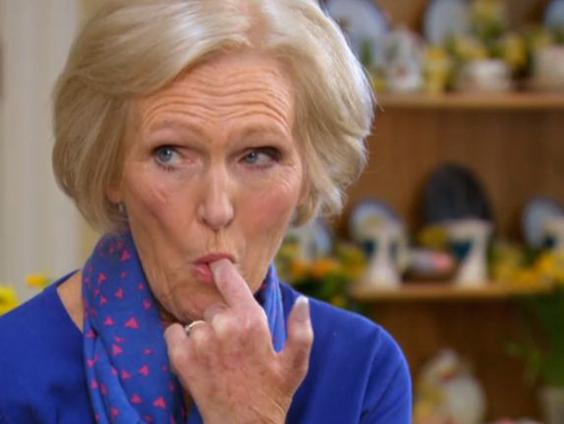 Downton Abbey actress Samantha Bond, singer Michael Ball and broadcaster Johnny Vaughan took part in the Sport Relief special last year.
Mrs Cameron will join a host of politically affiliated celebrities who have taken part in reality TV shows, including Conservative MP Penny Mordaunt (Splash), Oona King (Dancing on Ice), Sally Bercow (Celebrity Big Brother), Ann Widdecombe (Celebrity Fit Club) and George Galloway (Celebrity Big Brother).  
A spokesperson for the BBC declined to comment on Mrs Cameron's alleged participation. "We will announce the line-up in due course," they said.
Best Great British Bake Off innuendos
Best Great British Bake Off innuendos
1/6 'Dip your cherries in the dough and off we go!'

Baking offers so many opportunities for naughty jokes - and Mel and Sue take full advantage

2/6 'Bakers! Stop nozzling your princesses!'

Hosts Mel and Sue offer up a relentless stream of puns and innuendos every week, much to Paul Hollywood's feigned despair (he loves it really)

3/6 'Was that leakage?'

There's a lot of talk of 'leakage' on the Bake Off these days. Most puzzling.

4/6 'The crimp is critical to stop any leakage from the meat'

Paul and Richard are full of innuendos as Mary Berry looks on pretending not to find it amusing

5/6 'Stop touching your dough balls!'

The BBC have been tweeting their 'innuendo of the week' throughout the series

6/6 'It's got to be risen and rested before it goes in'

Oh stop it Paul...
Reuse content