Heroes fans attending the San Diego Comic Con were in for a big surprise as not only was Greg Grunberg – who plays Matt Parkman in the show – hosting but an extended trailer of Heroes Reborn was shown, revealing a few more returning faces.
Both the previously confirmed Jack Coleman (Noah Bennet) and rumoured Masi Oka (Hiro Nakmura) were featured in the three minute clip of the reboot.
In it, we can see various "heroes" being hunted by members of the public who don't believe their powers can be controlled.
"In other countries they shoot people like me in the streets," says Robbie Kay's character, setting the tone for the upcoming series. Watch the clip below.
"What, surprised to see me?" says the time travelling Hiro. Well, not completely but fans still went wild for the moment he appeared on screen.
Before the trailer was shown cast members including Jimmy Jean-Louis, Jack Coleman and Zachary all talked about their characters without revealing too much, while Masi Oka appeared through a video message to much applause.
Executive producer Tim Kring was also there, saying of the new series, which is set five years after the original Heroes: "The world knows about these people, so it changes the story considerably. When you discovered you had a power, it was mystical journey of discovery. Now, if you wake up with a power, you know it's a very bad thing because you'll be exploited."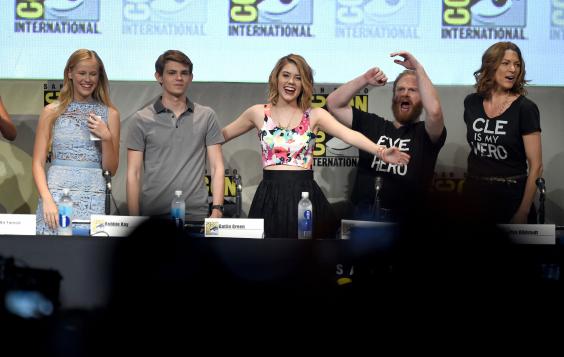 Speaking to Entertainment Weekly, Masi said of the shows return "I thought it was awesome," "It had [a lot of] heart and we had a lot of fans and we kind of left it unfinished, so there's a chance to wrap things up for the fans."
An average of 14.5 million viewers tuned into the first season of Heroes in 2006 but ratings later plummeted and it was axed in 2010 after a bizarre travelling circus was introduced. Many fans felt let down by the lack of a single conclusion, but this has left the show more open to a reboot.
Heroes is the latest show to be relaunched, after Fox revealed it was bringing back 24 in spring with a miniseries entitled 24: Live Another Day. Stephen Fry has been confirmed to star as the prime minister in the new run, alongside Kiefer Sutherland as anti-terrorism agent Jack Bauer.
Reuse content