Homeland producers have denied the decision to move the storyline away from the threat of Muslim extremists is linked to the recent terrorist attacks in France.
David Nevins, president of US network Showtime, said showrunners were considering relocating the drama away from the Middle East and Pakistan in the forthcoming series, but stressed the decision had not yet been made and would be done for creative reasons to avoid repetition, rather than because of the Parisian shootings.
"We're not necessarily going to stay [with addressing] US relations in the Muslim world," Nevins told journalists at the Television Critics Association press tour as reported by Entertainment Weekly.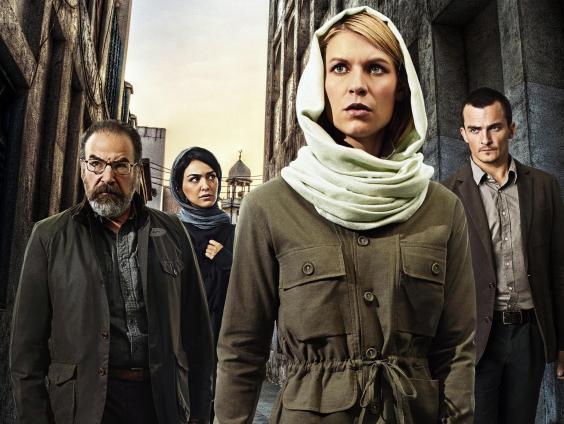 "The real franchise of the show is how difficult it is to be America in the world in the 21st century, how difficult the choices are. I think that's a story that will remain relevant for as long as [the scriptwriters] can come up with new stories. It could be Africa, it could be Europe, it could be back in another place in the Middle East," he said.
Nevins added that it had been a "bad month for free speech around the world" in light of the Charlie Hebdo shootings and North Korea's alleged Sony hack, but said the French attacks would not prevent the show from tackling sensitive international issues.
"I hope the [the attacks are] not considered at all. I really, really don't want there to be any limiations. I don't expect there will be. They never shied away from anything difficult. I want them to go intot he teeth of it again," he said.
The best TV to watch in 2015
The best TV to watch in 2015
1/13 Game of Thrones

Sky Atlantic, April

HBO

2/13 Poldark

BBC 1, March

BBC

3/13 Fortitude

A murder mystery set in a close-knit Arctic Circle community, with an impressive ensemble cast -Sky Atlantic, January

Sky Atlantic

4/13 Banished

BBC 2, March

BBC

5/13 Ordinary Lise

BBC 1, March

BBC

6/13 Life in Squares

Phoebe Fox, James Norton and Lydia Lynch in 'Life in Squares'

BBC

7/13 Wolf Hall

BBC2, January

BBC

8/13 Better Call Saul

Netflix, February

Netflix

9/13 Mel & Sue chat show

ITV, January

Princess Productions

10/13 Mad Men, Series 7, Part II

Sky Atlantic, Spring

©Lionsgate

11/13 Dementiaville

This series of documentaries explores both the heart-breaking experiences of those with dementia and a ground-breaking new approach to their care - Channel 4, Summer

Georgie Scott/Age UK 2013

12/13 Morning Has Broken

More than a decade since Nighty Night established Julia Davis's reputation for caustic character comedy, she's back with a new creation on Channel 4

BBC

13/13 Cucumber/Banana

Sixteen years after Queer as Folk, Russell T Davies returns with two interlinked series about gay life in Manchester on Channel 4

c.Showtime/Everett/REX
Homeland has dealt with the threat Islamic terrorists pose to the US since the drama began in 2011.
The latest series was criticised by Pakistani officials for portraying the country as a "grimy, war-torn hellhole". It was also condemend by Israel after comparing former prime minister Menachem Begin to a fictional Taliban leader.
The show, which is based on a popular Israeli TV format, is due to return for a fifth series later this year.
Reuse content