Jack Whitehall, Matt Lucas, Greg James and Richard Bacon are among a host of celebrities campaigning to save BBC Three.
The BBC plans to make the TV station available through iPlayer only in an effort to "find an extra £100m of savings" after funding cuts, according to director general Tony Hall.
Stars have responded on social media with the hashtag #saveBBC3 in a reaction similar to that surrounding the rumoured closure of 6Music.
"BBC3 makes lots of great, clever, distinct programmes," BBC 5Live presenter Bacon tweeted. "If the rumours of it being cut are true, we might need to retool that 6Music campaign."
Whitehall, whose Bad Education is shown on the channel, also contributed to the battle: "I really hope reports that the BBC may kill BBC3 are just rumours," he wrote. "Their support of new comedy in particular is vital!"
In another message, the comedian added: " Little Britain, Gavin & Stacey, Torchwood, Being Human, Mighty Boosh, Pramface, Ideal – BBC3 is the home of new comedy and drama."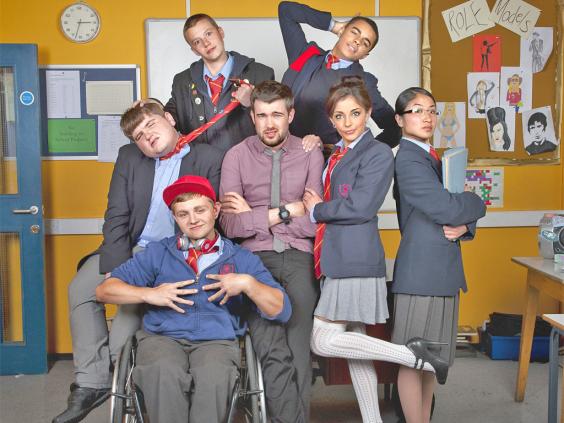 James, a Radio 1 DJ, described the news as "such a load of balls". "Genuinely brilliant new comedy and live music needs that platform," he wrote.
Comedian Russell Kane also edged in on the debate with an angry Twitter message:
Just because some TV or film doesn't fall within the tiny purview of your own cultural gaze, doesn't mean you should blind it. #SaveBBC3

Russell Kane (@russell_kane) March 5, 2014
But Hall has stood by the necessity to take "hard decisions". "Drama is one of the essences of the BBC and I want to make sure we are properly funded in that area," he said.
The official BBC Three Twitter account posted a message in response to the #SaveBBC3 hashtag:"Who knew people love BBC Three more than pancakes?! Feeling loved."
Then, of course, viewers have been responding in their droves:
The amount of overlap between BBC4 and BBC2, yet they choose to shut BBC3? What a joke. The Beeb will lose a generation. #SaveBBC3

Benjamin Butterworth (@benjaminbutter) March 5, 2014
You take Stacey Dooley Investigates away from me and I will make you wear a little dress and hurt you #savebbc3

Erin Kelly (@mserinkelly) March 5, 2014
They cant get rid of BBC 3! It is amazing, that's where Torchwood was born! Not to mention Being Human, Some Girls, Bad Education! #SaveBBC3

Molly Lauren Grey (@MollyEvelet) March 4, 2014
What WHAT is all this about BBC Three? This can't be true, SERIOUSLY? #saveBBC3

—o Vikki Stone (@vikkistone) March 4, 2014
#SaveBBC3 because it's the only place that would show my sitcom about a band living on the moon, if I ever got round to writing it.

— Bob Hardy (@B0bHardy) March 4, 2014
Erm... Is anyone else worried about the future of Don't Tell the Bride? #SaveBBC3

Ellie Walker-Arnott (@Ellie_Wa) March 5, 2014
Reuse content