The favourite to replace Jeremy Clarkson on Top Gear has said that the disgraced former presenter's exit is by no means a "fatal blow" for the show.
Chris Evans, who is the bookies' favourite to replace Clarkson, has again ruled himself out of the running admitting "I actually wouldn't be very good at it".
Evans, who called Clarkson's exit a "huge loss", also criticised Top Gear co-presenters James May and Richard Hammond who are believed to be considering quitting the motoring show now that their friend has been axed.
The BBC Radio 2 DJ said Hammond and May were "wrong" to be thinking of throwing in the towel and he urged the pair to keep the series going.
Read more:
BBC director general Tony Hall told Clarkson on Wednesday that his contract would not be renewed when it expires at the end of this month. The move follows a BBC investigation which found Clarkson he attacked and verbally abused one of the show's producers, Oisin Tymon.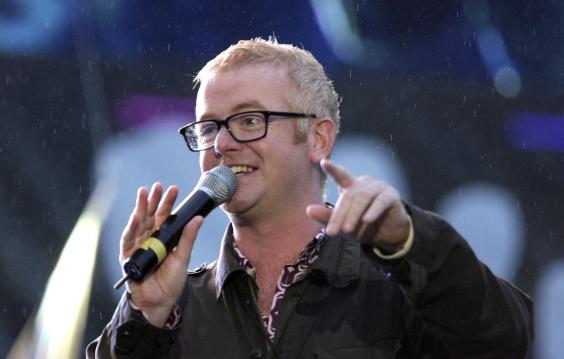 Hall, who has since allegedly received death threats over Clarkson's sacking, said the BBC would look to "renew" the show for next year and look at ways to screen the remaining episodes of the current series, cut short following the fracas that cost the 54-year-old his job.
Evans, writing in the Mail on Sunday, said: "In no way does Top Gear need to be reinvented. This series was shaping up to be the best yet. After surviving the insanity of what happened in Argentina for the Christmas special, it felt like the whole team had been drawn closer together as a result.
Things you never knew about Top Gear
Things you never knew about Top Gear
1/14 Top Gear isn't really for adults

It's 'aimed at people with a mental age of nine', according to executive producer Andy Wilman.

BBC

2/14 Planet Earth loves it...

Top Gear is screened in more than 100 countries worldwide and has millions of fans.

BBC

3/14 ...but not all motoring hacks do

You might think Jezza was a hero of the motoring hack world but that's not strictly accurate. Telegraph journalist Neil Lyndon summed Top Gear's 21st birthday last year up well: 'Does that mean Billy Bunter and his gang finally get forced out of the Fourth Remove and into long trousers?'

BBC

4/14 The Top Gear theme tune is a classic rock song

Seven-minute instrumental 'Jessica' by The Allman Brothers was a hit in 1973. Top Gear has recorded its own version now but used part of the original recording at first. One for the road trip playlist.

5/14 Jeremy Clarkson couldn't get much more controversial if he tried

The presenter is currently suspended from the BBC following a 'fracas' with a producer over a steak dinner. Past scandals include a string of racism allegations.

PA

6/14 This Porsche caused all sorts of trouble in Argentina

The Top Gear team were forced to flee Argentina after locals took offence at the car's number plate - believing it was a deliberately provocative reference to the Falklands War of 1982.

AP

7/14 If it's car-buying advice you want, look elsewhere

It's an in-joke in Top Gear that they don't do car tests. You would be mad to make a purchases based on Jezza's verdict.

Getty Images

8/14 Richard Hammond had a near-death experience filming Top Gear

The 'Hamster' was filming a Top Gear segment in a dragster called Vampire when its front-right tyre burst at 288mph. Hammond spent two weeks in a coma but luckily went on to make a full recovery. He requested that no mention of the crash was made in future Top Gear episodes.

Getty

9/14 Jeremy Clarkson is more than a little bit taller than Richard Hammond

Nine inches, to be precise.

Rex

10/14 Top Gear used to offer real advice

Before these lads took over, it was a real car-reviewing show with presenters such as Angela Rippon, who gave practical reviews of down-to-earth workhorses such as Cavaliers or Mini Metros.

Getty Images

11/14 Those 'reasonably priced' cars take quite a battering

Denis Chick, of Vauxhall, is brave to have lent the show a fleet of his Astras. He said: "Vauxhall Astra sales would not improve if everyone drove like Jimmy Carr around the Dunsfold track." The comedian hilariously took his test car's front off-side tyre clean off its rim.

BBC

12/14 Jeremy Clarkson is a YouTube star

Stray down the motoring internet hole and you'll find lovingly posted videos of 'Clarkson the early years' with incredibly loud hair reviewing 1990s cars in an oddly sensible manner. Very disturbing viewing.

Getty Images

13/14 There have been multiple Stigs

Racing driver Perry McCarthy was stuntsman The Stig on the first two series of Top Gear - here's the man under that famous helmet.

Rex Features

14/14 Ben Collins was The Stig for eight years

Ben Collins was The Stig on Top Gear for eight years. He left amid a clash with the BBC when he unmasked his identity and published an autobiography. Collins thinks Top Gear has 'lost some of its sparkle'.

Rex Features
"As for Jeremy no longer being on the show: sure it's a huge loss. Top Gear was the show he was born to do. But by no means is it a fatal blow."
Politics, music and football all survived the departures of Winston Churchill, John Lennon and George Best, Evans said.
Reiterating he would not be taking part in the show, the One Show presenter said: "I love Top Gear. But I never want to watch me on it. Of course, I'm flattered that others seem to think my involvement would be a good idea. But they're hugely misguided.
"I also happen to think I actually wouldn't be very good at it."
Last week Evans told listeners to his Radio 2 show "not only [are rumours he'd replace Clarkson] not true, it's absolute nonsense", adding that it was "never going to happen".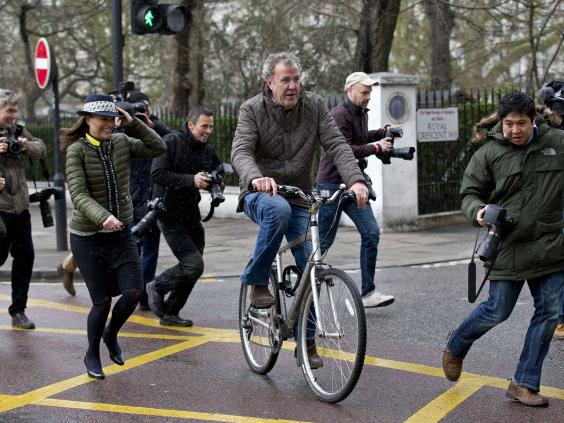 "From what I've seen on Twitter and social media, there's a 50/50 split approximately as to whether me being involved in the show is a good idea," he said.
"In TV or radio, if you get a 50/50 love/hate reaction that usually equals massive hit. I used to work for (ratings body) BARB and knock on people's doors and this was the rule of thumb.
Reuse content