Keith from The Office has made a surprise return.
The former Wernham Hogg accountant has taken a leaf out of David Brent's book and is now working as a motivational speaker.
His scotch egg habit is long gone – and these days he enjoys tucking into steak and cheese pasties instead.
The character makes his first appearance in over ten years in a new music video for Babyshambles bassist Drew McConnell's band Helsinki.
In the video for "Rising Heights", Keith is seen trying to motivate a group of lacklustre young office workers.
His dead-pan days of talking about fanny packs are long behind him as he tries to energise the office workers with team building exercises involving phallic balloons and percussion instruments.
But his attempt to engage the group does not go down well and poor Keith is forced to give himself a pep talk in the bathroom as he rips up his team building notes in despair.
The tragic Office character then returns with a vengeance and manages to exert his authority over the motley young crew.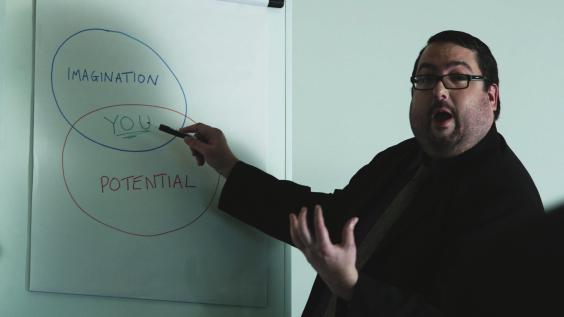 But how did Keith Bishop, played by actor Ewen MacIntosh, come to play a starring role in Helsinki's video?
McConnell, the band's lead singer, said he thought Keith reflected the song's message of hope and freedom. 
"Ewan's character's journey in the video represents that internal struggle that so many of us endure, more often than not entirely unawares," he said.
Mark Donne, who directed the video with Joe Morris from film company Brass Moustache, said he chose Keith because he thought he was the perfect anti-hero "liberating folk from the 9 to 5".
Keith's certainly come a long way from his days working in Slough.
Reuse content