Kevin Spacey is heading back to the White House for another stellar political drama series – or so it sounds. 
The actor, director and producer has signed a deal to develop a Downton Abbey meets House of Cards drama called The Resident.
Based on Kate Andersen Brower's non-fiction book of the same name, the show will follow the relationships between White House staff and the various First Families who come to live in the famous address over the course of several administrations.
The Resident is being eyed for US cable, where it will join a host of successful politico dramas currently on TV across the pond including Veep, Madam Secretary, Scandal and The Brink.
Film stars turning to TV
Film stars turning to TV
1/7 Martin Scorsese

Martin Scorsese will produce an untitled HBO drama set in 1970s New York that explores the sex and drug-fuelled music industry

Getty Images

2/7 The Coen Brothers

The Coen Brothers are executive producers of FX series Fargo—a dark comedy based on the Cohen's 1996 film of the same name

Getty Images

3/7 Zach Braff

Zach Braff revealed plans in September 2014 to collaborate with Scrubs creator Bill Lawrence on new TV comedy series; the possibility of a Netflix show has not been ruled out

Getty Images

4/7 Kevin Spacey

Academy-award winner Kevin Spacey leads the cast of Netflix original series House of Cards; the political drama set in Washington D.C. premiered its third season last month

Netflix

5/7 Paul Giamatti

Last autumn, Hollywood veteran Paul Giamatti starred in season four of ITV's Downton Abbey

Getty Images

6/7 Viola Davis

Best known for her Oscar-nominated performance in The Help, Viola Davis stars in the Shonda Rhimes' legal thriller, How to Get Away With Murder

Getty

7/7 Zooey Deschanel

Starring in comedies like The Elf and 500 Days of Summer, Zooey Deschanel left the movie world and jumped to television with New Girl

2013 Fox Broadcasting Co.
It is not known yet whether Spacey will star in the series himself, having agreed the deal between his company Trigger Street Productions and Fox 21 and 20th Century Fox Television.
The actor's producing partner Dana Brunetti said: "Kevin and I are always looking to align Trigger Street with entities that understand what we expect to accomplish and how to maximize all resources to produce the best content possible.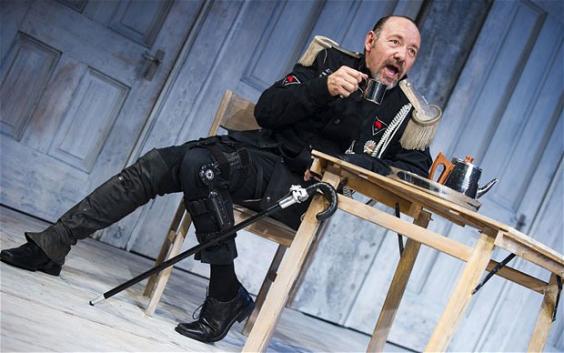 "Our past and current projects demonstrate how we do things differently and partner with who we feel are the best at what they do. Trigger Street and Fox have the makings of a powerful team, and we look forward to our upcoming projects."
Fox New anchor Megyn Kelly will executive produce the project in her first scripted TV debut.
Reuse content