Richard Madden looks set to give Poldark's Aidan Turner a serious run for his money in the heart rate department if the new trailer for one-off BBC drama Lady Chatterley's Lover is anything to go by.
The former Game of Thrones star plays gamekeeper Oliver Mellors in the upcoming DH Lawrence adaptation, alongside Holliday Grainger as Lady Constance Chatterley's and Grantchester's James Norton as her "war-wounded" impotent husband Sir Clifford Chatterley.
Due to air next month, Bafta nominee Jed Mercurio's show has already divided TV critics, with some describing it as "bordering on porn" and others insisting there will be no "raised eyebrows over supper" as many of the controversial 1923 novel's explicit scenes have been brushed over.
But now, a 40-minute clip has given viewers a better idea of what they can expect, and it looks like there should be enough raunchy moments to get us hot under the collar if Lady Mary's love life in Sunday night rival Downton Abbey fails to cause a stir.
There are lingering looks, erotic bedroom close-ups, tears, broken hearts and beautiful period costumes a plenty in this small screen retelling of the early 20th century about Lady Chatterley's passionate love affair with Mellors despite their class differences.
The original book was censored in Britain for over 30 years for its obscene language and graphic sex scenes. But while the nature of the three sex scenes is under debate, Lawrence's four-letter words do not feature in the new adaptation as Mercurio did not see them as "groundbreaking" anymore.
"That battle has been won. The idea was to tell this as a love story, a love triangle. Swearing or sex scenes don't excite me because they don't have emotional content," he told reporters at an advance screening.
"I think that putting Lady Chatterley at the centre and making her a much more thinking person, much more decisive, was one of the most important things."
The best bad sex scenes from books
The best bad sex scenes from books
1/10 Tracking The Tempest - Nicole Peeler

"The first electrical storm passes through her at once, like a break in the clouds, like alliterative quatrains, like wind chimes, freshly mown grass, goat cheese, new car interiors, church choirs, grand slams."

2/10 Eric Reinhardt - The Victoria System

Reinhardt's hero waits "tensed, tortured, for Victoria's palms to start descending once again towards the elastic of [his] underwear."

3/10 Fan Tan - Marlon Brando and Donald Cammell

"He came and he came - we are dealing with a hero here. At one point his lover backed away to inspect the unaltered gush of it, like a plumber saying to a customer, 'Don't blame me. This water supply will stop when the dam's empty'."

4/10 The Stranger at the Palazzo d'Oro - Paul Theroux

"Still I could not tell where her soft skin ended and her silk began, and the complexity of her vaginal lips was like another elaborate silken garment she had put on for me to stroke."

5/10 Ten Storey Love Song - Richard Milward

"Then, Bobby starts scrabbling frantically across the carpet for Mr Condom, sending five or six multicolour Durexes flying through the air, and he struggles getting the packet open and Georgie has to roll Mr Condom down Mr Penis for him and she has to help insert him into Mrs Vagina."

6/10 The Kindly Ones - Jonathan Littell

"I came suddenly, a jolt that emptied my head like a spoon scraping the inside of a soft-boiled egg."

7/10 Lady Chatterley's Lover - DH Lawrence

"For a moment he was still inside her, turgid there and quivering. Then as he began to move, in the sudden helpless orgasm, there awoke in her new strange thrills rippling inside her. Rippling, rippling, rippling, like a flapping overlapping of soft flames, soft as feathers, running to points of brilliance, exquisite and melting her all molten inside."

8/10 House of Earth - Woody Guthrie

"Her body melted into a single note of music to the sky."

9/10 1Q84 - Haruki Murakami

"Her breasts themselves were large, however, and fully ripe. They seemed to be virtually uninfluenced by the force of gravity, the nipples turned beautifully upward, like a vine's new tendrils seeking sunlight."

10/10 The City of Devi - Manil Suri

"Surely supernovas explode that instant, somewhere, in some galaxy. The hut vanishes and with it the sea and the sands – only Karun's body, locked with mine, remains"
The BBC's 1993 take on Lady Chatterley's Lover, starring Joely Richardson and Sean Bean, attracted viewer complaints for its full frontal nudity, but Madden has also spoken about not feeling the need to shock this time around.
"Come on guys, we've got Google. There's nothing that's going to shock us that we're going to do in Lady Chatterley's Lover is there?" Madden told the Press Association in March.
"All that stigma, all that smut's gone and it's actually it's just about these three people which is the fascinating story of it. There's sex and passion in it but we're not going to shock people like the book did."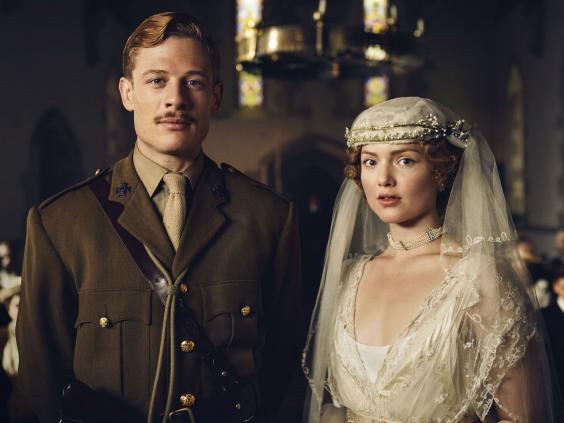 There will, however, be one scene in which Lady Chatterley runs to Mellors in the middle of a storm, wearing only her nightdress. He performs a sex act on her outside his cabin, but both apparently remain fully-clothed.
Lady Chatterley's Lover will go up against Downton Abbey's final series in September, with an exact air date yet to be revealed.
BBC bosses will be hoping for a repeat of the success of its Poldark remake, watched by around eight million people earlier this year.
Reuse content